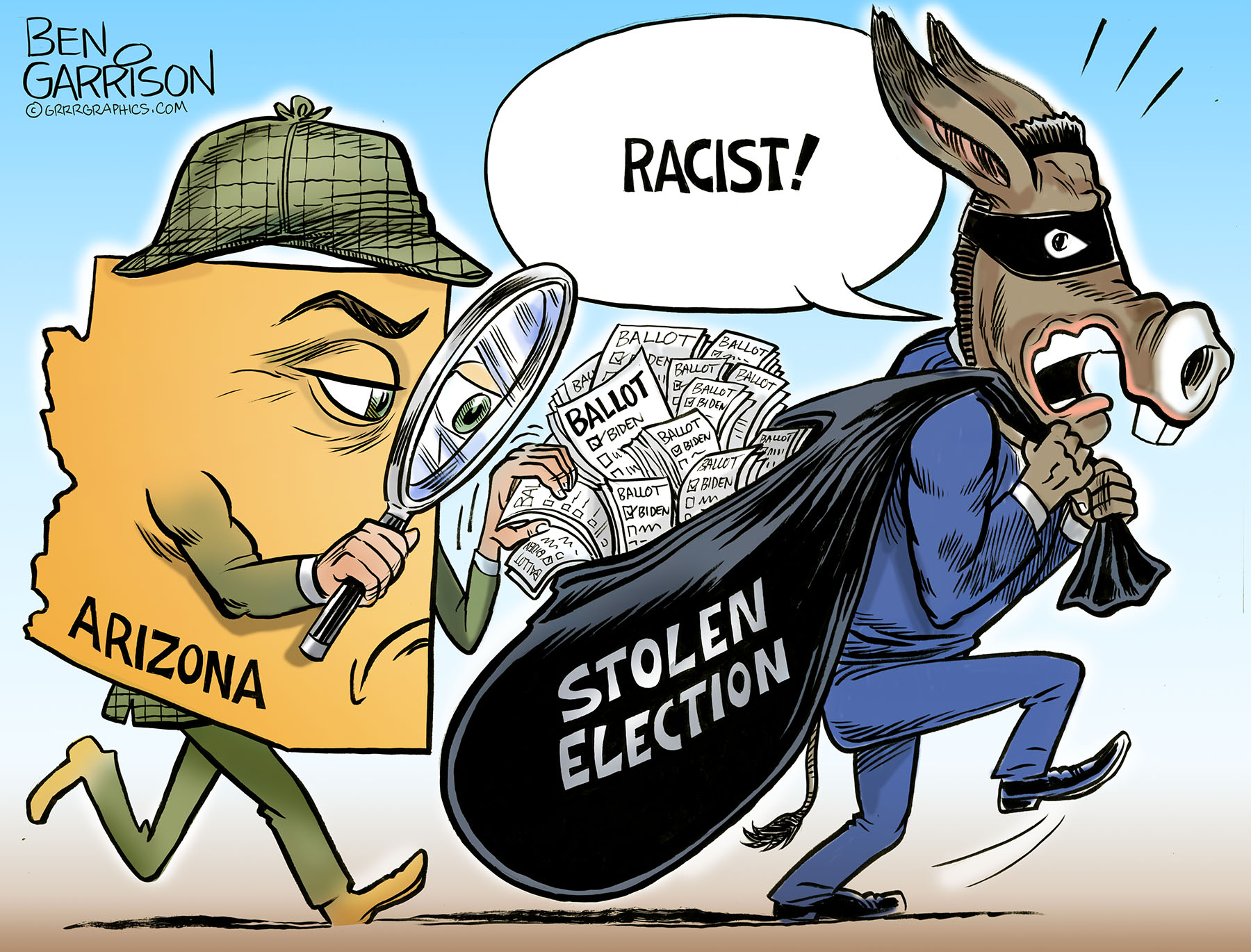 The Word for today is "Audit"  the second word for today is "Panic"
JUST IN – Maricopa judge orders a temporary halt to the Arizona forensic election audit until Monday, April 26th, due to a last-minute lawsuit by the Arizona Democratic Party and County Supervisor citing "security issues." Wait! there's More!
A brief weekend pause in the Arizona Senate's election audit that a judge ordered on Friday won't happen because the Arizona Democratic Party declined to put up a $1 million bond that the judge requested to cover any expenses that the Senate wrongfully incurs due to the halt.
Maricopa County Superior Court Judge Christopher Coury ruled that the audit must halt from 5 p.m. Friday to noon on Monday. But that order was contingent on the Arizona Democratic Party, which brought the lawsuit seeking to block the audit, posting a $1 million bond to cover any expenses that the Senate wrongfully incurs due to the delay. The Senate's lease of Veterans Memorial Coliseum, where the audit is being conducted, ends on May 14.
Roopali Desai, the Democrats' attorney, said the party won't put up the bond. That means the audit will continue uninterrupted. Updates from Gateway Pundit
Nice Try Losers!
The Arizona audit of the 2020 election begins today and the Democrats are panicking. Why? If the election was fraud free and secure they would have no concerns about the outcome of the audit.  The Democrats filed a last minute law suit this morning trying to block the audit set to begin today.
The Arizona Senate has put security cameras in place to monitor every moment of the forensic audit, no suitcases lugged out from under tables at 4am allowed.
You can watch live on your phone or computer here- Arizona Audit  
This may be the most important audit in American history, Arizona could be the first domino to drop.
Reports are coming in that President Trump is watching the situation and is "very interested" in the procedure.
Join Us on SUBSCRIBESTAR and support cartoons with a monthly donation! See cartoons FIRST (sneaky peek) before Public release Click today!
Democrats and the Fake News media have attacked everyone involved with making this ground breaking audit happen. We have seen lawyers connected to the top of the Democrat Party interject and threaten the auditors for performing the work they are hired to do.  General Flynn has warned everyone that Burn Loot Murder and ANTIFA may show up and try to physically stop the audit.
If the 2020 election was not stolen, why would they be so desperate to stop an audit? The results would confirm it was a legit election, right?
The Democrat panic speaks volumes.
The audit will take a few weeks and we will be monitoring it closely.
Remember you're a racist if you question Democrat gaslighting!
GrrrTeam
Original Art Sold
JUST RELEASED "MAKE AMERICA WELL AGAIN" BEN GARRISON'S NEW CARTOON BOOK!
AVAILABLE FOR PREORDER TODAY
[DISPLAY_ULTIMATE_PLUS]
Note: We are an Amazon Associate. Your purchases on Amazon via our links will support Ben and Tina's cartoons- At no extra cost to you! Please click and send some love! 
Amazon Home Page