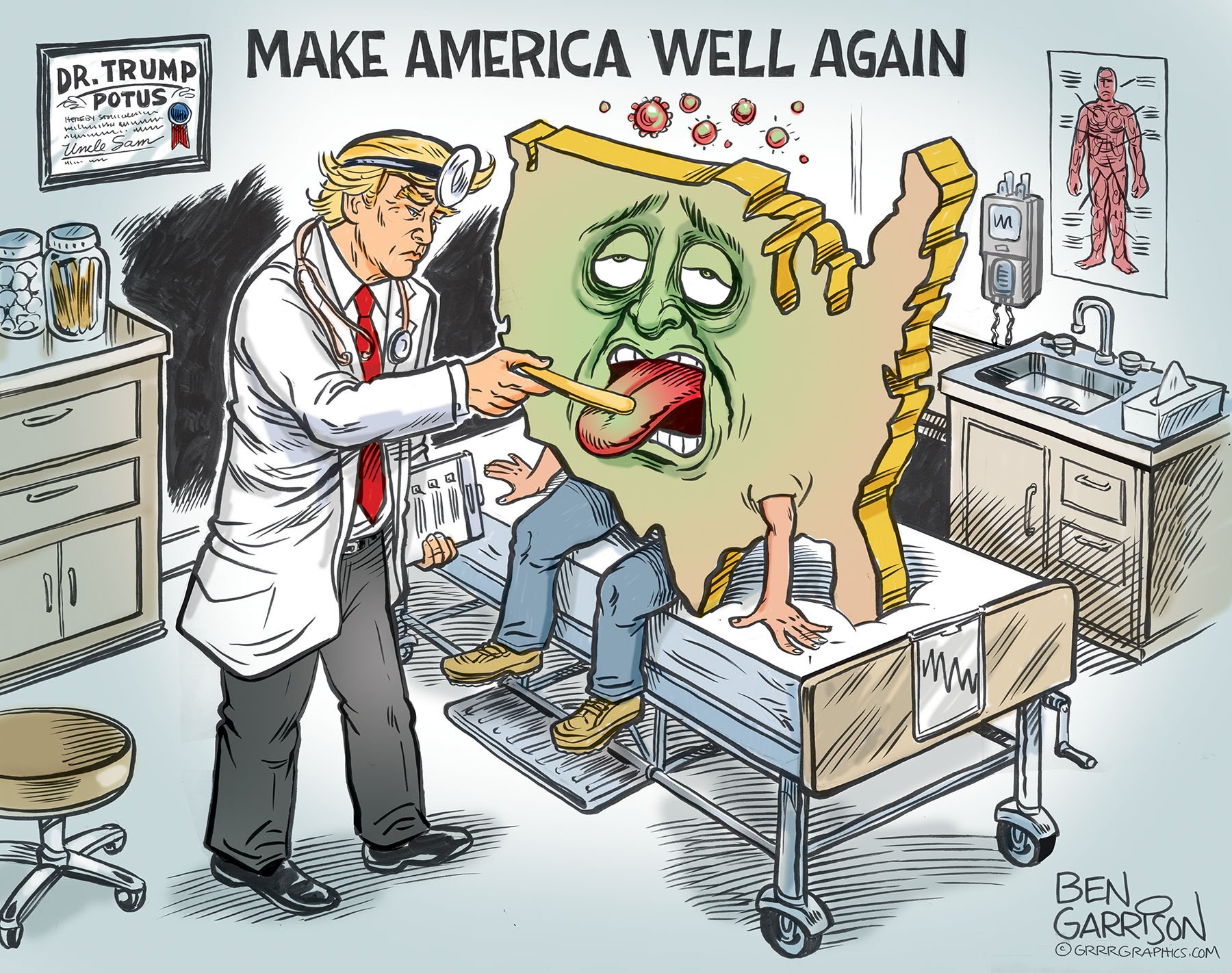 MAKE AMERICA WELL AGAIN
UPDATE: 37 deaths are blamed on the Coronavirus in the US- The current mortality rate in the US is 2.2%.
If you subtract the Life Center Care Center deaths, the total goes down to .8%. Similar to flu numbers
We think the hype about the coronavirus is overblown. Sure, it's more dangerous than the average flu bug because nobody has had a chance build immunity. The old and infirm can die from it, but that has always been the case. Deaths caused by the flu have always happened.
President Trump calmly suggested some common sense things such as washing one's hands, limiting one's travel, and avoiding crowds.
Yet panic is in the air. Masks are selling out along with toilet paper. Neither will stop the virus. We are told we should have food and water stockpiled, which is not a bad idea regardless, but now some schools are closing and the NBA has suspended its season. The stock market has succumbed to the fear, but it was in a bull market bubble for far too long anyway.
The Democrats are eagerly using the issue to lambast Trump. This is not surprising considering heir 'Russia collusion' and 'Ukraine bribery' witch-hunts failed. The Democrats' climate change hysteria has failed to generate sufficient fear, but the virus plays right into their hands.
The coronavirus will eventually evaporate under a hot summer sun as the flu does every year.
The globalists love a good crisis. They use them to undermine our freedom as well as our health.
—Ben Garrison
Sale!
The 2020 Special Print Bundle (Now On Sale)
$199.00
THE 2020 BUNDLE: THREE SPECIAL LIMITED EDITION PRINTS
THREE SPECIAL LIMITED EDITION PRINTS FOR THE PRICE OF TWO…
Special Edition: The biggest prints we have ever made! Only 100 OF EACH will ever be printed.
Advertised as being "the best political cartoonist" in the world, Ben Garrison presents, "Commemorative Inaugural Trump, A Superhuman Effort, And Draining The Deep State Swamp!"
THREE SPECIAL LIMITED EDITION PRINTS FOR THE PRICE OF TWO…
These are special limited edition prints–meaning Ben Garrison will sign it + number your print (and add any personalized notes you may choose)
Officially signed by Ben Garrison
24″ w x 18″ h  print on high quality heavy weight paper
Shipped in a mailing tube
Your purchase goes to support our country, the MAGA movement, and President Trump!
Order yours today by clicking the "Add To Cart" button below. 
7 in stock
Description
OWN THESE SPECIAL LIMITED EDITION PRINTS NOW
Only 100 of each will ever be printed.