$499.00
Ben Garrison's Historic Political Art in Year One of Trump now available to collectors!
Cartoon published in 2018.
What people are saying:
"Ben Garrison has rightly emerged as one of the finest and most influential political artists of the 21st century."
"Ben Garrison is a National Treasure"
"Ben Garrison isn't left or right, he's Americana"
"Ben Garrison has an uncanny ability to distill complex ideas into one high impact cartoon that touches millions"
"If a picture is worth a thousand words, A Ben Garrison cartoon is worth a million"
Don't miss this opportunity to own unique, one of kind artwork by the top Political Artist of our time.
Many hours of work went into creating this hard hitting masterpiece of original  political art. 
Savvy art collectors all over the world own Ben Garrison originals, from Australia, the United Kingdom, Canada and beyond.
Ben Garrison cartoons are shared by social media's biggest names and seen by millions.
1 in stock
Description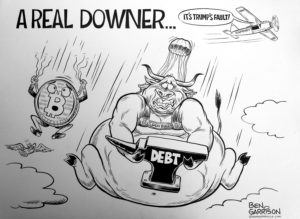 Size: 30″ wide by 22″ tall
Medium: Ink on smooth press bristol board
Certificate of Authenticity included
Bonus: Comes with signed color print!
Shipped Priority Mail in a large heavy duty mailer for protection
Original Art may have small differences from final published version which makes the original unique and more valuable!