$59.99
Officially signed by Ben Garrison
11″ h x 17″ w  print on matt heavy weight paper
Shipped in a flat mailer
Advertised as being "the best political cartoonist" in the world, Ben Garrison presents, "Trump The Dragonslayer!"
Your purchase goes to support our country, the MAGA movement, and President Trump!
Order yours today by clicking the "Add To Cart" button below. 
Description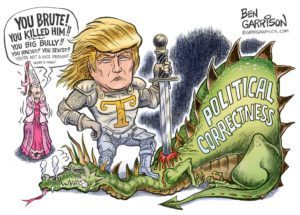 One of the reasons for Donald Trump's popularity is he speaks from the heart and not a teleprompter. He doesn't need a script and he's not afraid to speak bluntly. Most of all, he's not afraid of 'political correctness.' He's not afraid to say "Merry Christmas" or call illegal immigration 'illegal.' He's for respecting our laws, which includes closing down the currently wide open borders. For that he's called a nut and a racist and a hater and all sorts of things. He doesn't care.
For too long we've been subjected to cynical, pre-packaged political robots who are installed to further the agenda of globalists at the top. They buy out and own the politicians. Well, Trump can't be bought out. He's already rich. Lobbyists will not be able to control him. Personal scandals? He's fearless. His life is already an open book. We know about his marriages and affairs and it doesn't matter.
Because instead of walking delicately on politically correct eggshells, he fearlessly stomps his feet and says "Enough!"