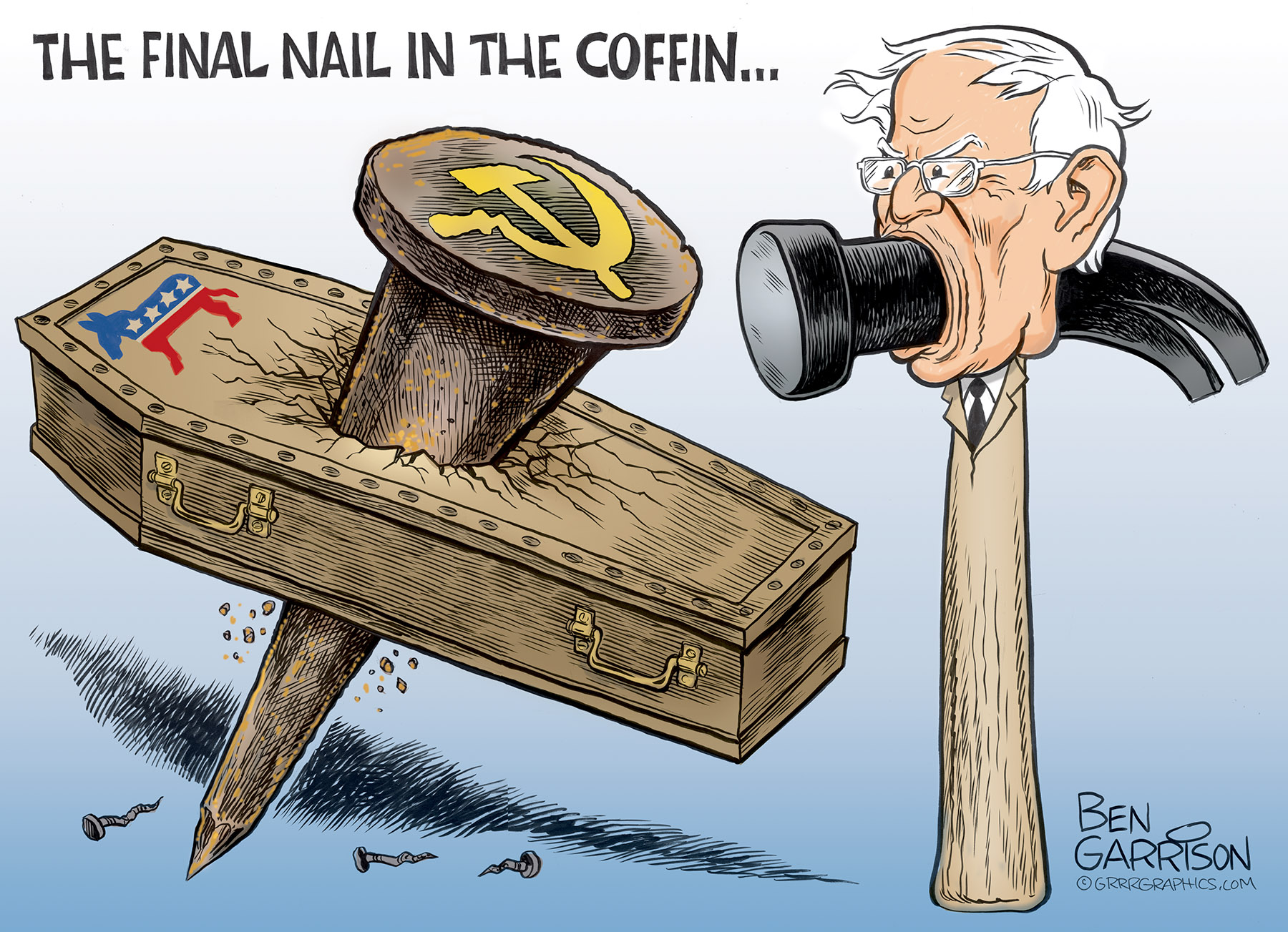 The Democratic Party Is Dead.
It's the Socialist Party now and it's not just because Bernie is in the lead. No, all the Democratic candidates for president are socialists. They all want the same thing, free health care, gun confiscation, higher taxes, climate change's 'Green New Deal' and an even stronger, more bureaucratic, bloated, and tyrannical central government.
The Democrats once represented the average working man. The common man once put the first Democratic president into office: Andrew Jackson. Even then there was an elite establishment in Washington D.C., and they seethed that a crude, populist, and alpha male president was occupying the White House. Jackson got rid of the central bank and it took him two terms to do it. Current Democrats may talk about being against the bankers, but it's just empty rhetoric on their part. Bernie likes to talk tough about the bankers while being in league with them.
Join Ben at Patreon, Support Cartoons with a small donation monthly
He needs the central banks, Soros, and globalism to help bring about his socialist utopia. He wants open borders and a global 'Denmark,' but what he's really after is an old Soviet Union-style dictatorship. We know what his socialist totalitarianism brings—poverty and murder.
The working class will suffer under the new Socialist Party. Jobs and industries will be eliminated—all coal related jobs, for example. People will become dependent on government, and with 'free stuff' comes control. The big government chains of slavery will be shackled. Free speech will be regulated. Guns will be confiscated. Rationing. Mandatory vaccinations. Those who are not aligned with the Party's political correct platform will be sent to re-education camps, in other words, gulags.
As for the Democratic Party, may it rest in pieces.
—Ben Garrison
We need your support in getting Donald Trump reelected! Your purchase goes toward our country, the MAGA MOVEMENT, and President Trump!
Commemorative Trump Inaugural Limited Edition Print
$99.99
Officially signed by Ben Garrison
24″ w x 18″ h  print on high quality heavy weight paper
Shipped in a mailing tube
SPECIAL EDITION: THE BIGGEST PRINTS WE HAVE EVER MADE!
Advertised as being "one of the best political cartoonists" in the world, Ben Garrison presents, "MAGA POSTER!"
This is a special limited edition print–meaning Ben Garrison will sign it + number your print (and add any personalized notes you may choose)
ONLY 100 WILL EVER BE PRINTED.
YOUR PURCHASE HELPS US RAISE AWARENESS OF ELECTION FRAUD, STOLEN ELECTION, THE DEEP STATE, AND LETS THEM KNOW THAT YOU ARE A TRUE PATRIOT WHO LOVES THE USA!
Order yours today by clicking the "Add To Cart" button below. 
10 in stock
Description