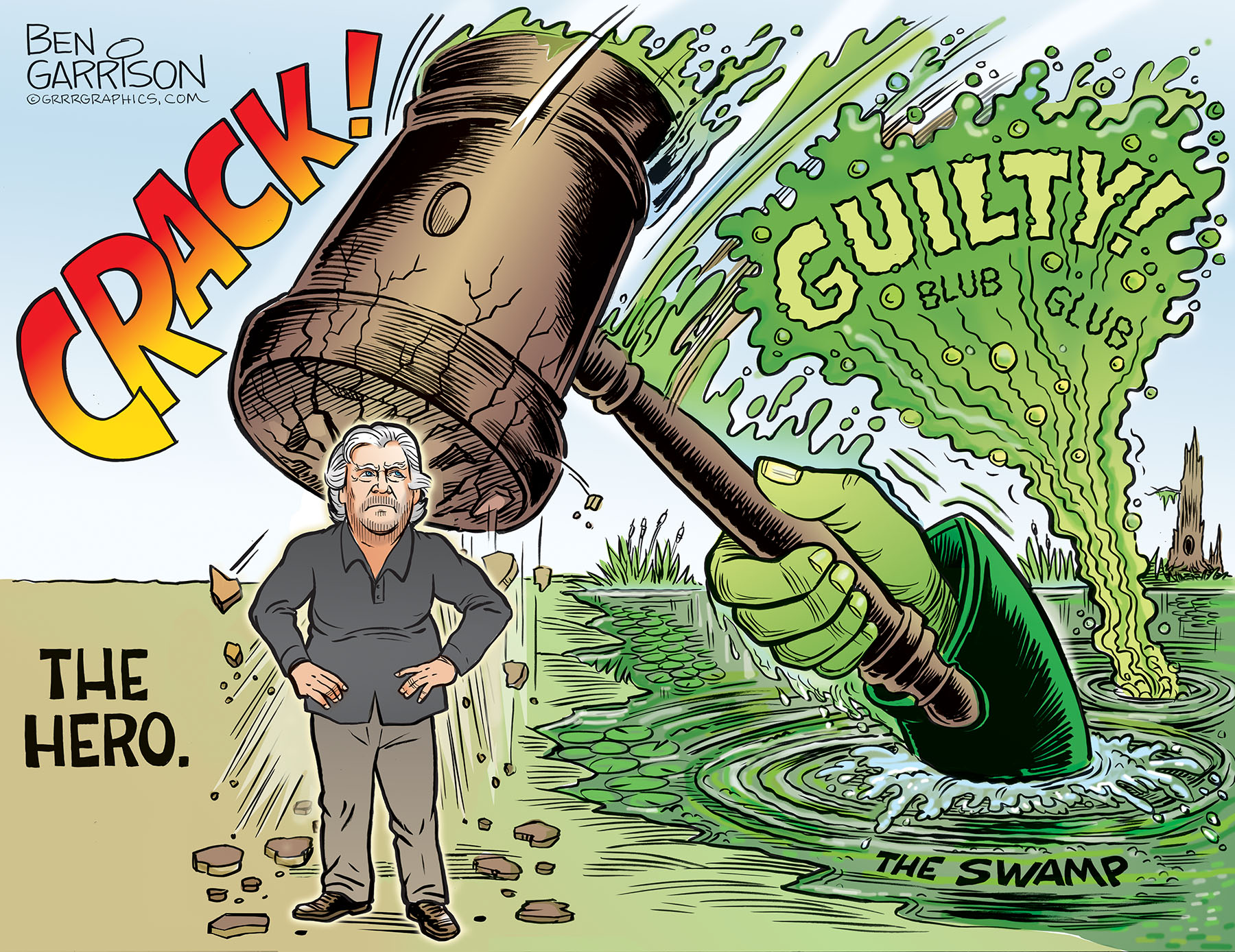 Steve Bannon, Standing up for President Trump and the Constitution
Steve Bannon is a hero. He stood up the corrupt circus that is the January 6 show trial as well as well as a D.C. Swamp court. Of course the biased, Democrat-controlled justice system found him guilty, but Bannon's point was made. We need to stop caving in to the corrupt Marxist Democrats who have stolen our justice system as well as a presidential election. They are attempting to create a one party system. They are the Swamp and they intend on becoming the permanent power in Washington D.C.
They will be assisted as usual by RINOs in the Republican Party. You know, politicians such as Romney and ol' turtle head McConnell, who is really a snake. The Democrats will continue to use 'lawfare' to break their opposition. Remember what they did to General Flynn, Roger Stone, and many other Trump allies. They wanted to humiliate them and break them financially.
This is what Marxists do. They play dirty.
They cannot tolerate opposition and will ruthlessly destroy those who speak out against them, even if it means breaking the law.Steve Bannon did not want to validate their illegal proceedings and resisted. He said he'd go to jail if necessary. He might join the January 6 protestors who were railroaded into prison by Pelosi and her mob.
Meanwhile, Colbert's people also entered the Capitol illegally, but they got off scot free because they were allies to the Democrats. A man attempted to assassinate a Republican congressman who is running for governor in New York. The Democrat prosecutor set him free without bail within an hour.
Imagine if someone attempted to stab Pelosi. He'd get no bail and life in prison! Republicans are fair game to the Democrats, though. They can illegally harass conservatives on the Supreme Court and even threaten lives.
 The Democrat Swamp always bends the law to favor themselves. Our hats off to Bannon for showing that some things are worth resisting.
— Ben Garrison 
You are invited to join me on SubscribeStar- a Pateron alternative, for exclusive cartoons and behind the scenes look at GrrrGraphics, Click to Join!
Follow @grrrgraphics on GAB,TRUTHSOCIAL PARLER, INSTAGRAM, TELEGRAM 
Classic Cartoon Limited Edition Signed Print- "Bannon Vs Swamp"  At a special price for real patriots only! Order your signed Ben Garrison Print today!