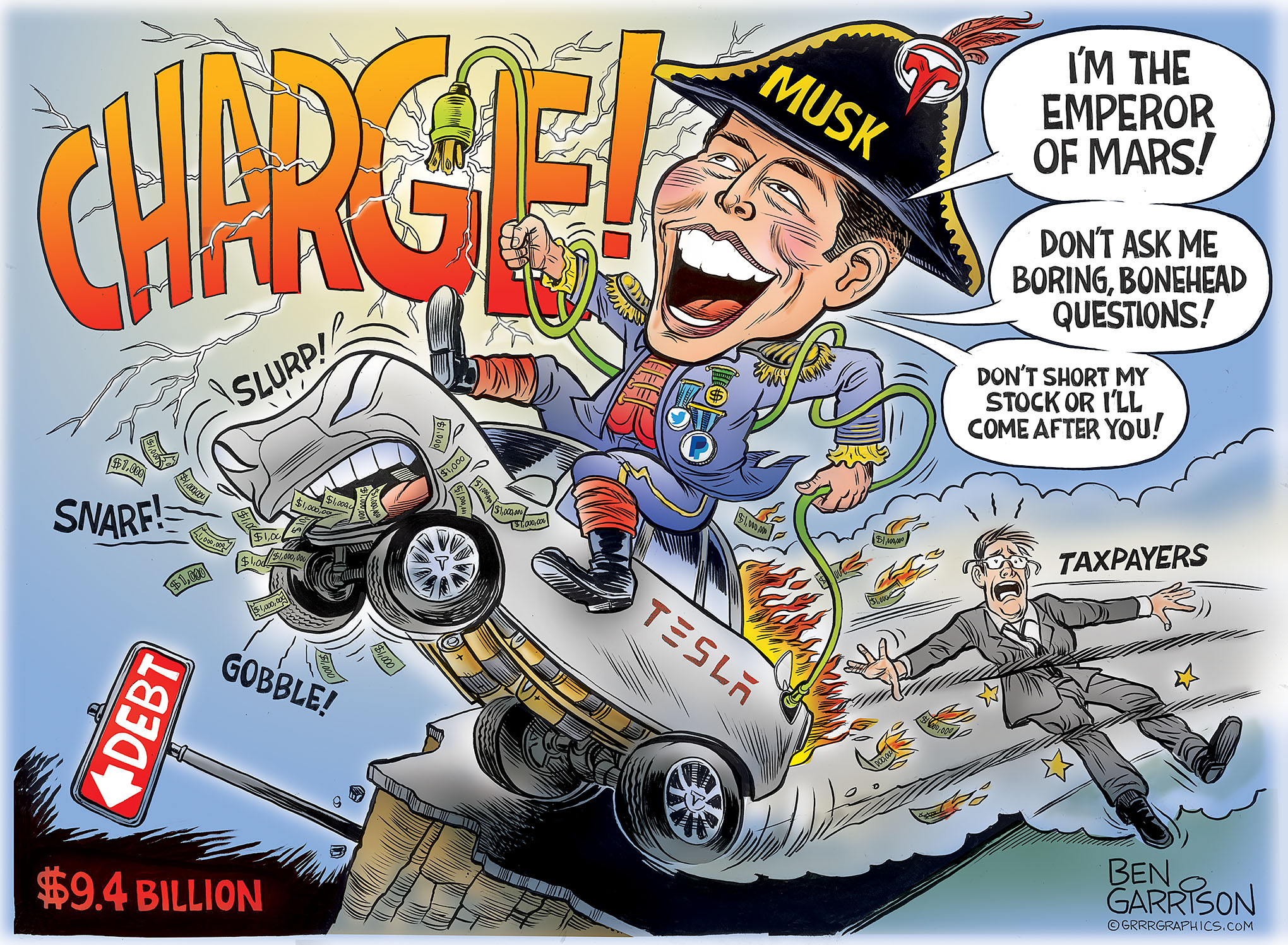 UPDATE: August 17, 2018
Elon Musk considers taking Tesla private, it's been a very bad year. Story here
The volatile billionaire Elon Musk has been in the news a lot lately, so I thought I'd dash out a cartoon about him.
The man is quite a character with varied ambitions, but lately he's been mostly concentrating on making a success of Tesla, the maker of luxury electric cars. I've looked at the money-losing company with skepticism for a long time. I've also been perplexed that its stock could reach such a high orbit. After all, Tesla has chewed through billions of dollars and many problems remain to be solved. I've read that it burns around $6 million per day and has already run up a $9.4 billion debt. These figures are constantly in a flux, but they can be readily obtained through Internet searches.
Musk's ego may soon be crashing into fiscal reality. He has a big stake in the company and naturally wants it to succeed, but his erratic behavior isn't helping. TSLA is one of the most heavily shorted stocks and he hates those who are doing the shorting. According to 'Zero Hedge,' Musk leaned on the boss of a well-known critic and short seller of TSLA going by the handle, "Montana Skeptic." He voluntarily deleted his Twitter account to keep his job. If this rumor is true, then such behavior by Musk is completely reprehensible. A CEO should never attack shorts because it only makes the situation look worse. Shorts can also be beneficial because they add liquidity and if the company has success, a short covering spike can add shine to that success.
Running an electric car company that has already lost billions should be a full plate for any 'visionary,' but apparently that's not enough risk for Musk. He's also behind 'SpaceX' and space is always a risky and expensive venture. He wants to colonize Mars and even joked that he might be named 'emperor' of that orange world that is one-third the size of Earth.
The taxpayers in California are already subsidizing TSLA to a degree because government there is desperate to reduce the smog from all the internal combustion engines on their jammed freeways. Look for a big bailout from California taxpayers, even though that state is a cash-strapped mess. If that's not enough, look for the US taxpayers to bail out "the too big to fail" TSLA. It will be far worse than Solyndra.
There is a joke going around the Internet regarding Tesla. Recently it was discovered there was a lot of inventory sitting out in a California field and going nowhere. The joke is Tesla is outstanding in its field. Let's hope the batteries in those neglected vehicles don't catch fire in this summer heat.
—Ben Garrison
"House Divided "Print available- limited stock
http://grrrgraphics.com/shop/a-house-divided-print/