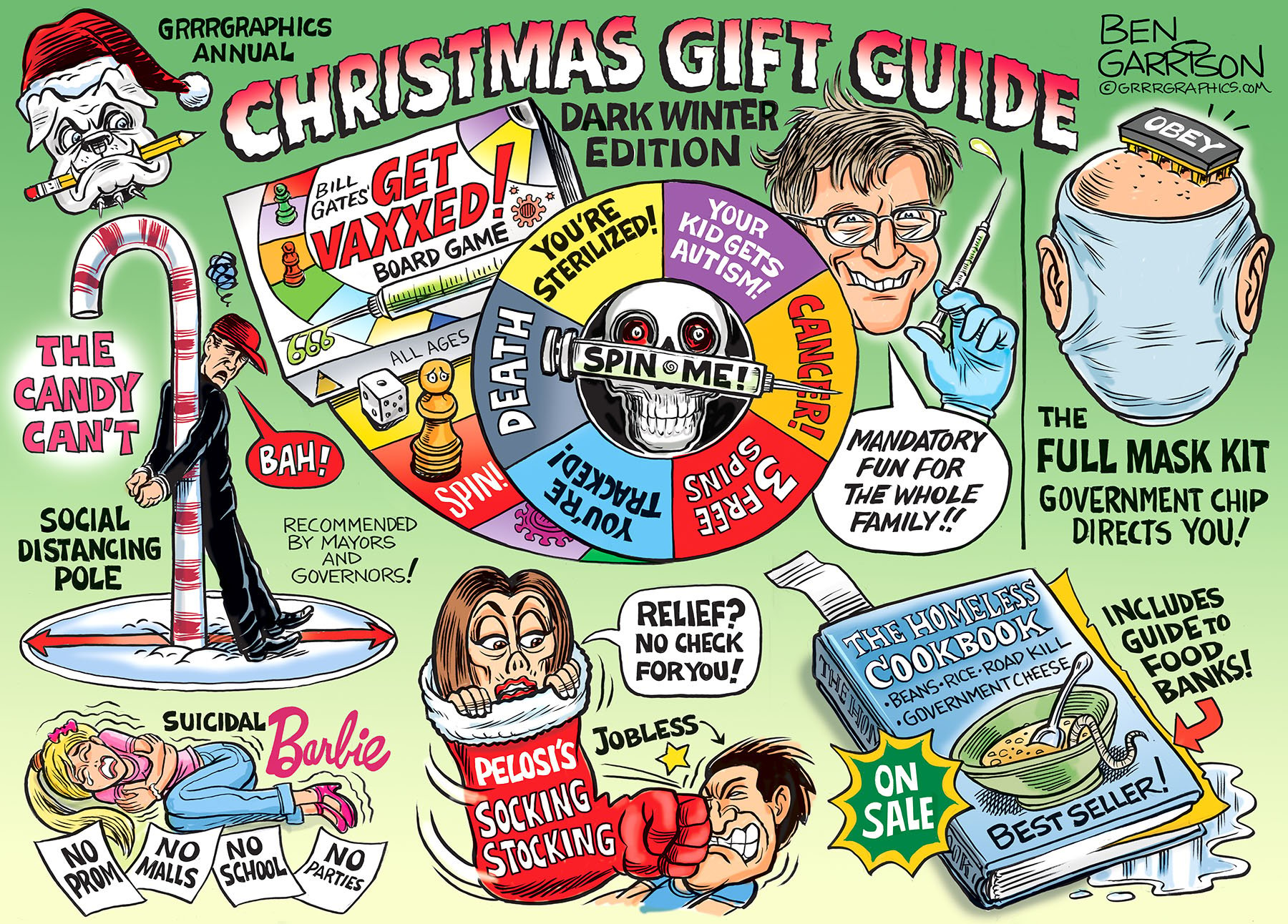 Ho, ho, Nooooooo!
'Twas the night before Christmas, next to a foreclosed house,
A family was camping, their dinner, a mouse.
They thought politicians should be hung high with care,
While they stayed socially distanced from others who were there.
Around the campfire, each wore a mask,
Ending the brainwashing would be no easy task.
The children were in sleeping bags, of Santa they dreamed,
Instead jolly Bill Gates was coming, as the cold moonlight beamed.
He arrived in a sleigh packed with needles of harm,
The shots were all mandatory; a vaccination for each arm.
He spoke not a word, but went straight to his work,
Bill hoped they'd all die, because he is such a jerk.
Then he sprang to his sleigh with a grin on his face,
Bill Gates would get even with the whole human race.
"On Pfizer, On Monsanto, On Fauci!" he shouted,
Bill was doing good work—it was not allowed to be doubted.
Away he flew, leaving the homeless in dread,
They thought Bill might be right after all–they'd be better off dead.
So while they should fight back with all of their might,
They instead faded gently into that goodnight.
—Ben Garrison
Join Us on Subscribe Star, a free speech alternative to Patreon- Support Cartoons
Additional by Tina…
Then up on the rooftop, there arose such a clatter,
Helicopters were landing, loaded with Patriot's who mattered.
Rudy, Sidney, Lin Wood and more,
All standing up for the Constitution with lawsuits galore.
Digital soldiers marched straight into line,
lead by General Flynn on a mission divine.
To expose the corruption of a Deep State Cabal,
With God on our side, Patriots will not fall!
The Plandemic will end with the world awaken,
Our freedom and liberty will NOT be taken!
So Stand United Patriots across this land,
Hold the line and each other, hand in hand.
The Christmas Star will appear in this historical year,
With trust in God , we know we have nothing to fear.
So rejoice with your families and pray every day,
For our Republic, our President and our American Way.
And we heard our President,  as he appeared  in the night,
He shouted out, "We will not bend, We will not fall and We will win this fight"
MERRY CHRISTMAS!
Note: We are an Amazon Associate. Your purchases on Amazon via our links will support Ben and Tina's cartoons- At no extra cost to you! Please click and send some love!