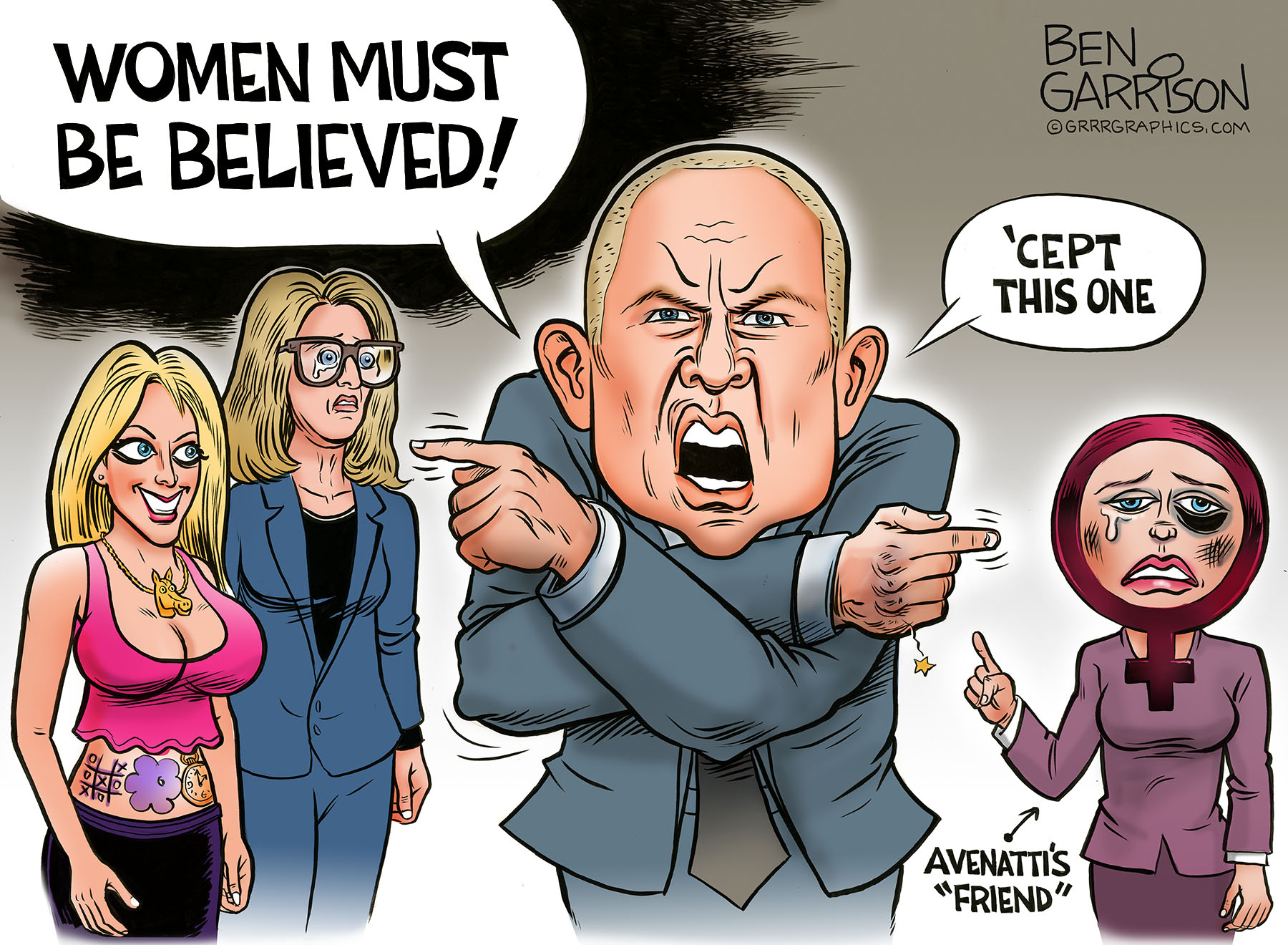 UPDATE June 2022, Avenatti sentenced to 4 years in Prison
UPDATE MAY 2019  Federal Prosecutors Charge Michael Avenatti With Defrauding Porn Star Stormy Daniels 
UPDATE December 7, 2018 
Judge Orders  Avenatti to Sell His Ferrari, Luxury Watches and Artwork to Pay for Back Child Support
UPDATE November 15, 2018 
Stormy Daniels Says She'll Fire Michael Avenatti if Domestic Violence Accusations 'Prove True'   The Wrap
Original Post Below:
Michael Avenatti represented Stormy Daniels and one of Justice Kavanaugh's accusers, Julie Swetnick. He said we should believe Dr. Christine Ford's accusations.  He's one of those who think women who say they were abused have a right to be heard and believed.
Now the shoe is on the other foot, so to speak, and a woman has accused the Creepy Porn Lawyer of domestic violence. Only it wasn't his ex-wife, it is some other woman. It's difficult to draw a cartoon when I don't know what the accuser looks like, but regardless, Avenatti deserves to be treated as someone innocent until proven guilty.
Even though he didn't treat Trump or Kavanaugh with the same courtesy.
The irony here is thick. My cartoon could have just as easily featured Hillary saying the same thing. Her sympathy for female victims abounds—except those whom her husband raped and sexually assaulted. In which case, she went into her attack mode. She tried her best to silence Bill's 'bimbos.'
Support ULTRA MAGA Cartoons with a One time donation! Click to Donate!
Democrats usually get a pass for such obvious hypocrisy, though—and maybe this incident will even help Avenatti's 2020 presidential bid. I'm being facetious, but who knows?
—Ben Garrison
Follow @grrrgraphics on GAB,  TRUTHSOCIAL  PARLER, INSTAGRAM, TELEGRAM