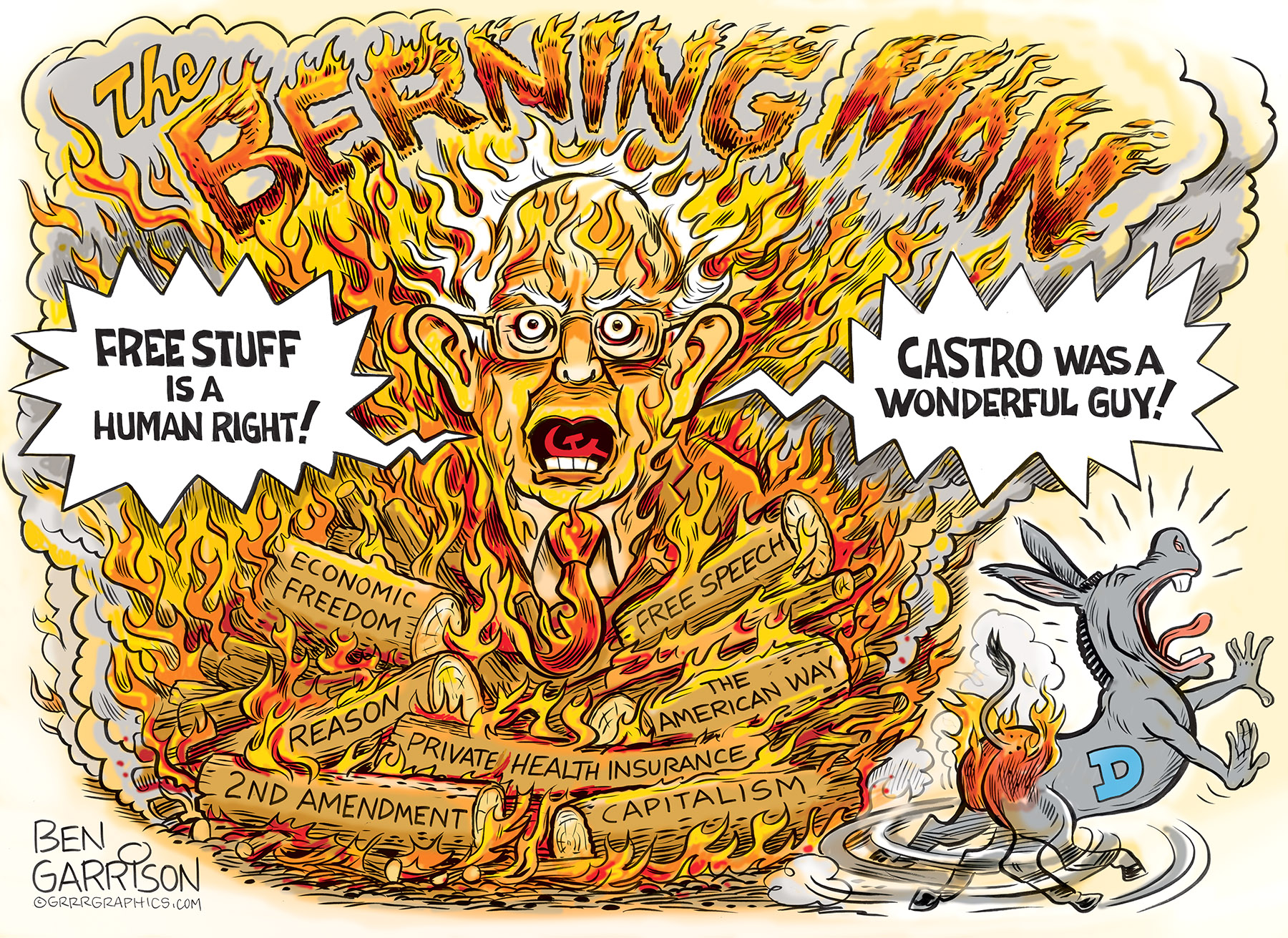 Was Castro a "Bernie Bro" ?
Bernie Sanders has momentum on his side. His promise of free stuff is just too tempting for many who have not learned the lessons of history.
Bernie calls it socialism, but rest assured he is still well rooted in Marxism. Whatever nomenclature the old hippie prefers, socialism is asking for trouble. It always ends in failure, poverty, tyranny, and suffering. It's a lesson of history his supporters seem to have forgotten or never bothered to learn.
Some Trump supporters want Bernie to win the nomination because they know that he and his socialist platform will be easily defeated. Many in the Democratic establishment abhor the thought of Bernie as their nominee because they also know he can't win. They've already concocted a variation in their Russia conspiracy theory. They say Putin is now pulling strings to get Sanders is nominated, thus assuring the reelection of his puppet, Trump. The Swamp just won't give up on the 'Russia Russia Russia!' conspiracy claptrap no matter how many times it has thoroughly been debunked.
I don't want Bernie nominated. Such an event will only make future socialists seem more acceptable. The ongoing drift toward socialism is just too darned dangerous. We need smaller and less obtrusive government, not socialists bureaucrats micro managing every aspect of our lives. Can't have anyone hurting B Control freaks such as Bernie want to steal our labor via taxes and then redistribute it as he and his functionaries see fit. You can bet he will still have his three houses, though—and perhaps more. Yes, he'll want to live in a luxurious dacha while sending those who resist into gulags.
Free speech would end in order to achieve Bernie's 'social justice.' During the debate in South Carolina, Bernie was actually booed and he didn't like it! If he had his way, booing socialism would be against the law. He would make sure hate speech laws got enacted and enforced. Guns would be confiscated. Can't have citizens fighting back when private property is outlawed.
Bernie offers us a terrible conflagration that will be fueled by the loss of our freedom. Millions of people died due to communist tyranny in the 20th Century. The cold ashes of history should not be forgotten.
—Ben Garrison
Join Ben and Tina On Patreon! Support your local cartoonists with a small monthly donation!
We need your support in getting Donald Trump reelected! Your purchase goes toward our country, the MAGA MOVEMENT, and President Trump!
Trump Super Human Effort Limited Edition Poster
$99.99
Officially signed by Ben Garrison
24″ w x 18″ h  print on high quality heavy weight paper
Shipped in a mailing tube
Special Edition: The biggest prints we have ever made!
Advertised as being "one of the best political cartoonists" in the world, Ben Garrison presents, "Superhuman Effort!"
This is a special limited edition print–meaning Ben Garrison will sign it + number your print (and add any personalized notes you may choose)
Only 100 will ever be printed.
Your purchase helps us raise awareness of ELECTION FRAUD, STOLEN ELECTION, THE DEEP STATE, and lets them know that you are a TRUE PATRIOT who loves the USA!
Order yours today by clicking the "Add To Cart" button below. 
5 in stock
Description