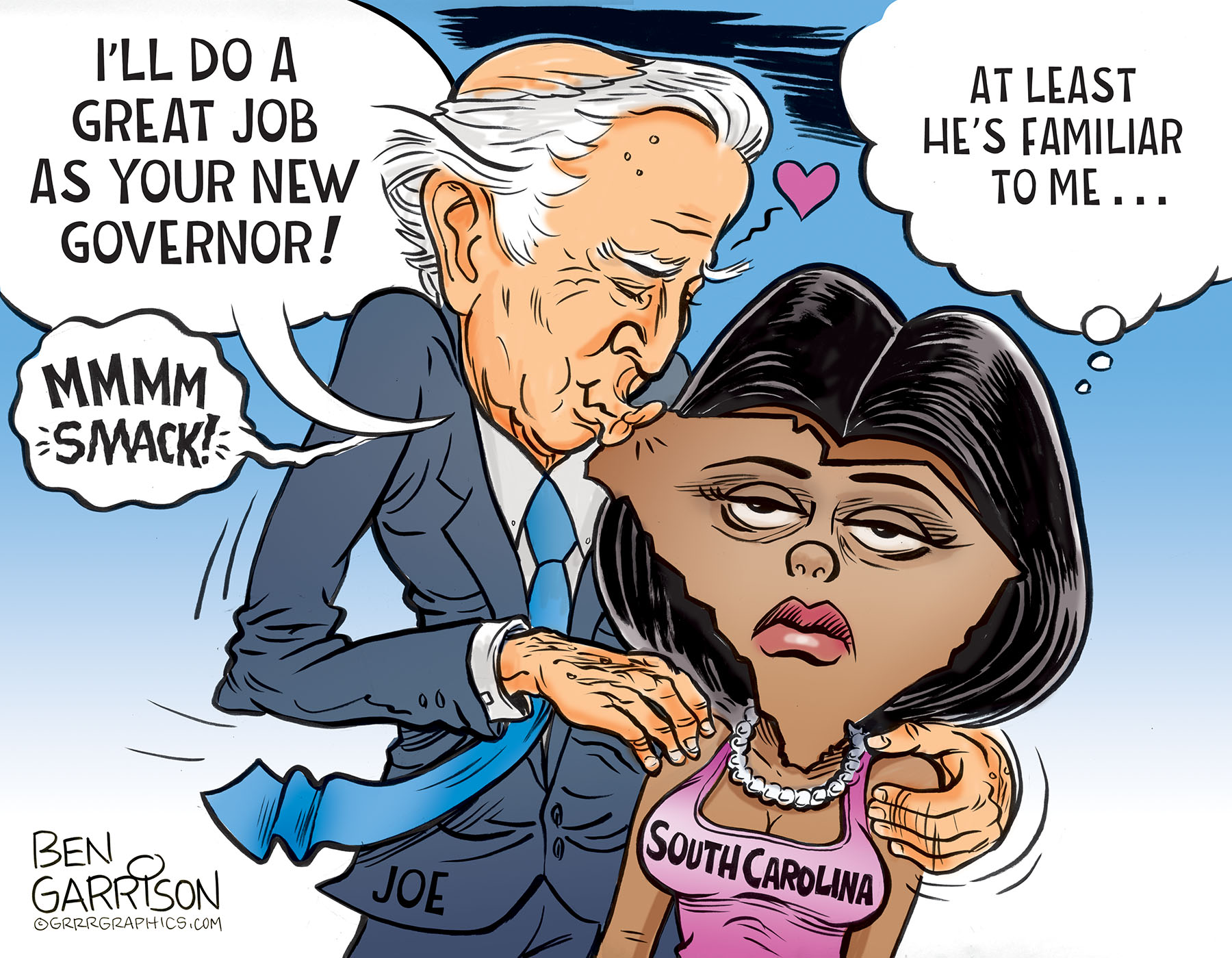 Vote Joe!
Sleepy Joe Biden is running for senator, er, governor, er, president and he just won the South Carolina primary. Creepy Joe is now going into 'Super Tuesday' with some momentum. In fact, pundits are already saying the race is now between Biden and Bernie.
I hope it's Crazy Joe Biden. Not only will he provide plenty of subject matter for cartoons, but he will also stand the least amount of chance against President Trump. Sure, they're saying Bernie would be the weakest candidate, but I'm not so sure of that. Bernie is offering the malarky of 'free stuff,' and that's why he's currently in the lead. Besides, I don't want a crackpot communist to be any closer to the presidency.
So let's put on another record on the ol' record player and hope it's sniffin,' kissn,' gropin' Joe. Leg hair combing Joe. Mumbling, stumbling, gaffe-machine Joe. 
Go Joe!
Join Ben and Tina On Patreon! Support your local cartoonists with a small monthly donation!
We need your support in getting Donald Trump reelected! Your purchase goes toward our country, the MAGA MOVEMENT, and President Trump!
Trump Super Human Effort Limited Edition Poster
$99.99
Officially signed by Ben Garrison
24″ w x 18″ h  print on high quality heavy weight paper
Shipped in a mailing tube
Special Edition: The biggest prints we have ever made!
Advertised as being "one of the best political cartoonists" in the world, Ben Garrison presents, "Superhuman Effort!"
This is a special limited edition print–meaning Ben Garrison will sign it + number your print (and add any personalized notes you may choose)
Only 100 will ever be printed.
Your purchase helps us raise awareness of ELECTION FRAUD, STOLEN ELECTION, THE DEEP STATE, and lets them know that you are a TRUE PATRIOT who loves the USA!
Order yours today by clicking the "Add To Cart" button below. 
20 in stock
Description