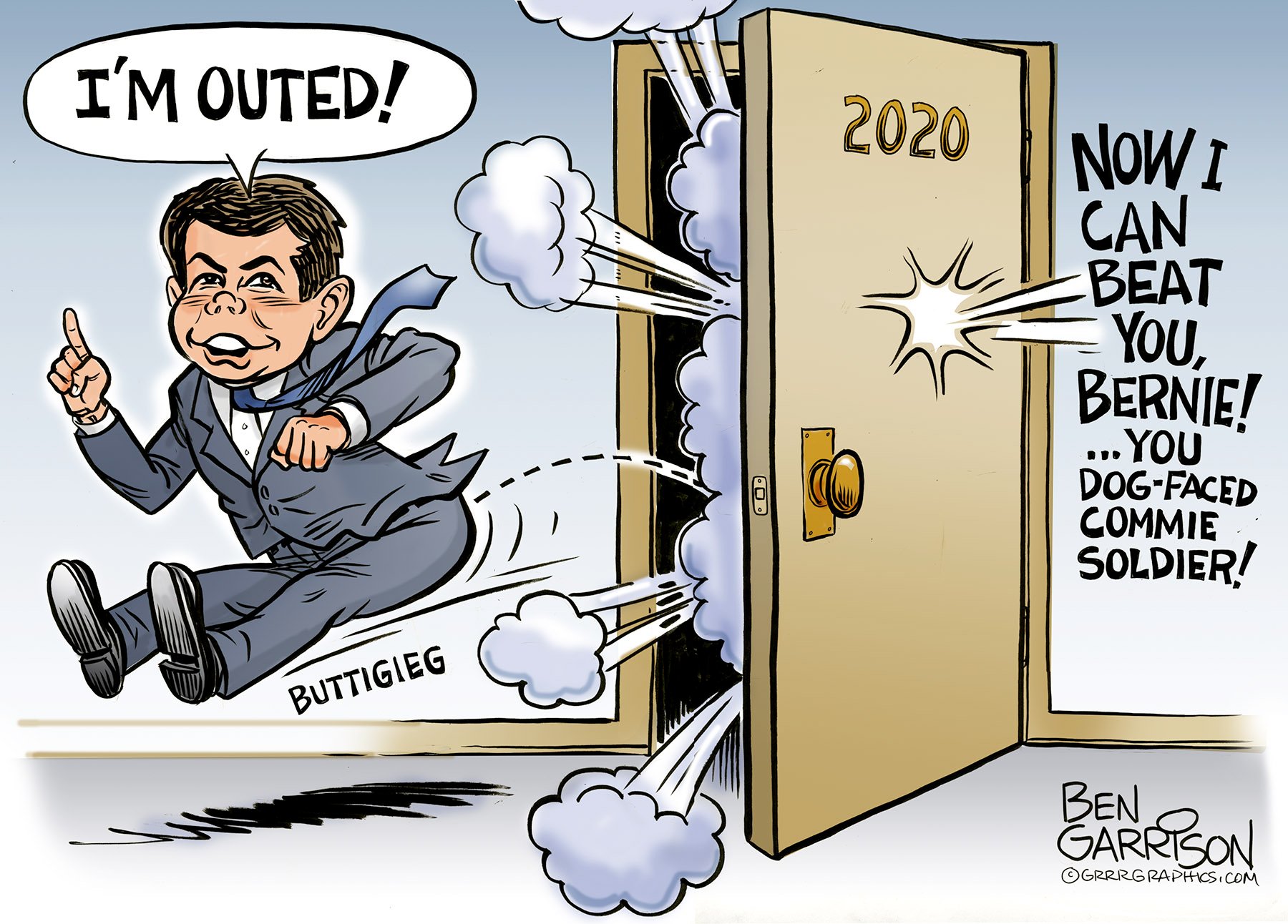 Mayor "Pete the cheat" outed himself from the Democratic race for president.
Why would he do this only a couple days from Super Tuesday? Most likely because the Deep State wants Biden to win. They definitely don't want Bernie, who is not part of their Big Club.
Mayor Pete is part of the Club. He's doing a job for them. Pete already did his best to cheat Bernie out of the Iowa caucus. Now he'll try to do Bernie more damage by dropping out.
Join Ben and Tina On Patreon! Support your local cartoonists with a small monthly donation!
CNN has called Buttigieg 'historic' for being the first 'outed' gay candidate for president. Look for Pete to land a job in the Biden administration. Or become a commentator on CNN. He may even receive a beach house. One thing is for certain, Buttigieg is not going away.
—Ben Garrison
We need your support in getting Donald Trump reelected! Your purchase goes toward our country, the MAGA MOVEMENT, and President Trump!
Trump Super Human Effort Limited Edition Poster
$99.99
Officially signed by Ben Garrison
24″ w x 18″ h  print on high quality heavy weight paper
Shipped in a mailing tube
Special Edition: The biggest prints we have ever made!
Advertised as being "one of the best political cartoonists" in the world, Ben Garrison presents, "Superhuman Effort!"
This is a special limited edition print–meaning Ben Garrison will sign it + number your print (and add any personalized notes you may choose)
Only 100 will ever be printed.
Your purchase helps us raise awareness of ELECTION FRAUD, STOLEN ELECTION, THE DEEP STATE, and lets them know that you are a TRUE PATRIOT who loves the USA!
Order yours today by clicking the "Add To Cart" button below. 
20 in stock
Description