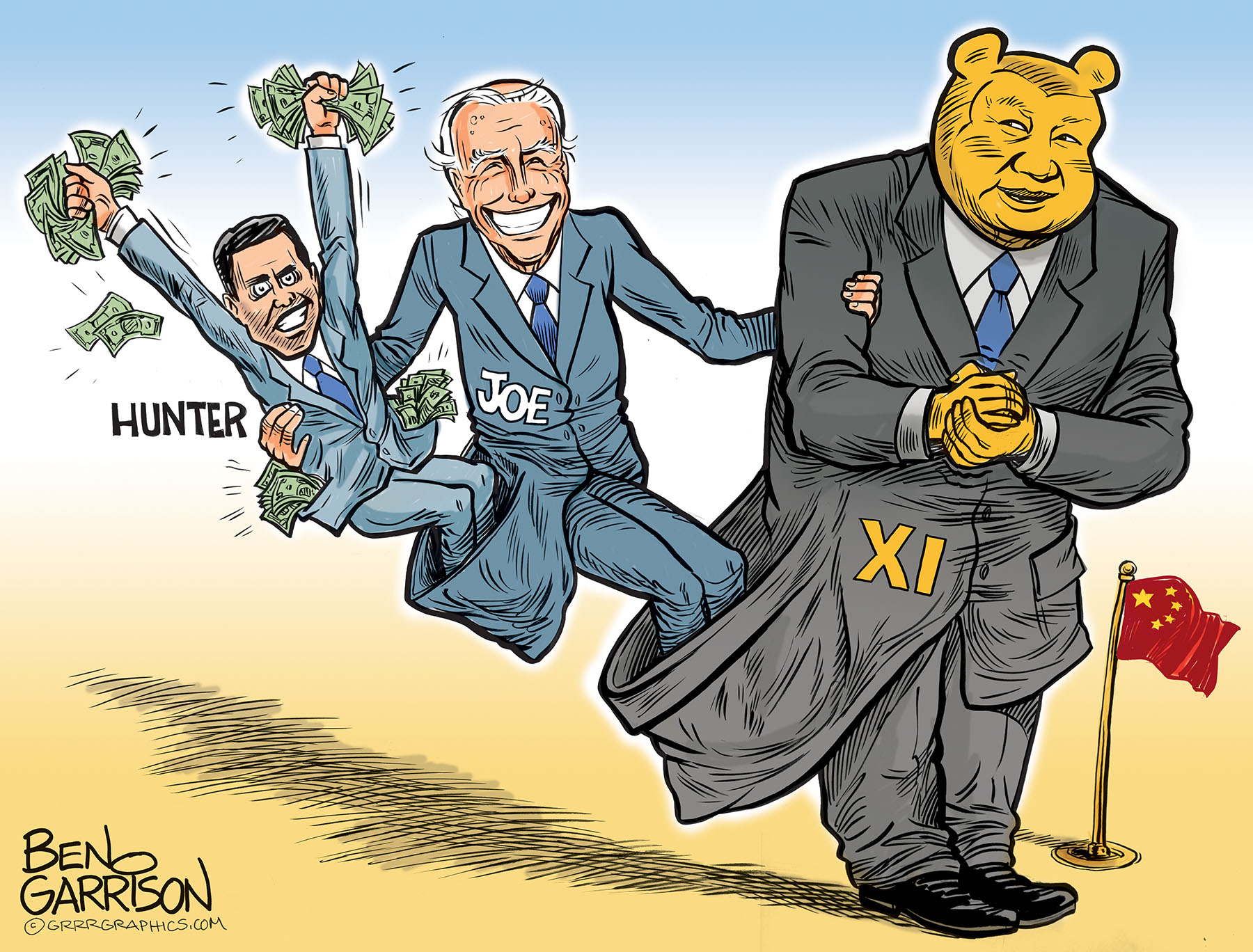 Who's In YOUR Pocket?
Donald Trump called Biden "Sleepy Joe," but I have a better nickname for him: China Joe. 

When President Obama launched  the U.S.-China Strategic & Economic Dialogue in 2009, he assigned then Vice President Joe Biden to lead it. Joe flew to China with his son Hunter and they both got the red carpet treatment from top Chicom leaders.
JOIN US ON THE 2020 FRONT LINES DIGITAL SOLIDER, SUPPORT CARTOONS AT PATREON OR AT SUBSCRIBESTAR-SEE EVERY CARTOON EARLY BEFORE IT'S RELEASED TO THE PUBLIC!  CLICK TO VIEW!
Why did his disgraced son accompany Joe? Hunter got kicked out of the Navy for his cocaine abuse. Hunter knew nothing about China or trade, but he left with a billion dollar deal for his investment company, Rosemont Seneca partners. It didn't stop there. Hunter became involved with many deals with China, including involvement with mergers of American technology companies with the Chinese military, who desired American technology. Obama approved.
This is graft on a grand scale, but Hillary, Obama, and many others including Pelosi do the same thing with no accountability. How else have they all gotten so fantastically rich from politics? The Democrats are a criminal party. Joe Biden is not only a corrupt political hack, he's also a traitor in the pocket of President Xi.
Support Cartoons with a donation at Pay Pal! Click to donate
Biden came back from China and stated, "A rising China is a positive development." It sure was for his son, but not for America's middle class. Trump knew all along that the China's rise brought danger to our security as well as the destruction of American jobs. Trump wants to repair the damage done by Biden and Obama, but it requires his re-election.
China Joe must be defeated.
—Ben Garrison  
One of Our MOST Popular Limited edition prints! Trump 2020-D Chess Order your signed poster size print today! 
Trump 2020-D Special Limited Edition Signed Print
$99.99
Officially signed by Ben Garrison
24″ w x 18″ h  print on high quality heavy weight paper
Shipped in a mailing tube
Advertised as being "one of the best political cartoonists" in the world, Ben Garrison presents, "Trump 2020-D!"
This is a special limited edition print–meaning Ben Garrison will sign it + number your print (and add any personalized notes you may choose)
Only 100 will ever be printed.
Your purchase helps us raise awareness of ELECTION FRAUD, and lets them know that you are a TRUE PATRIOT!
Order yours today by clicking the "Add To Cart" button below. 
10 in stock
Description