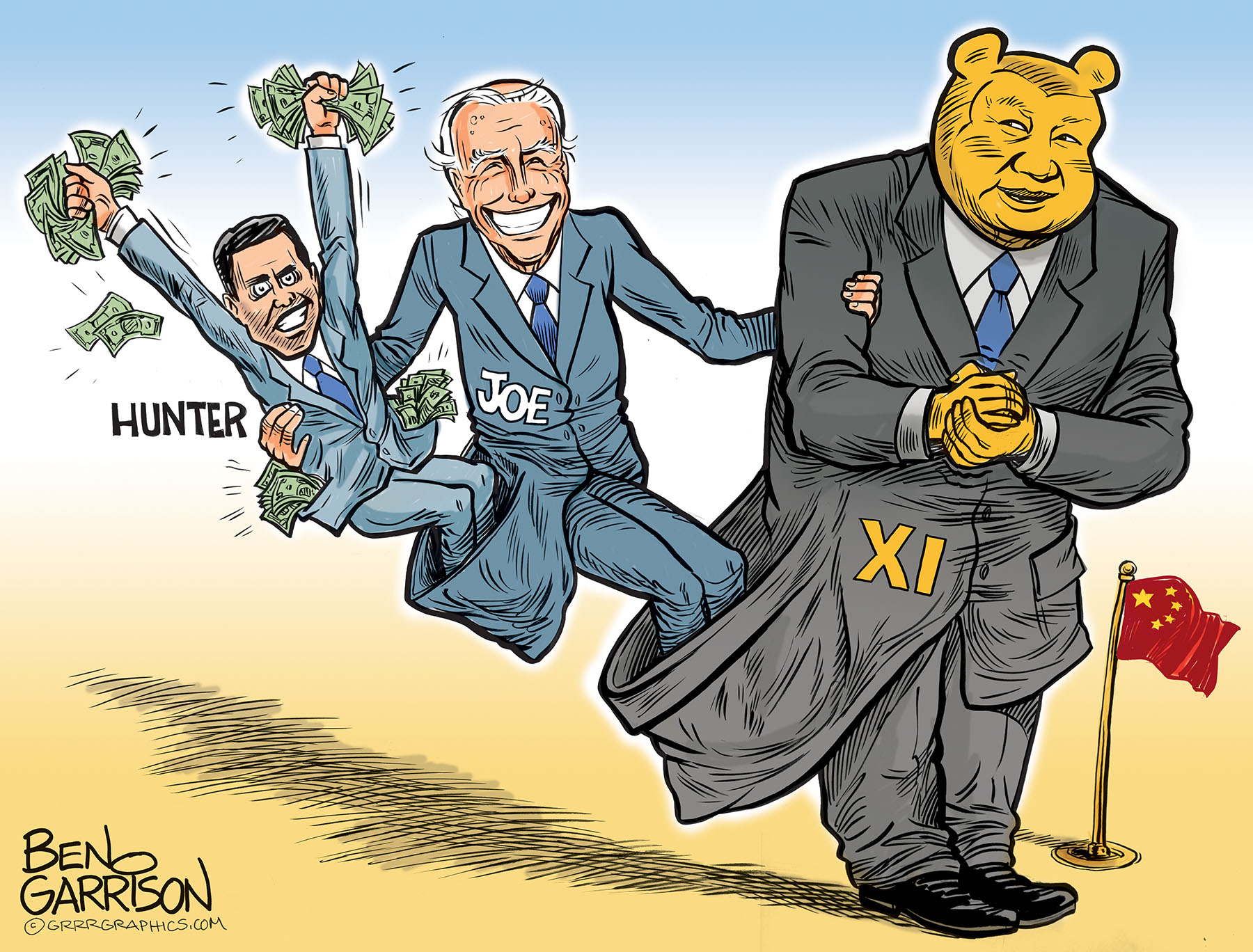 Who's In YOUR Pocket?
Donald Trump called Biden "Sleepy Joe," but I have a better nickname for him: China Joe. 

When President Obama launched  the U.S.-China Strategic & Economic Dialogue in 2009, he assigned then Vice President Joe Biden to lead it. Joe flew to China with his son Hunter and they both got the red carpet treatment from top Chicom leaders.
You are invited to join me on SubscribeStar- a Pateron alternative, for exclusive cartoons and behind the scenes look at GrrrGraphics, Click to Join!
Why did his disgraced son accompany Joe? Hunter got kicked out of the Navy for his cocaine abuse. Hunter knew nothing about China or trade, but he left with a billion dollar deal for his investment company, Rosemont Seneca partners. It didn't stop there. Hunter became involved with many deals with China, including involvement with mergers of American technology companies with the Chinese military, who desired American technology. Obama approved.
This is graft on a grand scale, but Hillary, Obama, and many others including Pelosi do the same thing with no accountability. How else have they all gotten so fantastically rich from politics? The Democrats are a criminal party. Joe Biden is not only a corrupt political hack, he's also a traitor in the pocket of President Xi.
Support Cartoons with a donation at Pay Pal! Click to donate
Biden came back from China and stated, "A rising China is a positive development." It sure was for his son, but not for America's middle class. Trump knew all along that the China's rise brought danger to our security as well as the destruction of American jobs. Trump wants to repair the damage done by Biden and Obama, but it requires his re-election.
China Joe must be defeated.
—Ben Garrison  
Follow @grrrgraphics on GAB, TRUTH SOCIAL, PARLER, INSTAGRAM, TELEGRAM 
or join us at The Garrison!
We are fundraising for 2023, You can also keep GrrrGraphics online with a purchase!  Visit our Best sellers! Click now!