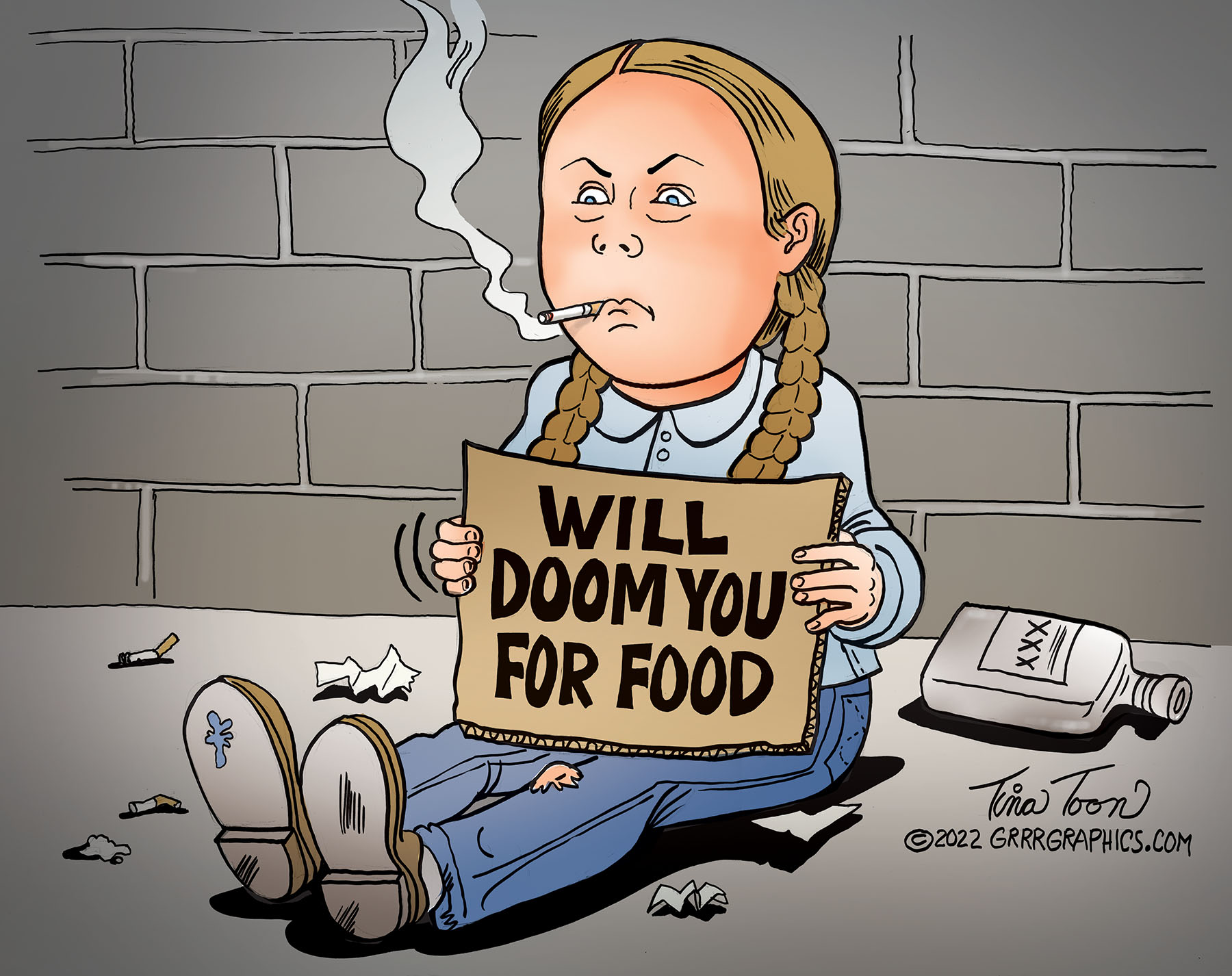 Green Cult is over Part 1
Where's Greta? Her no solution doom and gloom message is out of gas…er wind power.
Remember a few years ago, the climate hoax pusher Greta Thunberg was everywhere on social media and the news?
From her climate change protests to her "How dare you" speech at the UN, you could not escape the constant hectoring of a "I know better than you" Euro trash teenager.  Her "chicken little" act is wearing thin as people are tired of her constant nagging that the world will end if we don't do something NOW!   
Green activists are even sick of her. They are ready to begin a "de-Gretaisation" of the movement. The biased media has stopped running daily stories about old Greta. That's right. She's OLD. Greta is now pushing 19 and looks more like a disheveled Kurt Cobain than her media made image of a moon-faced girl in braids. That doesn't play as well to the masses.  Or maybe the masses have always had it with Greta and her doom pushing, especially since none of the climate hysteria has come true.
Snow is a thing of the past? Nope, the Arctic sea ice extent at the end of December, 2021 is the highest in recent years and the 2nd highest in 18 years according to the US Snow and Ice Data Center.
The oceans are rising and will flood the coastal cities? Nope, ask Nancy Pelosi who just bought an ocean front mansion in Florida or Barrack Obama who purchased a huge 12 million dollar home on the beach in Martha's Vineyard. You think they would have socked their money into a place on the beach just to watch it get flooded? The ocean is not rising.
Green energy must be implemented now, we only have 12 years to "save the planet!"  This winter the wind turbines froze in Texas and in the summer the solar panels stopped working because of a heat wave. Today's news is that the California grid is under pressure because of a heat wave and the authorities are asking people NOT to charge their electric cars. This is the same state that is banning all gas powered vehicles by 2035. Then we find out you can't drive your $66,000.00 EV during a heat wave? Or all summer? No electric to heat your home in the winter because of frozen turbines? That doesn't sound like reliable energy to us. 
You are invited to join me on SubscribeStar- a Pateron alternative, for exclusive cartoons and behind the scenes look at GrrrGraphics, Click to Join!
Even Elon Musk commented that without oil and gas civilization would crumble. Just look at Germany. Watch Europe this winter, you will see some crumbling alright. They're returning to the Dark Ages.
So Greta, maybe it's time you find a new gig, because no one is listening to you anymore.
— GrrrTeam
Sign up for the Grrrgraphics newsletter and never miss a cartoon- Click to sign up today
Follow @grrrgraphics on GAB,TRUTHSOCIAL PARLER, INSTAGRAM, TELEGRAM 
Tina Toon Original art available for patriots and realists worldwide! Click and order this one of a kind artwork today