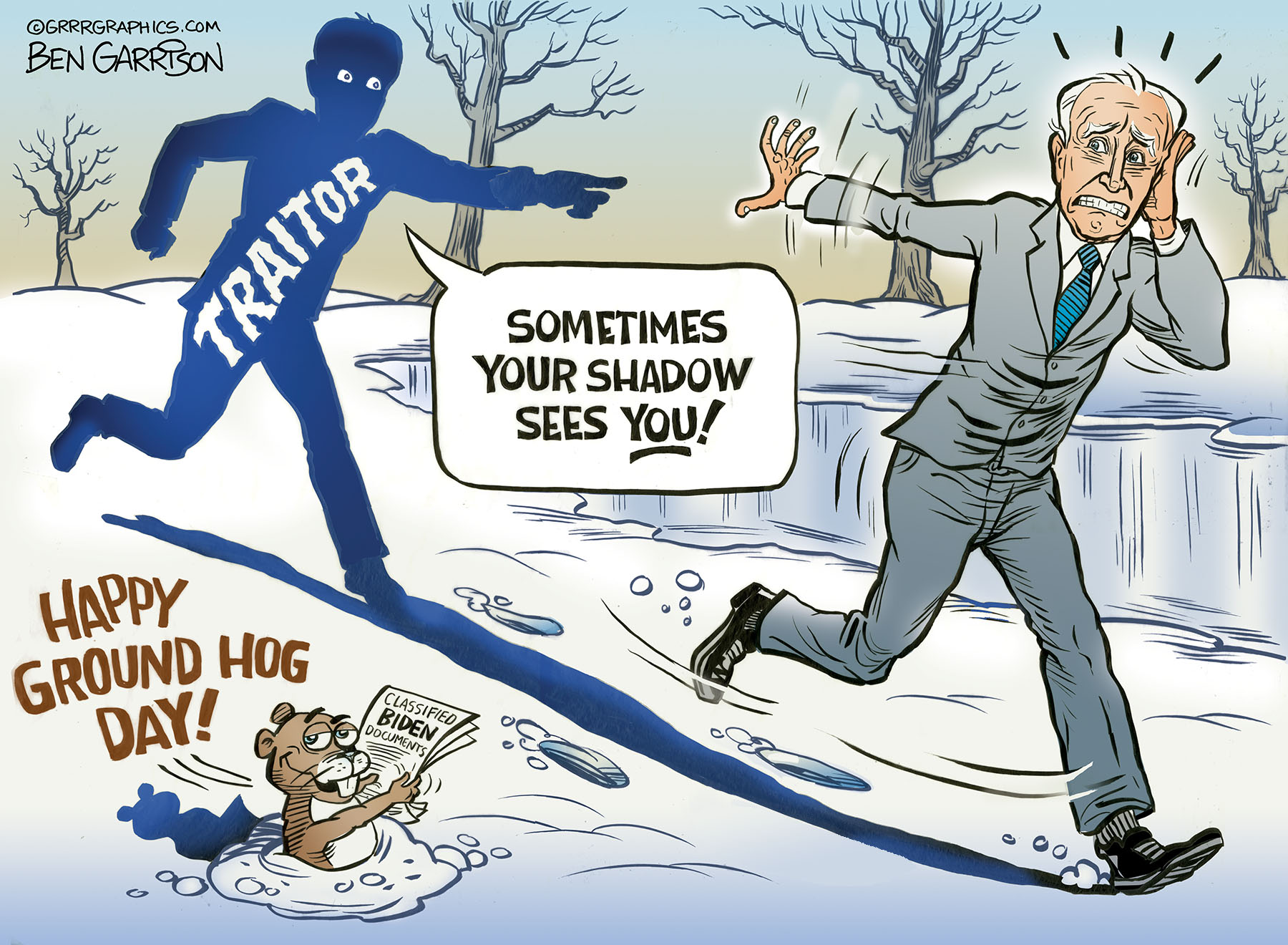 Happy Groundhog Day 2023- Sometimes Your Shadow Sees YOU
Cartoon published 02/02/2023
"Well, it's Groundhog Day. Again."

The groundhog says we must continue to endure two more years of Biden and the tyranny of evil men who cast long shadows over our nation.
Join Ben and Tina on SubscribeStar- a Pateron alternative, for exclusive cartoons and behind the scenes look at GrrrGraphics, Click to Join!
"Stolen election" Joe Biden a traitor to his country. He has allowed wide open borders, which has led to a flood of invaders, crime, and drugs into America. He said we could not send tanks to Ukraine because it would mean World War III. Then he sent tanks to Ukraine. Apparently he won't be happy until there's a nuclear war, which could mean an extinction level event.
Joe hates America and the middle class. He also hates the unvaccinated. Last winter Joe warned (almost wished) that the unvaccinated would face a long and deadly winter.
Biden loves sending billions of US tax dollars to a Ukrainian confidence trickster named Zelensky. He and his son enjoy breaking laws at will. Their deals with communist China will ensure America's decline and defeat in any war. Meanwhile, the average American faces the hardship of inflation caused by Joe and his Democrat spendthrifts.
Time for the classified document-stealing Joe to jump back into his basement hole and never cast his long, lying shadow on our country again.
— Ben Garrison
Follow @grrrgraphics on GAB, TRUTH SOCIAL, PARLER, INSTAGRAM, TELEGRAM 
or join us at The Garrison!
We are fundraising for 2023, You can also keep GrrrGraphics online with a purchase!  Visit our Best sellers! Click now!
Please Support Ben's Work Visit Our 2023 Fundraiser at GIVESENDGO! Click Now
If you can not donate then please share our campaign on social media! Thank you!
SHARE/DONATE AT    GIVESENDGO.COM