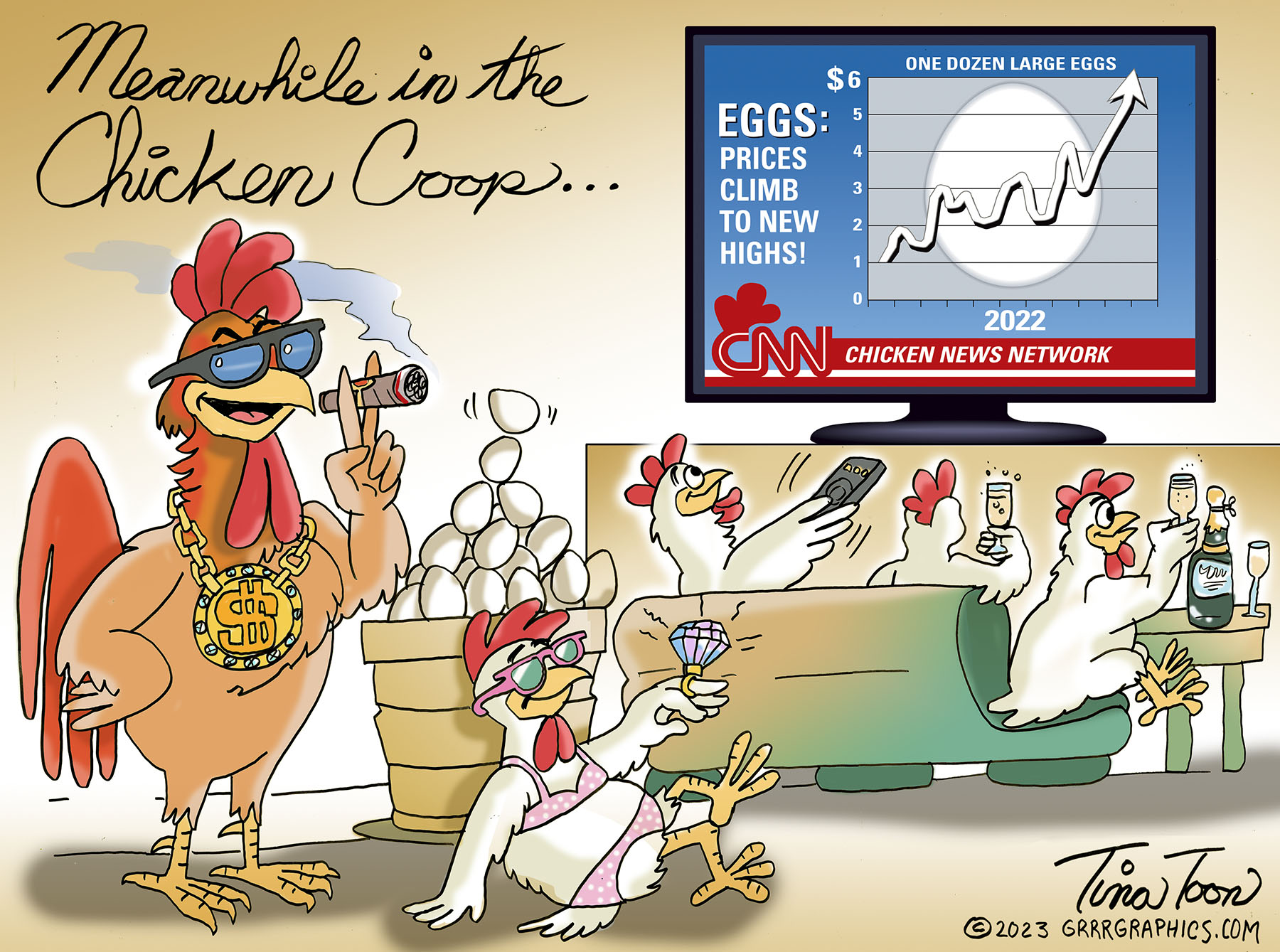 Bill and Hen's Egg-cellent Adventure
Tina Toon published 01/22/23
Have you bought a dozen eggs lately? Egg prices skyrocketed in 2022. Prices have receded a little in 2023 but still remain high. Have they pecked, er peaked? If you can score a carton of eggs, consider yourself lucky as many stores are reporting shortages and empty shelves.
Welcome to Biden's 'strong economy' where stores are out of baby formula and eggs. America's bounty has turned into scarcity. Apparently Biden thinks we need to break some eggs to make an omelette, but his mind is already broken—his brains are scrambled eggs. He thinks he's hard boiled, but the yolk's on him. He's just a shell of a man. Meanwhile, they keep finding so many more classified documents at Joes place—like so many Easter eggs.
Please Support Ben's Work Visit Our 2023 Fundraiser at GIVESENDGO! Click Now
Joe apparently wants us all to experience the empty stores in the old Soviet Union and the breadlines during another Democrat socialist, Franklin D. Roosevelt. History is repeating itself.
The hens are celebrating. After all, they're enjoying their bling and notoriety. Their roosters have lots to crow about as they strut around their newly-refurbished chicken coops!
And to end, I think I can speak for everyone who likes chickens,
"Cluck Biden"
Always stay sunny side up! 
—Tina
Print Available- Click to order
Follow @grrrgraphics on GAB, TRUTH SOCIAL, PARLER, INSTAGRAM, TELEGRAM 
or join us at The Garrison!
We are fundraising for 2023, You can also keep GrrrGraphics online with a purchase!  Visit our Best sellers! Click now!
Please Support Ben's Work Visit Our 2023 Fundraiser at GIVESENDGO! Click Now
If you can not donate then please share our campaign on social media! Thank you!