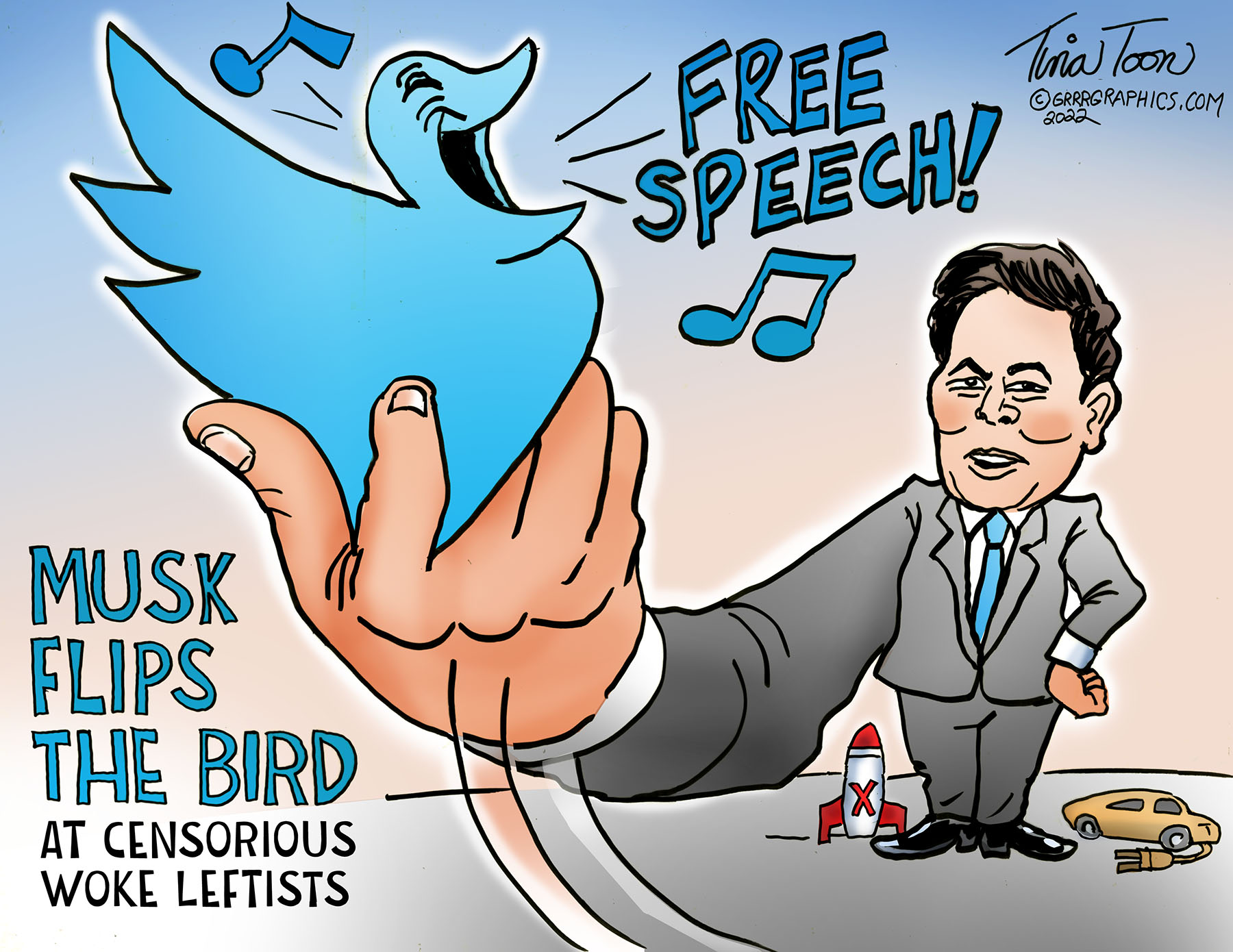 Musk Flips the left off
Earlier this week Elon Musk offered to pay his full price of $54 dollars a share for Twitter. The deal to buy Twitter was back in the spotlight and Twitter shares soared on the news.
Steve Bannon revealed on Wednesday that Twitter had offered Musk a cut in price if he would agree to two conditions.
One: President Trump's Twitter account and other conservative accounts must not be reinstated.
Two: Musk keeps the current far let Twitter staff currently employed.
Bannon claimed that Musk basically told Twitter to take a hike and "a deal is a deal."
Fight Thought Control through supporting Grrrgraphics high impact cartoons- We draw for you! Click to support us at SubscribeStar a monthly donation at whatever amount is comfortable
Now Twitter is refusing to accept Musk's new bid of 44 billion according to an AP report citing Musk's attorneys.
In a court filing, Elon Musk's attorneys said,  "Twitter will not take yes for an answer."
The trial date on October 17th in Delaware has been moved to October 28th to give Musk and Twitter time to complete the deal. Musk wanted the litigation canceled.
Musk's attorneys commented, "Astonishingly, they have insisted on proceeding with this litigation, recklessly putting the deal at risk and gambling with their stockholders' interests."
Musk's Twitter buyout still has a bumpy road ahead, we hope the "blue bird" will finally be able to sing freely once Musk completes the deal.  The CIA and woke left won't be happy.
Stay tuned to this developing story.
-Tina
Follow @grrrgraphics on GAB,TRUTHSOCIAL PARLER, INSTAGRAM, TELEGRAM 
Send Ben a treat today with a VIRTUAL chocolate bar- Mr. GrrrBar!*
*this is NOT a real candy bar, this is a donation.
A sweet way to donate and support GrrrGraphics! Only 4.99 per bar!