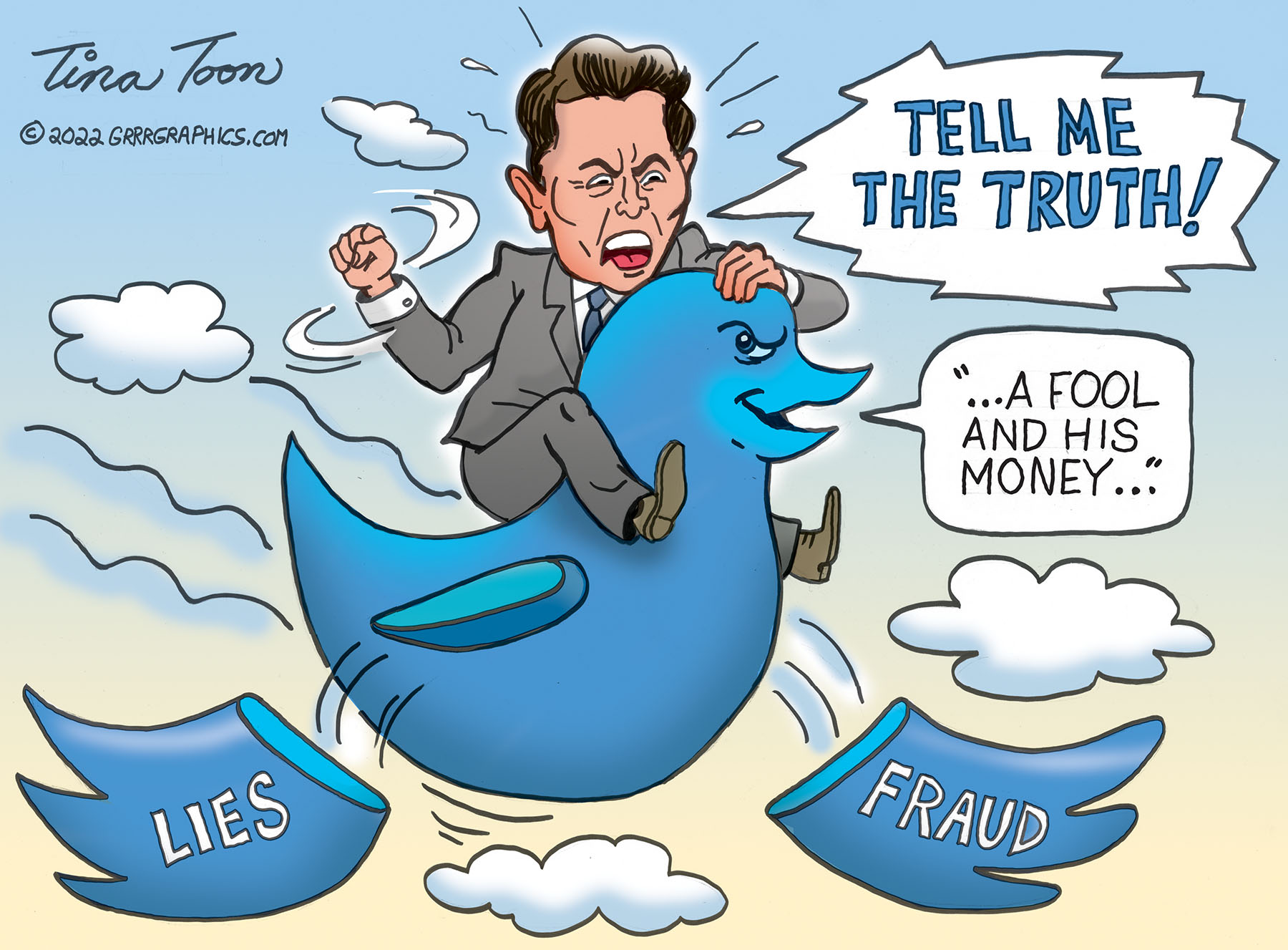 Musk Gets the bird..Or Does He?
UPDATE: Twitter Caves. On  June 8, Twitter gave Musk access to its entire "firehose," a stream of tweets and metadata about them that encompasses the 500 million tweets per day, according to The Washington Post.
What will Musk Find?
Original Post below
Elon Musk is apparently having second thoughts about buying Twitter.
He should have had plenty of first thoughts before plopping down $44 billion for the far-left social media company.
Run and populated by Marxists, Musk should have known that he was facing a legion of liars. After all, Marxism doesn't work—so it relies on lies to succeed. In the case of Twitter, we know that many of the 'followers' and 'real' twitter makers are fake. The very unpopular Joe Biden had a lot of followers, but they proved to be half the number that Twitter claimed existed.
Musk's lawyers found that Twitter has not been fully cooperative and are in clear material breach of their obligations made under the buyout agreement. In other words, Musk is getting stonewalled when it comes to his quest for seeking out factual data behind the company. He thinks there are far more bots than Twitter is revealing. Twitter pumps up the bots in order to claim a higher stock share price and advertisers.
Musk had little chance of finding out what's really going on inside Twitter without buying the company. Now that he's made the deal, he's still having trouble.
Support ULTRA MAGA Cartoons with a One time donation! Click to Donate!
If Musk terminates the agreement, he will owe a whopping $1 billion escape fee. That's hardly chump change, but if Twitter continues to dither and obfuscate, Musk may have to cough it up.
We wonder why Musk bought Twitter in the first place. Its share price was in clear decline. After all, Twitter's war against conservative voices meant that roughly half of their potential user base was not allowed into the socialist Twitter club. If Musk had simply waited, he probably could have picked up the company at a far cheaper price. Or he could have started his own similar company for half of what he paid for the blue bird.
Will Musk bail before Twitter's wings fall off?
Cartoon now available as a signed Tina Toon Print! Order Yours!
— The GrrrTeam
Follow @grrrgraphics on GAB,  TRUTHSOCIAL  PARLER, INSTAGRAM, TELEGRAM 
Tina Toon ORIGINAL ART- RESERVE YOUR ONE OF A KIND CARTOON ORIGINAL TODAY- CLICK NOW!