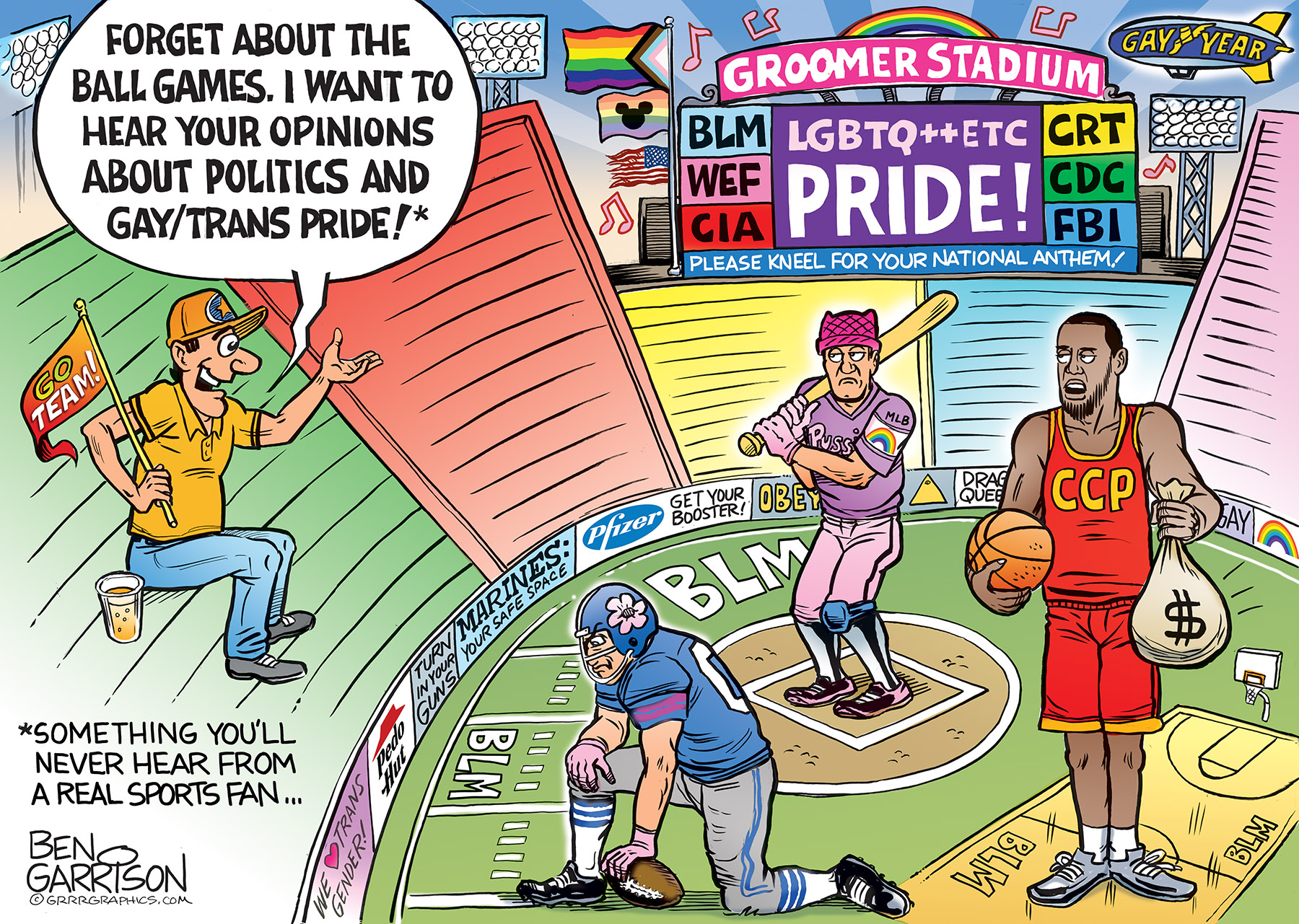 "Pride cometh before a fall"
I'm not 'homophobic.' I don't fear gay people. I simply don't care if they're gay and I'm tired of hearing about how I should 'celebrate' gayness.
Someone's sexual preference should not be touted as a virtue whether homosexual or heterosexual. Gays should not be harassed and tormented; nor should they be elevated to a special status. What consenting adults want to do with their bodies is their own business.
Support ULTRA MAGA Cartoons with a One time donation! Click to Donate!

What I object to is the sexualization of children. Too many LGBTQ++ teachers are eager to indoctrinate grade school kids. Instead of teaching them reading, writing, and 'rithmatic, they want to explain what a 'non-binary' human is. Shouldn't we try to preserve the innocence of kids and let them be kids instead of instilling gender confusion? Children are confused enough as it is and they are easily pressured and encouraged to become something they're not. 

Bill Maher recently talked about this on his show. It was said that 20 percent of kids under 18 now identify as LGBTQ++ and that number continues to rise. In another 10 years will everyone identify as gay or some kind of unique gender? It used to be said that LGBTQ people constituted about 5 percent of the population. Now they say it's 1 in 4 people. Really? Being 'trans' used to be well below 1 percent of the population, but it continues to be put into the limelight and now it has become trendy.
So much so, that many are encouraging kids to take dangerous hormones and even undergo sex surgery without the knowledge of their parents! This is outrageous, but it's being encouraged right now by major corporation and even major league sports. There is no such thing as trans. People can't choose their own sex. They can get implants, hormones, and mutilation, but as far as I'm concerned 'trans' is nothing more than a delusion.
I refuse to support or celebrate their delusion.

The Milwaukee Brewers will hold an LGBTQ 'pride night' this summer. This is a trend occurring throughout big league sports. Their goal is aligned with globalist corporations. They all strive to implement their magic words, 'inclusion.' They promote and support LGBTQ-owned businesses. It's a form of virtue signaling.

Pizza Hut thinks they are virtue signaling when they promote a book titled, "Big Wig," in which a little boy gobs on makeup and sports a woman's wig in order to win a drag queen contest. The ongoing sexualization of kids by major corporations such as Disney is causing a lot of concern among parents.
Major league sports has already been politicized. They began placing 'BLM' logos in their venues, even though Black Lives Matter is a proven Marxist organization—and a very corrupt one at that. We've had to endure the kneeling and disrespect shown toward our country. Apparently the owners of the teams don't realize that their fans see sports as an escape from political strife. Fans of disparate political beliefs could all unite behind their team. No—can't have that!
The country must be divided and families must be attacked. They don't seem to care if they lose their fans.
They've certainly lost me.
Cartoon available as a signed print-Order yours today
— Ben Garrison
Follow @grrrgraphics on GAB,  TRUTHSOCIAL  PARLER, INSTAGRAM, TELEGRAM 
CLASSIC BEN GARRISON ORIGINAL ART- RESERVE YOUR ONE OF A KIND CARTOON ORIGINAL TODAY- CLICK NOW!