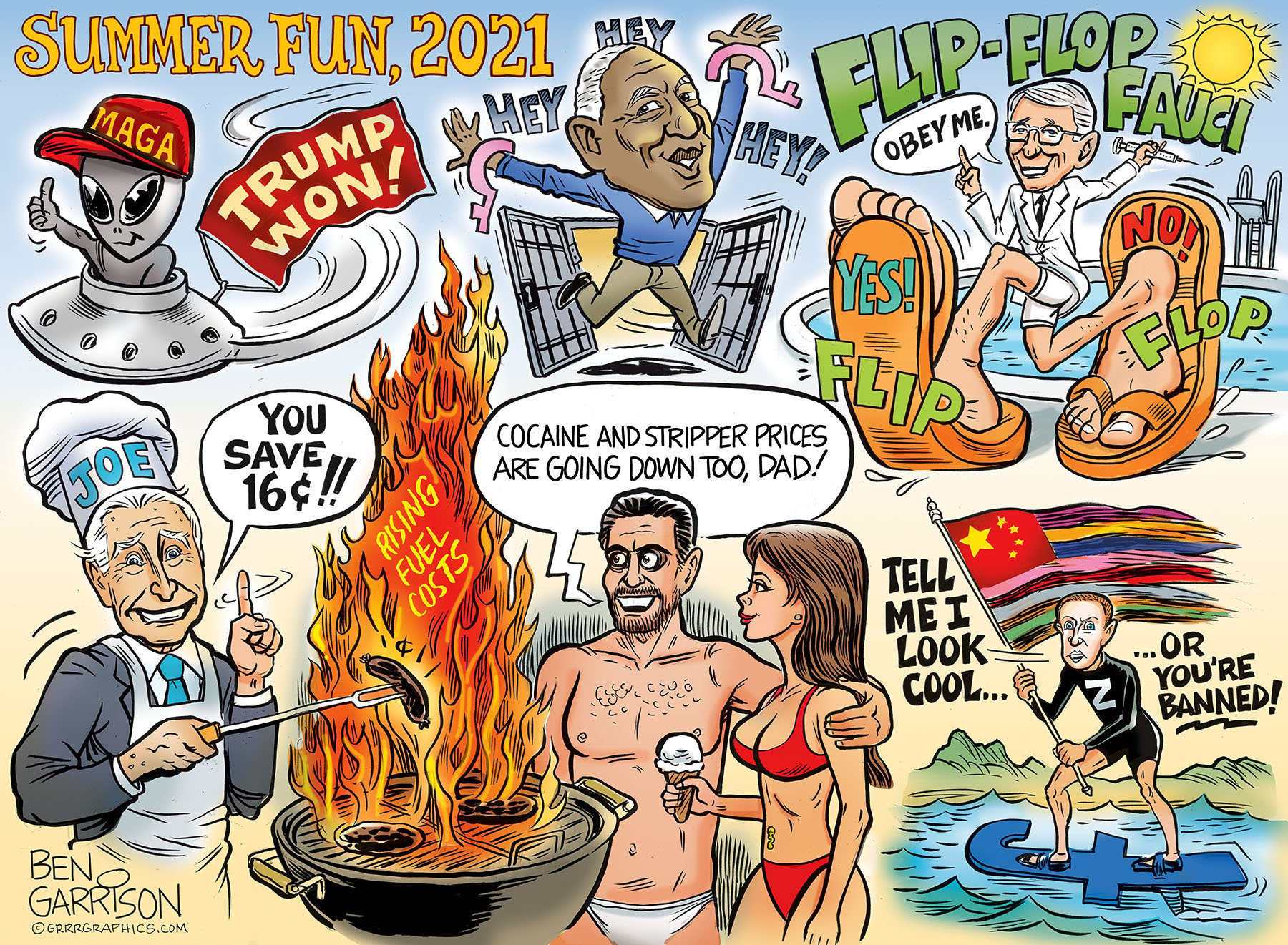 Welcome to the "Summer of Joe"
Independence Day has come and gone and we are in the middle of The Summer of Joe. 
Did you spend your sixteen cent savings wisely? The Cheater in Chief wants you to be appreciative of his generosity.  Of course the First Son appreciates the savings on crack pipes and hookers.  
Mark Zuckerberg, the richest android on earth, made people cringe with his hydrofoil, flag-waving PR stunt on the Fourth of July. Did Zuck miss the New York Times story that claimed the United States flag is "divisive?"  We all know Zuck would be more comfortable waving the Chinese flag.
Help us expose the radical Democrats, every dollar helps keep GrrrGraphics online, we are totally funded by YOU! Click to donate today
The UFO report was released and it was a big nothing burger. If an alien space craft was towing a "TRUMP WON" banner we are sure the leftists would have would have lost their minds.
Billy Cosby was released from prison. After all, the feminists had no concrete evidence against the man—just a 'me too' pile on. Maybe Weinstein will be sprung next.
It wouldn't be summer with out flip-flops, and Dr. Fauci is the perfect person to model them. Fauci is the flip flop king.
The Left's world is starting to crumble down around them and they know time is running out. When the Arizona Audit report is released it will start a chain reaction of audits and the rigged election will drop faster than Hunter Biden's shorts.
Get ready for a hot, hot summer!
Signed Limited Edition Print Poster Size Available Click to Order
—The GRRRTeam
Let's stay in touch! Sign Up for Our GrrrNewsletter today! View Now
You Can donate on Subscribe Star, a free speech alternative to Patreon- Support Cartoons see New Cartoons Early before Public release!