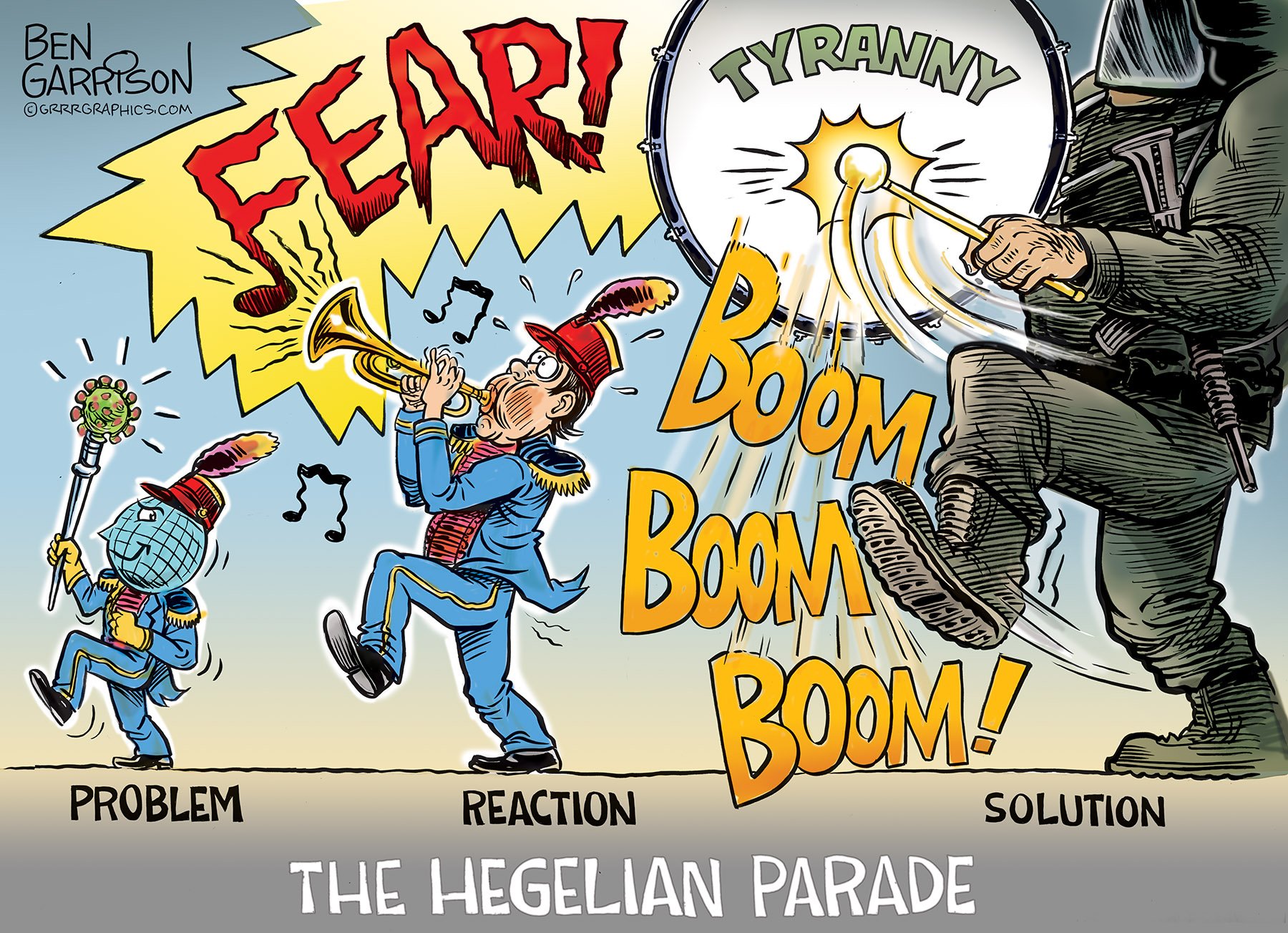 "You never let a serious crisis go to waste….It's an opportunity to do things you think you could not do before." — Rahm Emanuel
Whether or not the US had anything to do with the creation and release of the COVID 19 virus, it is sadly predictable that our government will use the situation to further increase its power by lessening our freedom. US government operatives helped commit the 9-11 disaster and as a result we got the foul "Patriot Act" forced upon us, which has nearly obliterated our 4th Amendment.
When government gets more power, it never relinquishes it. The CIA-influenced mass media has drummed up hysteria about this latest virus, and some even imply Trump is to blame. One thing for sure, everything else they drummed up to try and remove our lawfully elected president has failed. Now they will blame Trump for COVID 19 and the collapsing stock market.
Grrrgraphics is a small business. We are open 24/7. Please support our cartoons with a purchase or donation at our shop! Thank you and stay calm, stay safe.
During the Boston Marathon bombing, government managed to lock down an entire city. Now the government is seeing if they can lock down an entire country. If they succeed, then it will become routine. "Lock down!—Everyone must be at home so we can administer mandatory vaccines! Or, "Lock Down! Everyone must be at home so we can confiscate your firearms!" And so forth. Our freedom of speech will be restricted. Only government will have the official word along with the CDC and World Health Organization. By the way, Bill Gates helped fund the WHO and I also heard he was part 'owner' of the virus patent. Last week he suddenly resigned from Microsoft's board. Perhaps he knows he's partially responsible in some manner and is heading to a private location to avoid a hemp necktie.
I've read all the conspiracy theories regarding the reason for the release of the virus. One of the most believable contentions is the virus is a distraction from 5G, which is dangerous to humans. Ironically, Wuhan is big on 5G. 4G is fast enough, but 5G is necessary for the globalist power freaks (such as Bill Gates) who desire 'smart cities' that monitor everything citizens might do.
The coronavirus mostly affects the infirm and the elderly. Most Americans can and will endure it. We will also most likely be forced to endure an even more tyrannical and oppressive government.
—Ben Garrison
Remember 9/11 and the "Patriot" act- Panic is worthless and can only lead to tyranny!
Tina
Here's an easy way to support Ben's cartoons, make any size donation at pay pal.
We are self funded and depend on donations and sales of prints and books!  We are open for business and will not let the fear merchants tear down this nation! We thank you for your support and together we can get through the current crisis! Stay strong, stay safe! Donate today for more cartoons tomorrow
Click to Donate with Credit Card