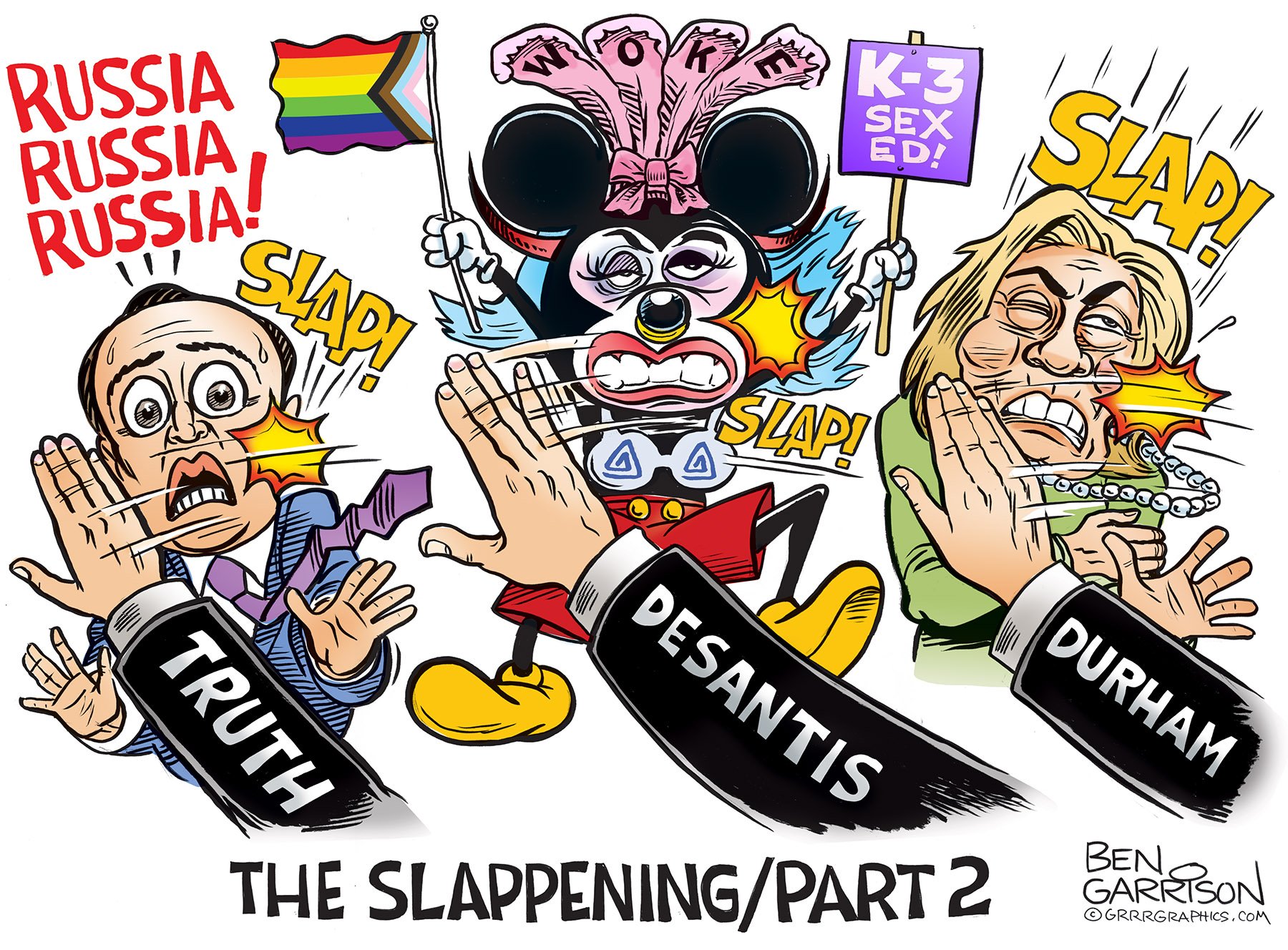 So Many Slaps- So little Time! The Great Slappening Part 2
Ben's latest cartoon "The Great Slappening of 2022" was a big hit. So much so that Ben decided to do a "part two" for today. To be honest, Ben could do a part three, part four and on and on. So many people need a good hard smack to the head to knock some sense into them. And of course, in today's super sensitive snowflake culture, we must add a disclaimer saying these are cartoons done in jest and Ben is not condoning violence.
So here are a few more well deserved cartoon slaps:
Adam Schiff, has to be one of the top liars in congress. Every other word(s) out of his watermelon head is "Russia, Russia, Russia".  Recently he added a new word to his vocabulary, "Kremlin".
Pro-tip: If Adam Schiff opens his mouth a lie is coming out.
Disney, has shown it's true colors as a radical "woke" corporation. They were not kidding when they said Disney is coming for your kids. Ben drew a "Woke Disney" cartoon a while back, but even he was shocked by the extent of Disney's LGBT-QRST%+ indoctrination. The stories are breaking every day about what is really going on in "The Happiest Place on Earth".  Disney will no longer say "boys and girls" or "ladies and gentlemen" and will replace them with "dreamers of all ages". We all didn't cross the border illegally and referring to everyone as a "dreamer" is offensive.
Florida's  Alpha Governor, Ron DeSantis, is ringing the alarm bells about Disney's child grooming. DeSantis recently signed a parent's rights bill into law banning the woke teachers from pushing their indoctrination on little children from K- to third grade.  DeSantis should have gone even further and banned the gender benders from the school curriculums completely. A top level Disney executive with two pan and trans kids is admitting the corporation's pro-queer agenda and plans on adding 50% more "queer" into future Disney stories.
All we can say is stop giving Disney your money if you value your children. Buy old Disney movies second hand before they edit out any non-woke parts. Cancel your Disney plus subscriptions and for heavens sake, do not take your kids to Disney Child Grooming land!
Hillary Clinton, was recently fined by the Federal Election commission for lying about funding the fake Russia dossier. Yeah that will teach her, right?
President Trump weighed in with a few choice words of his own:
"This was done to create, as I have stated many times, and is now confirmed, a hoax funded by the DNC and the Clinton Campaign.. "This corruption is only beginning to be revealed, is un-American, and must never be allowed to happen again. Where do I go to get my reputation back?"
Reminder Hillary's campaign was found to be spying on the Trump campaign. Funny how the Ukraine incursion popped up quickly after that news broke. Looks like Durham is about to release more news very soon!
Hold them all accountable and lock them up!
-GrrrTeam
BEN GARRISON NFTS- FRESH NFTS JUST MINTED CLICK TO VIEW ON OPENSEA!
Follow @grrrgraphics on GAB,  Now live on TRUTHSOCIAL  PARLER, INSTAGRAM, MINDS TELEGRAM 
Limited Edition Prints Available Order Today
Limited edition Woke Disney Print Available- Click to Order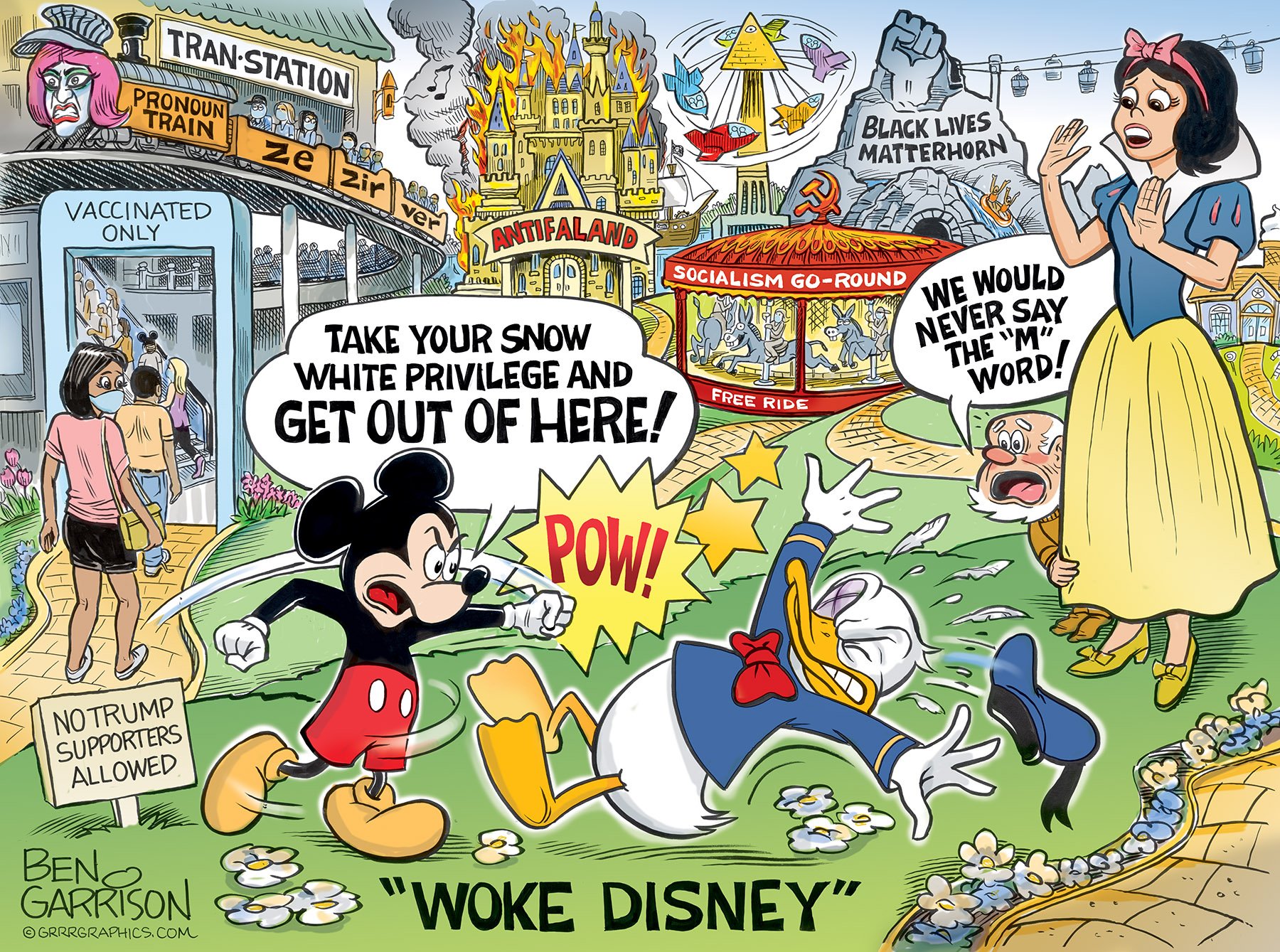 BEN GARRISON ORIGINAL ART SOLD
 SIGNED PRINTS PART ONE AND TWO SAVE 25% ORDER THE GREAT SLAPPENING PRINT BUNDLE