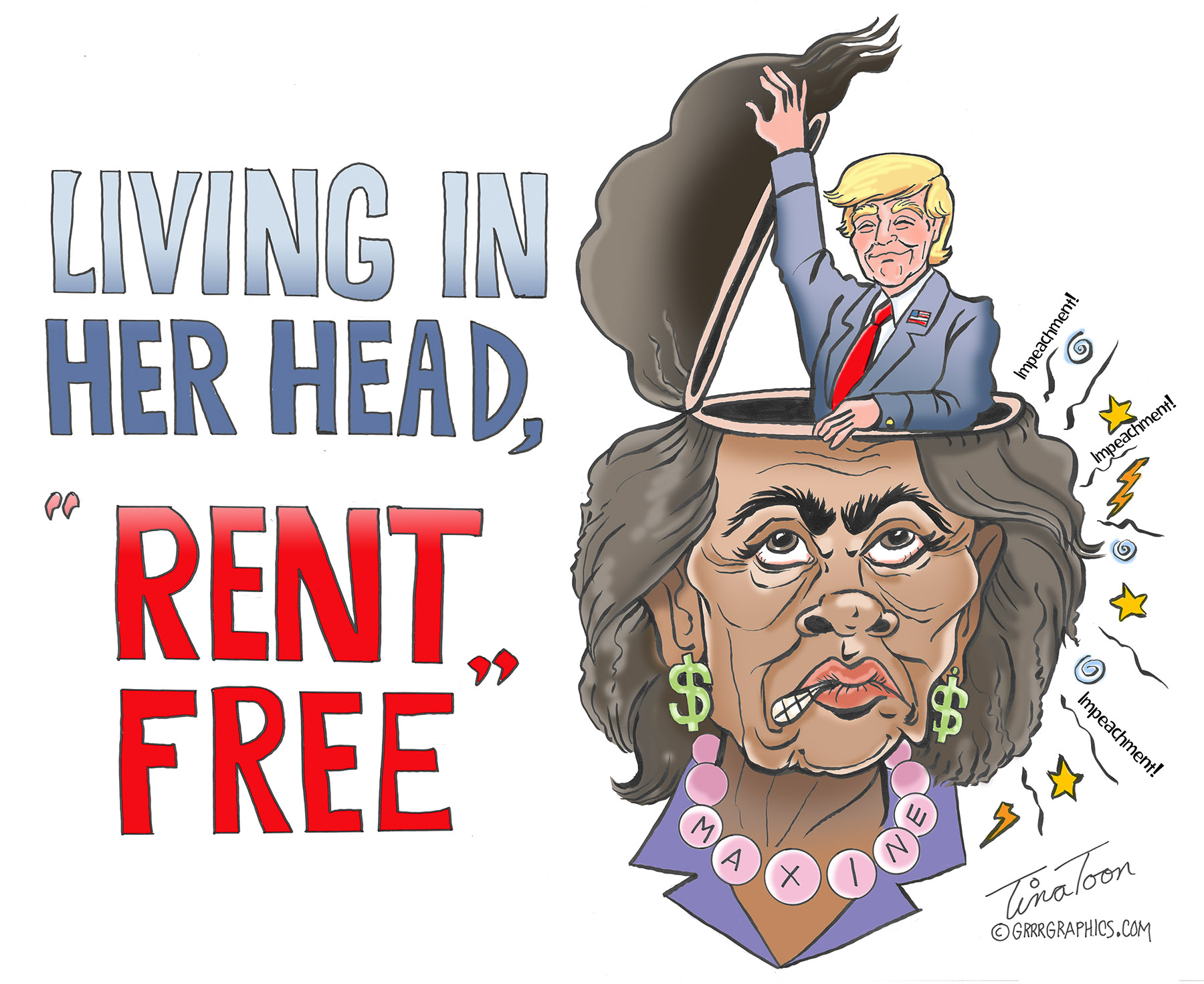 UPDATE Feb 5, 2019 What is Maxine Waters afraid of ? 
Rep. Maxine Waters (D-CA) said that she hopes Americans switch off their televisions during President Donald Trump's State of the Union address Tuesday evening.
"I don't even know why he wants to come and give the State of the Union," Waters said in an interview with ESSENCE on Monday. "The state of the union under him has not been good and he has been divisive, and I think he's putting us all in harm's way. And so he is not worthy of being listened to."
Hey Mad Max, You tell us not to watch the SOTU, so what do you  think will happen? Everyone is gonna tune in to see the "forbidden" speech! 
Original Post Below:
Maxine Waters shouted  Impeachment eight times in a row at a recent event in LA this week.
She also boasted about threatening Trump's cabinet at gas stations and department stores. Maxine is the new face of the unhinged Democrat party, or as we like to call them, "Crazy Town".
GrrrGraphics is Now on SubscribeStar, A free speech supporting alternative to Patreon, Support us there! Click to Join
As the Congresswoman from California worked herself into a foaming hysteria, she shouted out hoarsely,
"I wake up in the middle of the night and all I can think about is "I'm gonna get him. I'm gonna get him. I'm gonna get him." I have never seen anything like this before in my life. To all of our elected officials, to Betty, to all of our progressives here, we've got some work to do. It's not simply about resistance. It's about ensuring that we help people to understand that we deserve better — that this deplorable, despicable human being that occupies the White House, should not be there. We should not be comfortable with it. We should not think about how somebody else is going to with it. This is all of our fight.
They say, 'Maxine, please don't say impeachment anymore.' And when they say that, I say: impeachment, impeachment, impeachment, impeachment, impeachment, impeachment, impeachment, impeachment!"
And the left claims the President is "unfit for office" and in reality, Maxine is the living poster child for unhinged, unfit politicians.
Join the Fight against Fake News! Support Cartoons that shred the Democrat Narrative! Click to Donate
Hey Maxine, Who's living in YOUR head?
Enjoy this Tina Toon! 
Original Art available. Tina Garrison, her cartoon "Red Wave 2018" was retweeted by President Tump!
Thank you for the support!