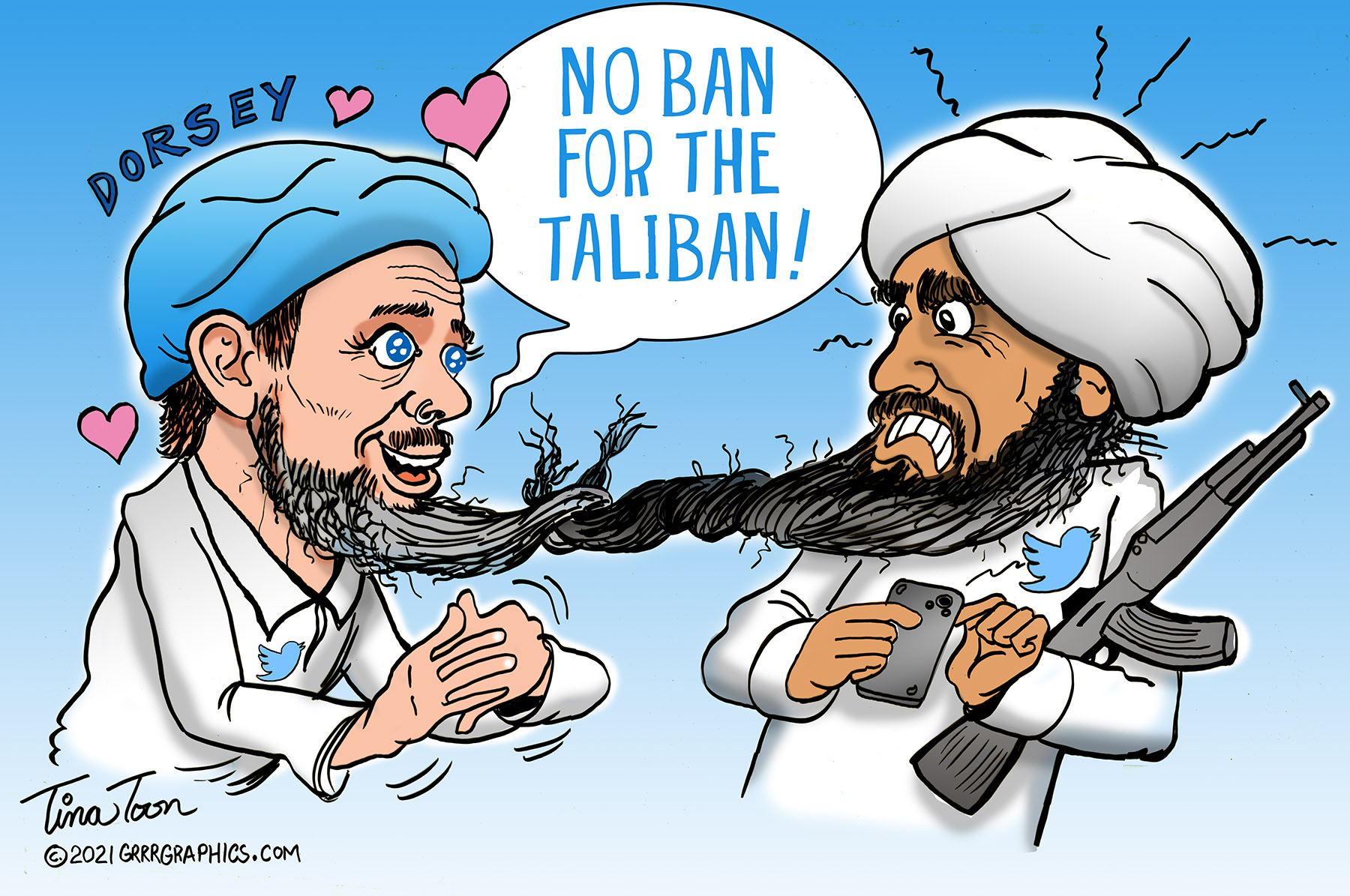 Your Beard Looks Fabulous!
President Trump was banned from all social media platforms. Think about it, the most powerful man, the President of the United States was banned and his first amendment rights were taken away. In January, tens of thousands of Trump supporters were purged from Twitter with no warning, including our 300k account @grrrgraphics. The reason they gave us for permanently suspending our account was "spam" which is totally ridiculous.
Tells you everything!
PATRIOTS UNITE! TOGETHER WE CAN STOP THE MADNESS- JOIN US ON PATREON AND GET EXCLUSIVE BEN GARRISON CARTOONS AT OUR TOON LOVERS LEVEL!  SEE ALL NEW CARTOONS FIRST- BEFORE PUBLIC RELEASE CLICK TO JOIN
News broke of Twitter banning elected Afghan officials and letting extremist Taliban regime accounts remain.
Jack Dorsey is an anti-American disgrace for blatantly censoring and suspending Americans on Twitter while he lets the terrorist Taliban keep their accounts. Now Jack has added the "misleading tweet" feature where if you don't like a tweet you can easily report it as "misleading information." This is the way they will censor even more people.
Except for the Taliban!
Beards of a feather flock together!
Tina
Find GrrrGraphics on Telegram Follow Us
In response to rampant censorship and suspension of conservative voices by Big Tech, we decided to give them the middle finger and created our own online community and forum. A place where all can feel welcome without the fear of censorship by Big Tech billionaires.

Our community is called "The Garrison" named after Ben Garrison, who is the founder of GrrrGraphics. He wanted to create this forum so he could personally speak freely, talk to you directly, and share the content he creates as well as what you create without it ever being censored, taken down, or being attacked by mobs of unhinged marxists who hate America.
Ideally, we want it to be a safe haven for you to post and comment, giving your opinion without the fear of being bullied or censored.
This is a private community with exclusive access to content not released to the public and with the unique opportunity to talk to Ben directly.
We know this private MAGA community is a great opportunity for you to connect with like-minded people across the entire country and world! We would appreciate it if you gave it a chance…
Find out more about the GARRISON here- Click to View
Ben And Tina