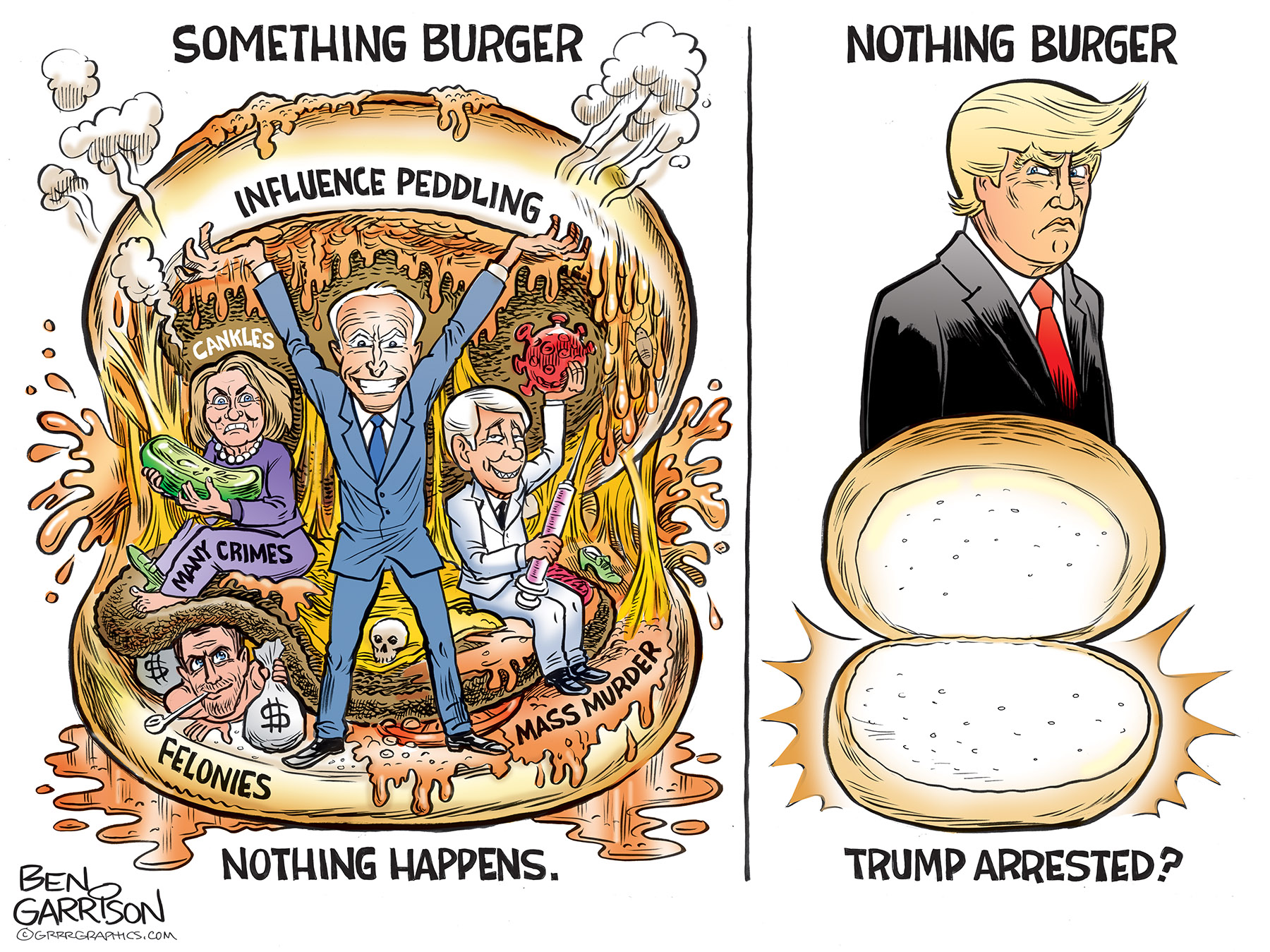 New York Democrats Serve Up 'The Get Trump' Special: A Big Nothing Burger
Cartoon Published 03/21/2023
It's Trump Tuesday and the radical left, Fake News and communist Democrats all rushed to the lunch counter in anticipation of today's distraction special, 'The Get Trump Burger.'
Instead, the Marxist riff raff got a 'Nothing Burger' as the potential indictment of President Trump was delayed until 'next week' or maybe not at all. Looks like someone brainiac figured out that the arrest of a former president would set a historic precedent that would come back and bite all presidents in the butt. Bill Clinton, Barrack Obama and George Bush were all sweating bullets. Will calm heads prevail or will the Democrats put their radical jackboot in the bear trap?
I am betting bear (Trump) trap.
Never Miss A New Cartoon! Sign Up Today For Our GrrrNEWS  cartoon newsletter-It's Free and Easy!
Americans have been forced to eat big, sloppy 'Something Burgers' for the last 60 years. These 'Something Burgers' have gotten bigger and more disgusting over the last couple decades. Americans have had enough and can't stomach any more corruption that fills these 'unhappy meals.'
President Trump has been investigated, spied on, and put under a relentless microscope for the last seven years. Remember the Mueller witch hunt? They found nothing. Remember the Ukraine phone call that got Trump a second sham impeachment? There was nothing. Remember how New York Democrats screamed to get Trump's taxes for years and they finally got the tax records and ……crickets. There was nothing there and the story quickly vanished.
You are invited to join me on SubscribeStar- a Pateron alternative, for exclusive cartoons and behind the scenes look at GrrrGraphics, Click to Join!
So now the unhinged radical left will scream for Trump's head and New York's corrupt AG may still indict President Trump next week. We will have to see if they are that stupid to continue on the 'get Trump at any cost' path.
This is a developing story, stay tooned for more.
BREAKING: Witness IMPLODES NY DA's case to arrest Trump and his star witness after Michael Cohen's former legal advisor EXPOSING him as "convicted perjured… far from solid evidence" Benny Johnson
—GrrrTeam
Signed Print Available Click to order yours!
Signed Limited Edition Print Available- Poster Size Order yours now and help Save America!
Follow grrrgraphics on Twitter   GAB, TRUTH SOCIAL, INSTAGRAM, TELEGRAM
or join us at The Garrison!
Together we win!
Original Art Available
Ben Garrison's art is published all over the world, making this original a valuable collector's item which will only appreciate over time – predictably to the tunes of thousands of dollars.
Invest in your future – and the future of freedom – and make the one and only Ben Garrison original "Trump Nothing Burger" yours!