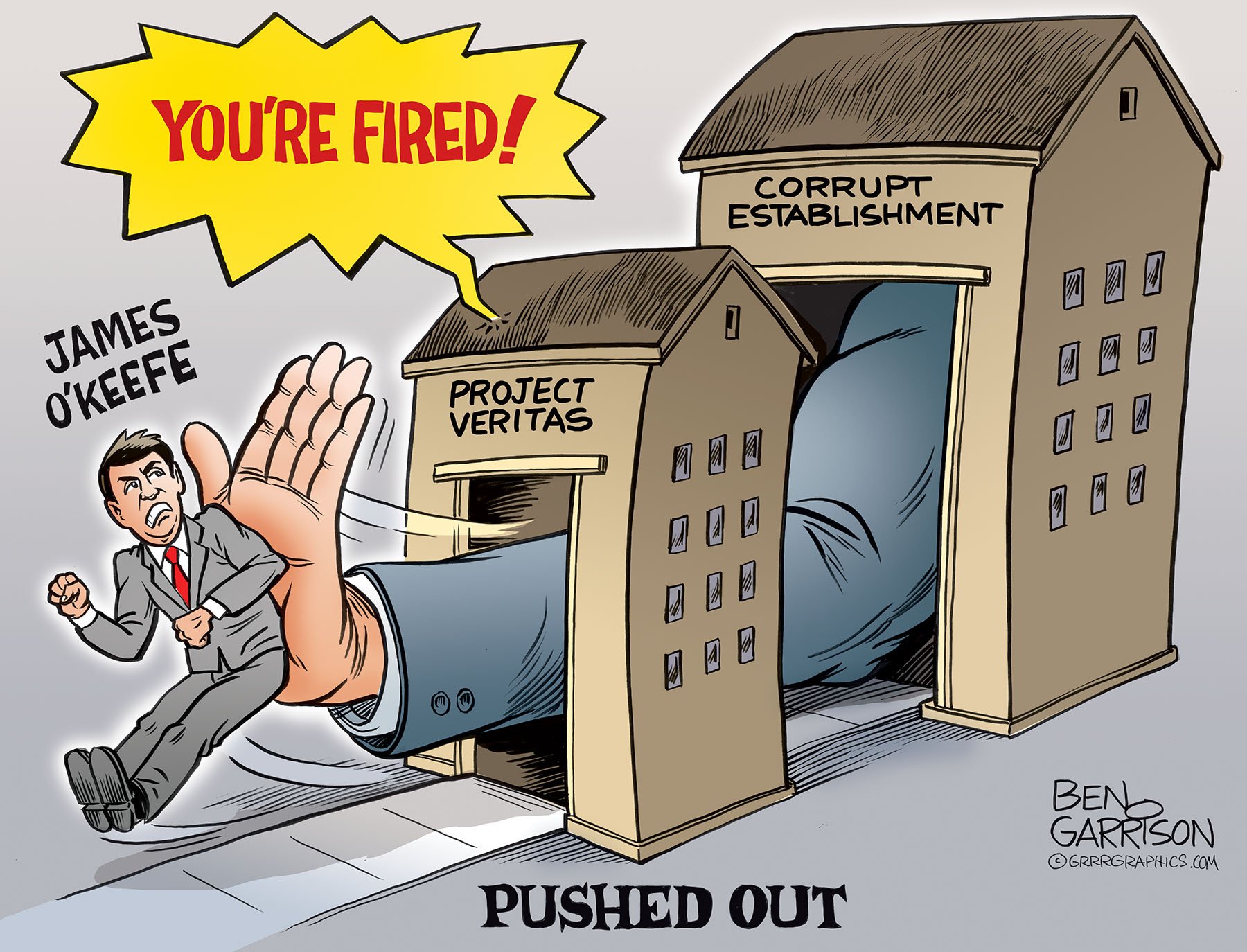 They Want To  Push James O'Keefe out
UPDATE: Project Veritas Board Gets Massive Cease & Desist Letter From Top Donors After Rumored James O'Keefe Ouster. 
Cartoon published 02/11/2023
Glenn Greenwald worked for a media organization called The Intercept, but soon top editors there began censoring his reporting. Greenwald leaned left politically, but believed in fair and honest journalism and his investigations were leading to uncomfortable truths among the left. He was was forced to resign from an organization he helped found.
Donate Directly To GrrrGraphics and keep Ben Drawing and fighting to Save America- Click Now
An even worse fate was dealt to Wikileaks founder, Julian Assange. He has now spent years in jail for revealing the truth about how corrupt Hillary and the Democrats are. Without Assange, there is no Wikileaks.
Likewise, without James O'Keefe, there is no Project Veritas.
It's probably no coincidence that the board is trying to force his resignation after his bombshell revelation showed what many of us already knew: Pfizer is a corrupt and criminal organization. Did Pfizer use their money and influence to put pressure on insiders within Project Veritas? Maybe O'Keefe needs to investigate his own organization.
Naturally, O'Keefe's corrupt establishment targets are going to fight back. They own politicians, the media, as well as lobbyists. They control vast sums of money. Pfizer raked in many billions of dollars from their fraudulent and experimental Covid vaccines and they want that pipeline to remain operational as it pumps endless billions of dollars into their coffers unabated. That's what it's all about—not public health, but profits gleaned by means of a medical establishment that they control.
We support O'Keefe. They say he's a difficult and demand boss, but that's good. He's exactly the kind of man we need fighting for us.
— Ben Garrison
Follow @grrrgraphics on GAB, TRUTH SOCIAL, PARLER, INSTAGRAM, TELEGRAM 
or join us at The Garrison!
We are fundraising for 2023, You can also keep GrrrGraphics online with a purchase!  Visit our Best sellers! Click now!
Please Support Ben's Work Visit Our 2023 Fundraiser at GIVESENDGO! Click Now
If you can not donate then please share our campaign on social media! Thank you!
SHARE/DONATE AT    GIVESENDGO.COM