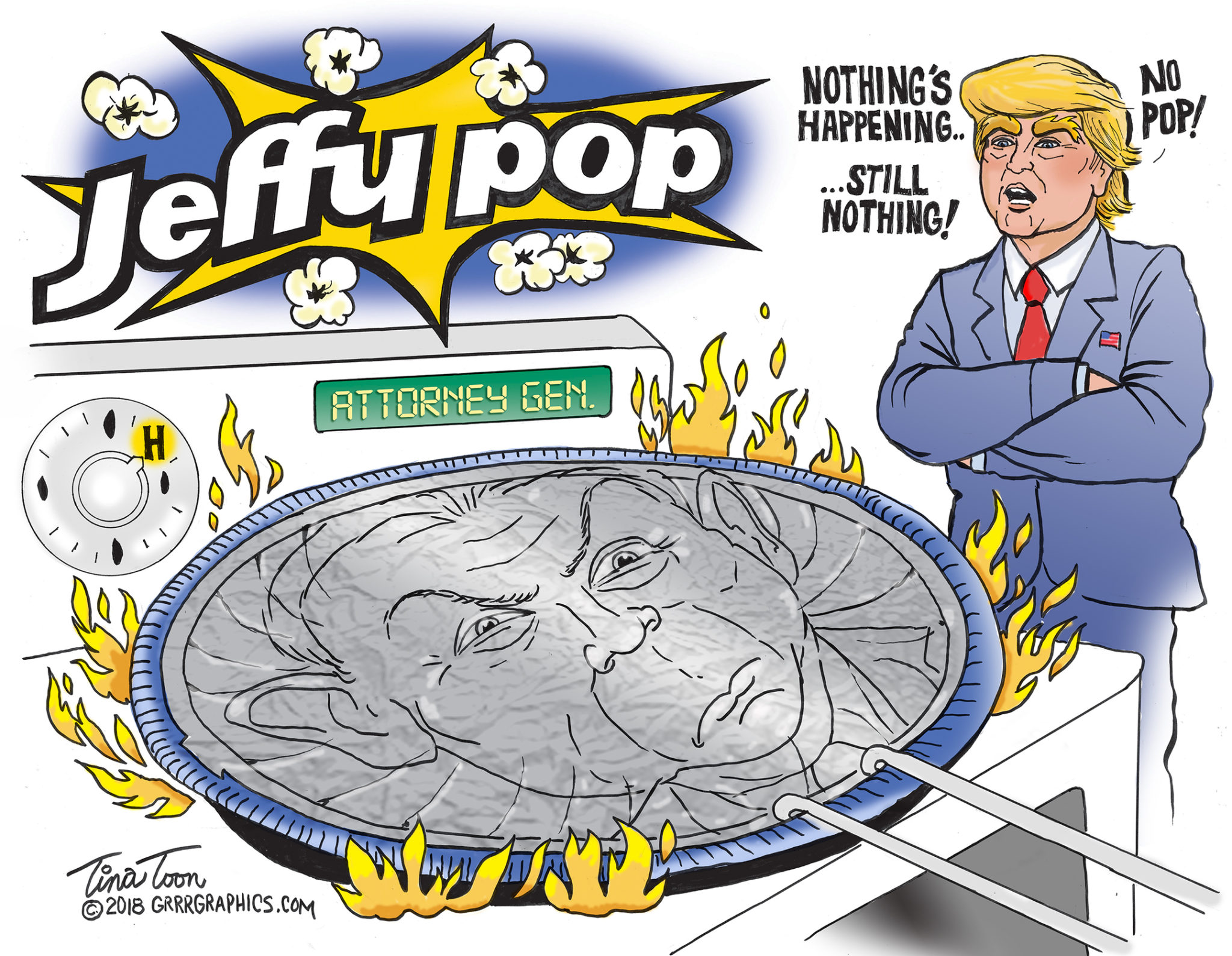 UPDATE November 7, 2018 : Jeff Sessions resigns at request of President Trump- Buckle up. Things are about to get interesting.
President Donald Trump announced Attorney General Jeff Sessions is leaving his administration just moments after holding a press conference with reporters at the White House Wednesday afternoon.
"We thank Attorney General Jeff Sessions for his service, and wish him well!" Trump wrote on Twitter.
Sessions submitted his resignation to the president which he accepted. Trump said that Matthew G. Whitaker, the Chief of Staff for Sessions, would serve as Acting Attorney General in his place.
"A permanent replacement will be nominated at a later date," he said.
A copy of Sessions' resignation letter said the move was "at your [Trump's] request."
UPDATE  AUGUST 1, 2018  Trump Tweets 
"This is a terrible situation and Attorney General Jeff Sessions should stop this Rigged Witch Hunt right now, before it continues to stain our country any further. Bob Mueller is totally conflicted, and his 17 Angry Democrats that are doing his dirty work are a disgrace to USA!" Trump wrote.
The Mueller witch-hunt has searched far and wide for 'Russia collusion' evidence for over a year. He's found nothing.
He then decided to look at anything that would lead to the impeachment of a very patient Trump, including violating Trump's privacy and lawyer/client privilege.
As for Hillary, the Queen of Vindictiveness, well, she now wants to sue everyone.
If the missing shoe were on the foot, Hillary would not cooperate nearly as easily. She considers herself above such 'matters.' When her hand was forced, she destroyed evidence. Why didn't the FBI break down Hillary's door and seize all of the incriminating material? Instead, Hillary was allowed to destroy cell phones and bleach-bit her hard drives. Why wasn't Hillary interviewed under oath by the FBI? Instead, she dictated terms about any discussion, thus enabling her to freely lie and get away with it.
As usual, she lied about missing emails as well as classified material being on her private, illegal server. If Trump had done anything remotely equivalent, he'd be impeached already.
But again, Hillary is above the law.
Cartoons that are Politically Incorrect? we got them! Support at Patreon
She still needs to be locked up and Jeff Session should get the ball rolling, but….oh darn it! He recused himself.
This is unacceptable. Either Jeff needs to get hoppin' and poppin' or the president needs to light a fire under a new AG.
—Tina
Support Tina's  Art – Join the fight against the Deep State! 
"Lock Her Up" Coffee Blend-Mmm !