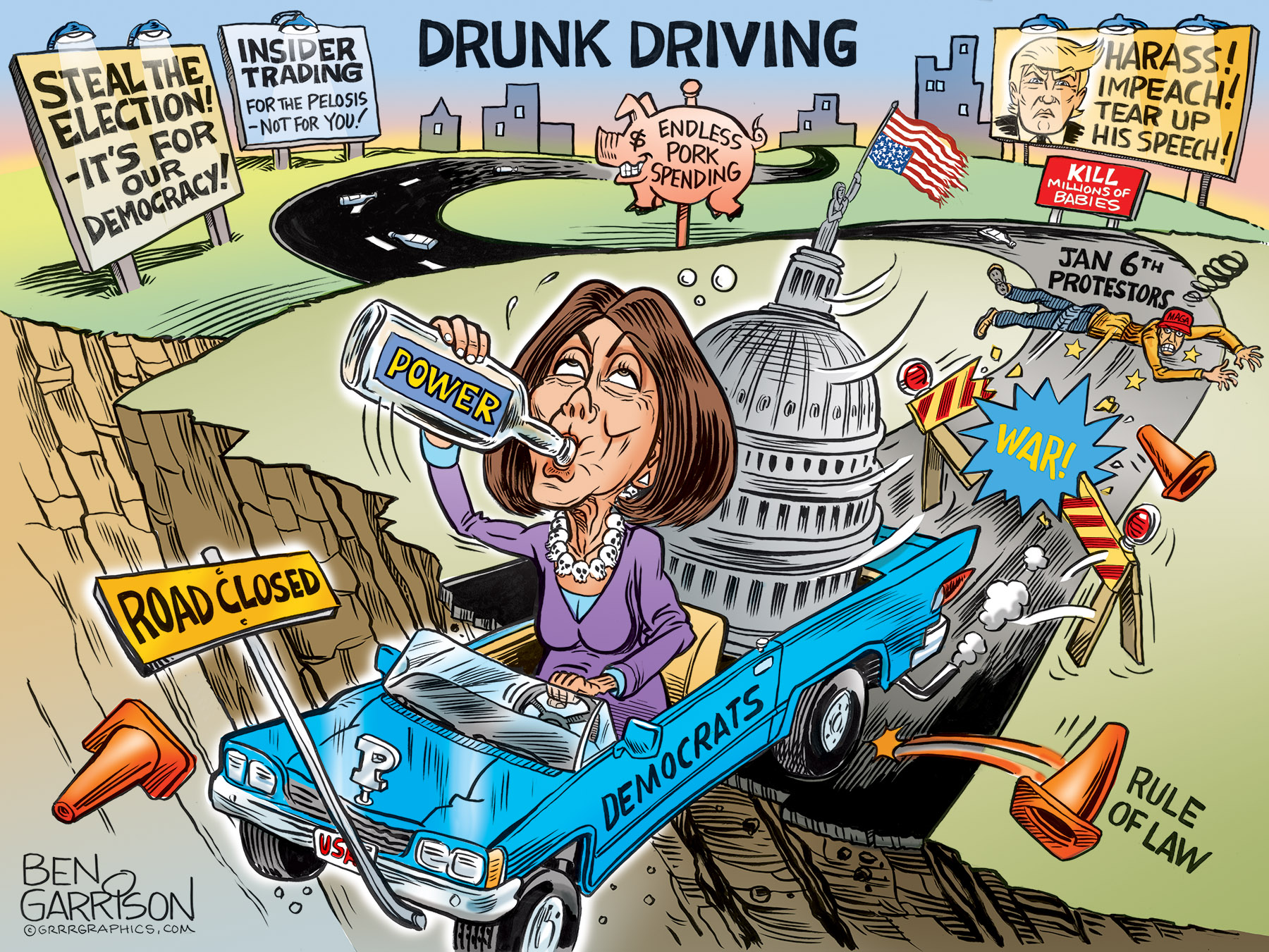 Legislating under the influence (LUI)
Nancy Pelosi's husband, Paul, was arrested for driving drunk over the holiday weekend. It's now known as driving under the influence (DUI).
Paul Pelosi is 82 years old. Why would he be driving around drunk well past midnight? Usually old folks have to give up excessive alcohol consumption due to health reasons. Besides, he's incredibly rich—why didn't he use a limousine and driver? I suspect he was up to no good.
I expect Pelosi's highly-paid lawyers will get his charges dropped. He is, after all, worth well over $120 million dollars.
We know the rich enjoy a different kind of justice system. Paul Pelosi Jr is their ne'er do well son who may get prosecuted for fraud. I expect the Pelosi's highly-paid lawyers will get the charges dropped. (Hunter Biden gets away with everything, too.) Democrats who hold leading positions in the swamp are immune from justice. They get protected by the FBI and corporate media.
Pelosi is also known for her power drinking. She has been busy drunkenly driving the country over a cliff. Both she and Sleepy Joe are drunk on power. Joe may not be a heavy drinker, but he may as well be judging from his speeches. I heard that Nancy even opened up a bar in the Capitol itself. Why not legislate while drunk? (LUI). Why not start new wars while under the influence? (WUI). Nancy is despicable and her days are numbered. Unless the Democrats steal the midterm elections, Nancy's reign as Speaker of The House will expire in January. It's too bad it can't occur sooner.
Support ULTRA MAGA Cartoons with a One time donation! Click to Donate!
The only way the Democrats will be able to hold onto power is if Dementia Joe declares martial law. I can't see that happening without triggering another civil war. The Pelosi family has made a fortune from political office. Nancy enabled her husband to conduct insider trading. Pelosi is not ashamed of having leveraged her knowledge about legislation involving corporations. They used that insider knowledge to get fabulously rich. Anyone else would have been prosecuted, but Nancy has protected status since she's in Congress.
We need term limits. Nancy Pelosi is way over the limit.
Cartoon available as a Signed Large Limited Edition Print
Cartoon available as a signed print-Order yours today
— Ben Garrison
Follow @grrrgraphics on GAB,  TRUTHSOCIAL  PARLER, INSTAGRAM, TELEGRAM 
Classic Ben Garrison Original Art- Reserve your one of a kind cartoon original today- click now!