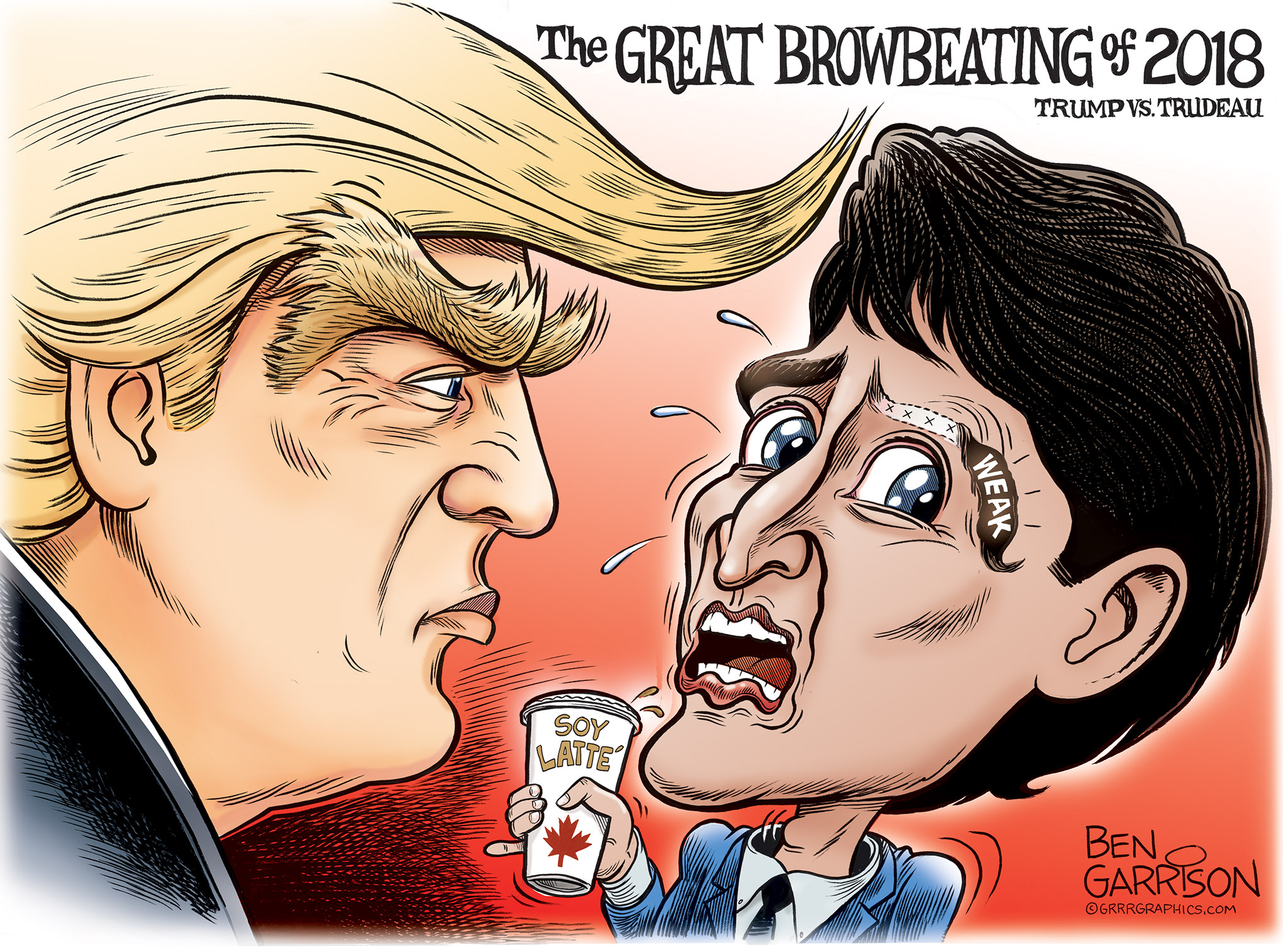 Update November 30th, 2018 
Canadian Prime Minister Justin Trudeau refused to say the name of the new "USMCA" trade agreement during a signing ceremony with President Donald Trump and Mexican President Enrique Peña Nieto in Buenos Aires, Argentina, on Friday.
Trump spoke first at the signing ceremony for the three presidents to sign the United States-Mexico-Canada Agreement (USMCA) — a revamp of the North American Free Trade Agreement (NAFTA), based on Trump's urging.
Trudeau — with whom Trump has had a rocky relationship — spoke next and conspicuously avoided calling the new agreement by its name, "USMCA," a name that Trump came up with. Breitbart
At a recent presser, Canadian PM Justin Trudeau lost one of his fake eyebrows.
Soy sweat and eyebrow glue do not play well together.
Trudeau is known for being less than manly and wearing matching outfits when he visits other countries.
Trump was less than impressed with Justin at the G7 meetings. The US President called him "weak and dishonest" after Trump was blindsided by Canadian Prime Minister Justin Trudeau's criticism of his tariff ideas at a summit-ending news conference that was so cringe worthy…. even Justin's eyebrow tried to escape.
Trump continued to blast Trudeau from Singapore where he is meeting with the North Korean leader, tweeting out:
"Fair Trade is now to be called Fool Trade if it is not reciprocal. According to a Canada release, they make almost 100 Billion Dollars in Trade with U.S. (guess they were bragging and got caught!). Minimum is 17B. Tax Dairy from us at 270%. Then Justin acts hurt when called out!"
Ben decided to have a little fun with Justin's eyebrow problems in the new cartoon,
"The Great Browbeating of 2018".
Is "lost eyebrow" the new "lost shoe"?
Only time will tell!
Feel like spreading some love?- Support Ben, Tina and MAGA cartoons!