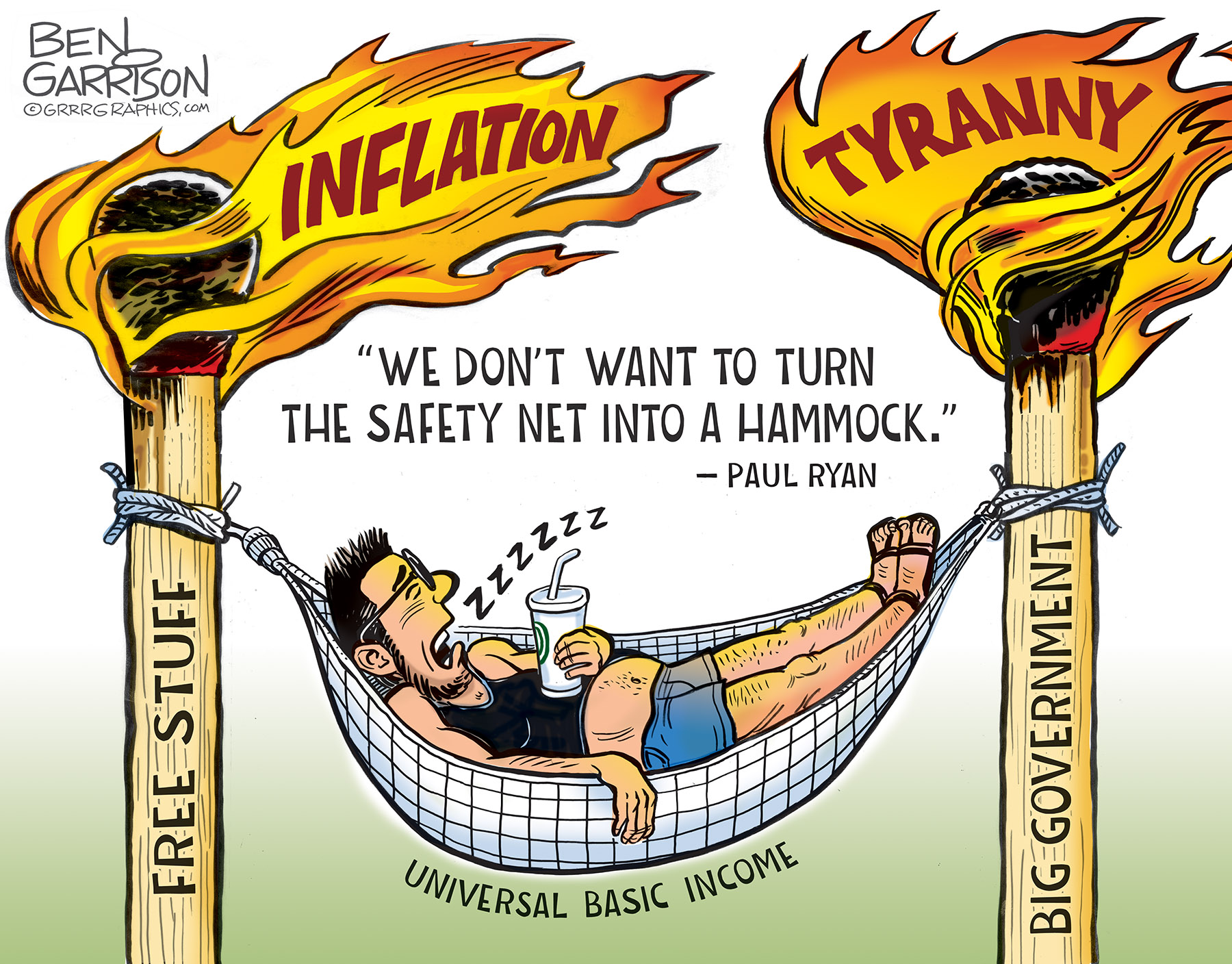 "We don't want to turn the safety net into a hammock that lulls able-bodied people into complacency and dependence."

I mistakenly thought Ronald Reagan came up with this quote, but it was Paul Ryan, a Republican and Former Speaker of the United States House of Representatives. Although I've had my differences with Ryan, his quote compelled me to draw this cartoon.

Too many people on the left see government as Santa Claus, ready to bring gifts and solve problems. Yet theirs is a 'bad Santa' who creates more problems than he solves.
We saw how the Democrats wasted trillions of dollars due to Covid. Their lockdowns were completely ineffective—and since they greatly damaged the economy, they compensated by doling out free money. While they were at it, they shoveled out billions of unaccountable dollars toward a useless war in corrupt Ukraine as well as their usual pork spending. Such reckless spending caused the inflation we're experiencing today. When too much money is chasing too little goods or services, it naturally leads to inflation.
Sign Up For Our Cartoon Newsletter Today- Cartoons Direct To Your Inbox- Don't Miss A Cartoon Click now
Santa's latest gift is known as 'universal basic income,' or UBI. This also causes inflation because money is given to those who aren't producing goods and services. Originally designed to help those with low incomes, UBI is now being floated as part of the upcoming digital dollar.
Keep Cartoons Online Click to Donate!
In order to lure people into a digital dollar system, a guaranteed income for all will be offered. Say, $1,000 monthly digital dollars deposited monthly into all accounts. This would act as a shiny new lure to attract and gain widespread acceptance, but that lure comes with treble hooks and they are sharp.
The first hook would be a growing dependence and reliance on big government rather than one's own hard work and self-reliance. The second hook is lack of privacy. Everyone's financial activity would be block chained and tracked at a granular level. Let's say a person is buying too much ammo or gasoline. Those red flags could trigger a temporary freezing of one's bank account. The third hook is social credit system similar to what's being used in China. If anyone posts unacceptable opinions on social media, they could see their digital dollar credits stripped from them by the money masters. Those who comply with their central banker masters could receive bonuses.
Beware of those offering free money. There's no such thing as a free lunch.
The digital money system must be avoided due to the tyranny and enslavement that will come with it. It's neither a safety net nor a hammock—it's a high-tech system of enslavement being woven about us right now.
— Ben Garrison
Follow @grrrgraphics on GAB,TRUTHSOCIAL PARLER, INSTAGRAM, TELEGRAM 
Support Ben's work with a purchase at our shop, your support keeps Grrrgraphics online and fighting for YOU!  Check out the GrrrShop today Click Now!