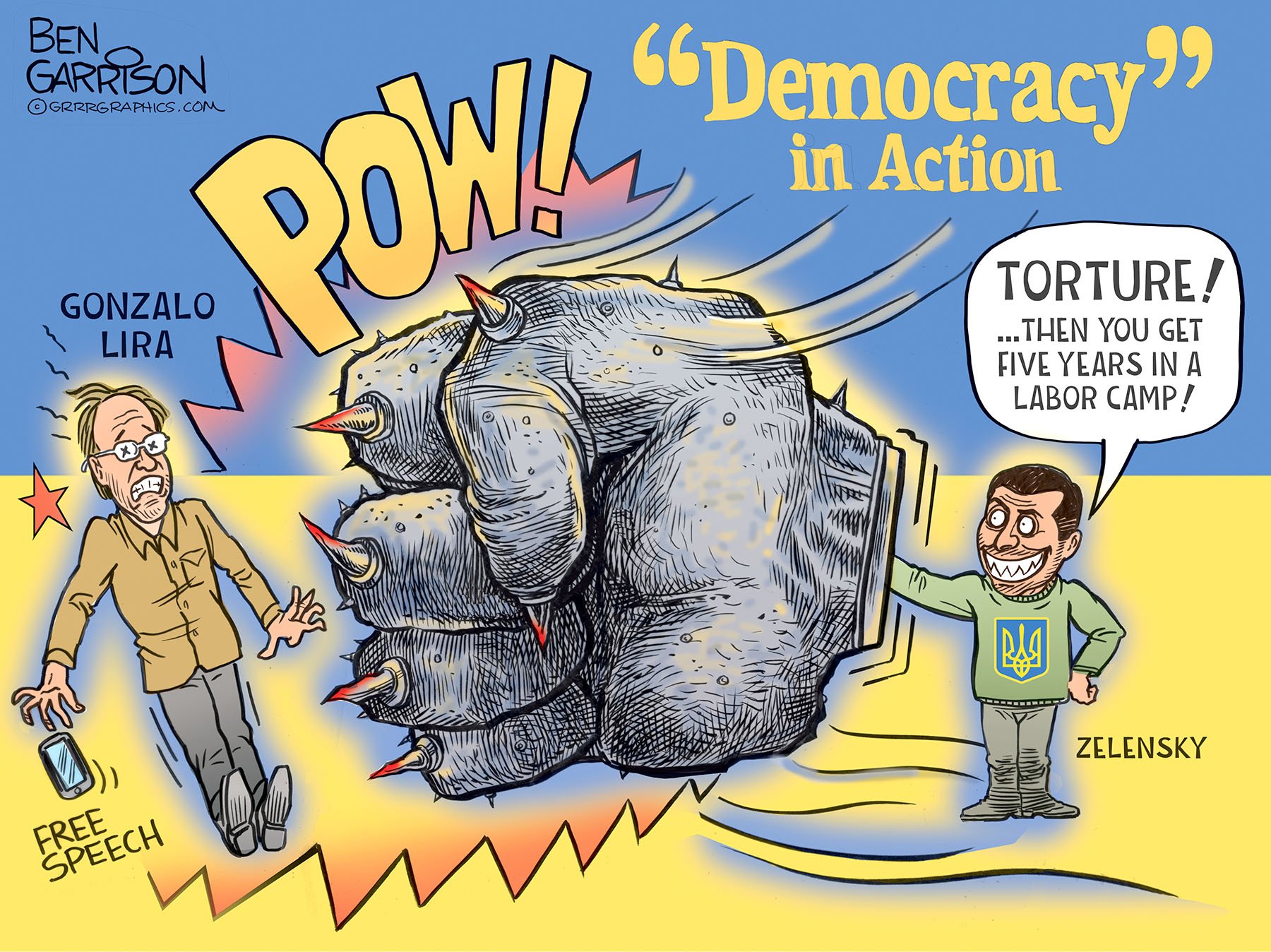 Zelensky's Iron Fist Of  'Democracy'
Cartoon published 08/09/2023
There is no so-called 'democracy' in Ukraine.
The Chilean-American journalist, Gonzalo Lira, tried to find sanctuary in Hungary. Instead of escaping there, he was instead arrested again by Zelensky and he is now being threatened with more torture, beatings, and a five year sentence to a hard labor camp. Fellow prisoners have told Lira that it would most likely be a death sentence.
Lira used his free speech to deliver honest reporting about the war in Ukraine, but the real truth cannot be allowed to be heard. Since his reports were not slanted toward 'pro-Ukraine' propaganda that we receive constantly here in the USA, Lira was vilified, arrested, and tortured.
What did the Biden Administration do? Absolutely nothing. Since Lira is not shoveling pro-war propaganda that's delivered by America's legacy media on a daily basis, he's left to face the brutal fist of Ukrainian tyranny. It's laughable how our presstitute media constantly calls Ukraine is a 'democracy.' It's not. That media and our corrupt politicians rarely have anything to say about LIra, and when they do they refer to him as being a 'shill for Putin." Sound familiar? Anyone who is against the war gets called that.
There is no so-called 'democracy' in Ukraine. There is no freedom of the press there. There is no freedom of religion there (Zelensky shut down all the Russian orthodox churches in Ukraine). There is no accountability or transparency there. American taxpayer dollars are being siphoned off and pocketed by Ukraine's corrupt leadership while young Ukrainians are being rounded up and forced into the meat grinder.
We are fundraising for 2023, You can also keep GrrrGraphics online with a purchase!  Visit our Best sellers! Click now!
Ukraine is losing the war—a war that NATO helped start when they installed Zelensky—who then promptly began shelling native Russians in the Donbas region. Putin soon had enough of watching Russians being murdered while NATO constantly provoked war on Russia's doorstep.
Rather than admit the futility of the situation, the US war machine will continue to send more money and weapons to Ukraine. It's sickening. Meanwhile, Gonzalo Lira will face a grim fate because the US will shamefully do nothing to help him.
—Ben Garrison
Follow @grrrgraphics on Twitter      GAB, TRUTH SOCIAL, INSTAGRAM, TELEGRAM ,
or check out the new revamped  The Garrison!  
Are you ready to fight back against the WOKE cult and America Hating Left?
Join Ben and Tina on SUBSCRIBESTAR
An easy way to support our work with a monthly donation! PLUS SEE NEW CARTOONS FIRST BEFORE PUBLIC RELEASE! THANK YOU FOR YOUR AMAZING SUPPORT!  VIEW SUBSCRIBESTAR