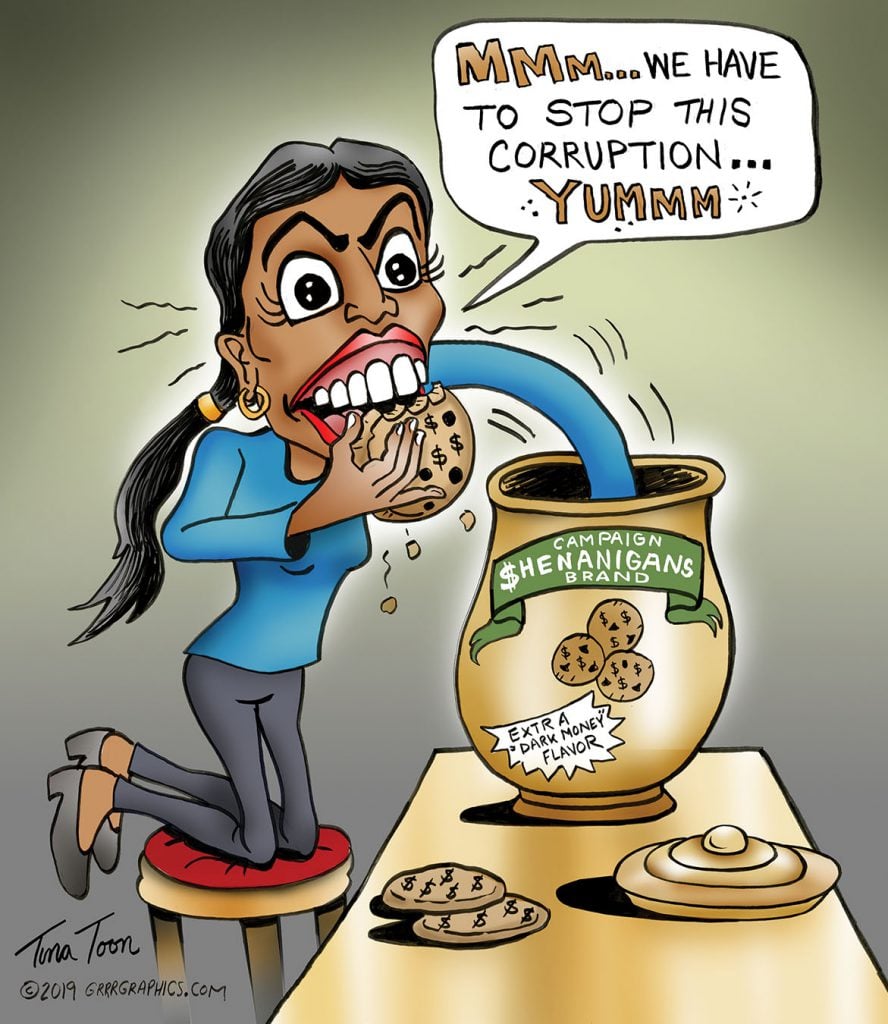 UPDATE APRIL 2019:
The Coolidge Reagan Foundation —a First Amendment watchdog— filed another complaint against Rep. Alexandria Ocasio-Cortez (D-NY), this time targeting Ocasio-Cortez and her campaign manager, Saikat Chakrabarti.
Spanning nearly 50 pages and levying more than 20 counts against Ocasio-Cortez, Chakrabarti, and the entities they created to carry out an unlawful, "dark money" scheme, the complaint provides the most in-depth analysis of Ocasio-Cortez's various campaign finance violations to date.  Gateway pundit
Original post below:
AOC's Cookie Jar
AOC got caught with her hand in the proverbial "cookie jar".
A complaint was filed with the FEC on Monday, stating two PACs founded by Rep. Alexandria Ocaiso-Cortez's top aid funneled over $1 million in political donations into two of his own private companies.
The cash transfers from the PACs run counter to AOC's pledges to increase "transparency and reduce "dark money" influence in politics.
Another case of  "the rules do not apply to me"?
The complaint names Ocasio-Cortez and her chief of staff, Chakrabarti, as respondents. It asks the FEC to investigate and audit the two PACs, saying they were engaged in an "an elaborate scheme to avoid proper disclosure of campaign expenditures."
Of course AOC denied any wrong doing and claimed there was no violation.
GrrrGraphics is Now on SubscribeStar, A free speech supporting alternative to Patreon, Support us there! Click to Join
AOC's campaign shenanigans did not stop there.
The Washington Times reported:
Rep. Alexandria Ocasio-Cortez was hit Thursday with an ethics complaint for listing her live-in boyfriend as a staff member and getting him an official House email address.
The liberal superstar violated at least two provisions of the House Code of Official Conduct and possibly U.S. criminal law by making false statements about boyfriend Riley Roberts being a staff member, according to the complaint by the conservative Coolidge Reagan Foundation.
"AOC has gotten away with utter hypocrisy for far too long. The Coolidge Reagan Foundation will do whatever it takes to expose AOC's transgressions and hold her accountable," said Shaun McCutcheon, the chairman of the foundation. "We're going to actively monitor AOC's campaign finance reports and congressional actions to push back on her un-American, anti-speech agenda."
Ms. Ocasio-Cortez, New York Democrat, has denied any wrongdoing and accused conservative groups of targeting her.
The congresswoman's office has said that Mr. Roberts is not a staff member and receives the same benefits as spouses, including a House email address.
Looks like the socialist freshman congresswoman is trying to cut the line in Democrat corruption. Hey AOC, it usually takes years to be this bold, stupid and corrupt.
  We think AOC is ahead of the curve.
Tina
Support Cartoons by ordering your "Proud Wall Supporter" T-shirt now!

Join the Fight against Fake News! Support Cartoons that shred the Democrat Narrative! Click to Donate