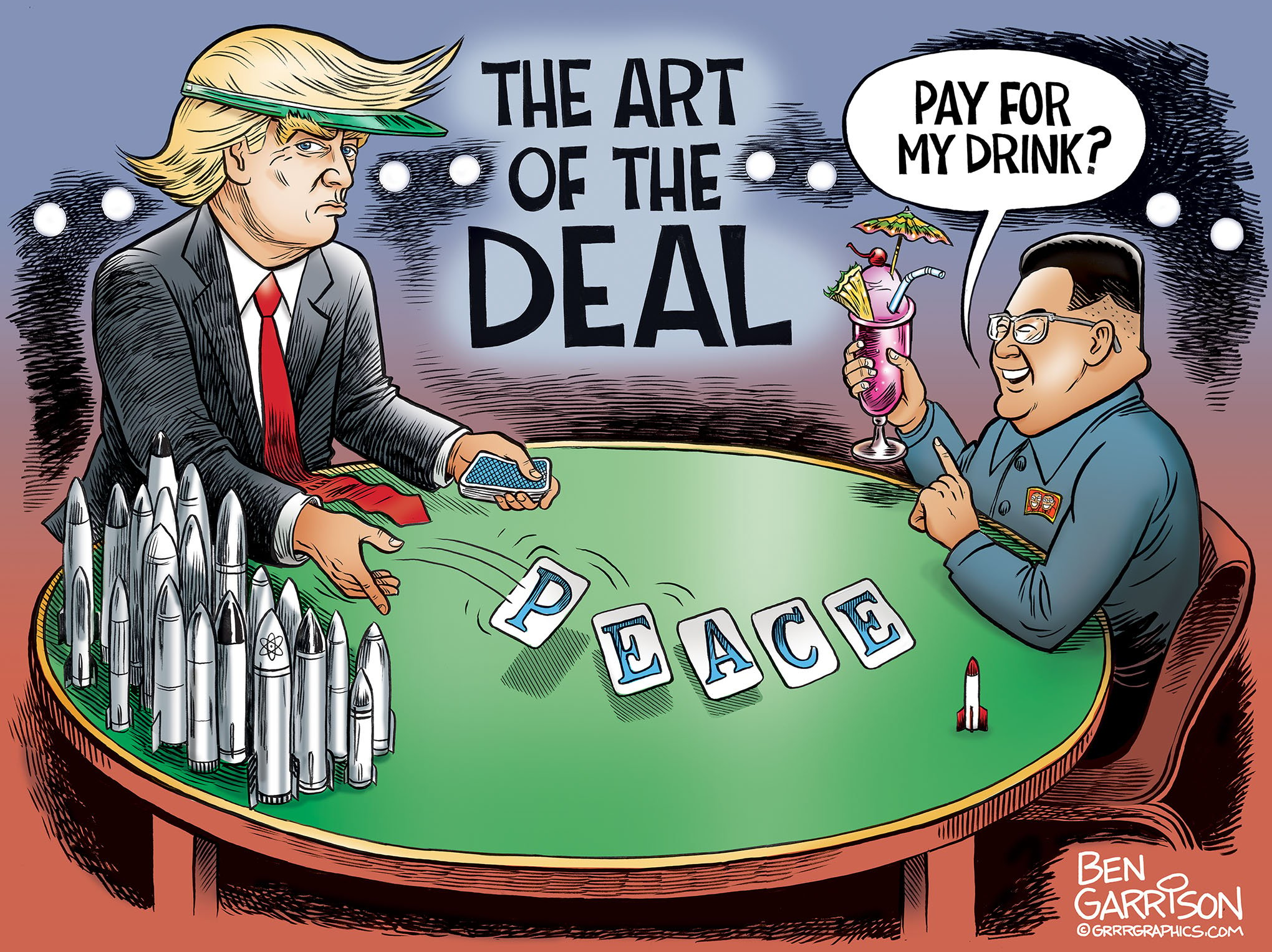 UPDATE Feb 17th, 2019  As the President meets with Kim Jong-un for the second summit in Vietnam, The Democrats hold a show hearing with convicted liar, Michael Cohen. How low will the Democrats stoop to destroy Trump? 
Original Post below:
Kim Jong-un pulled a flip flop and his summit meeting with Trump is on again.
The mercurial dictator first agreed to discuss peace after he was presumably upbraided by his Chinese masters. Why? Possibly because a partial collapse of a North Korean mountain after a nuclear test. With more testing, the unstable region could release radiation into northern China. Or it could be the Chinese don't want to see nuclear war on the Korean peninsula. Another reason for the summit? Perhaps the sanctions hurt North Korea and Trump's show of strength has caused them to capitulate.
Don't expect things to go smoothly. Already, the hermit nation wants the US to pay their Dear Leader's hotel suite. If it were up to me, I'd book Kim into a Motel 6 or the Singaporean equivalent. He's a brutal murderer who deserves prison–but since he's willing to talk peace, he deserves a chance.
Stop the Censorship of Truth- Click to make a one time Donation 
North Korea needs money and probably wants billions of dollars in taxpayer money. In return, they'll probably agree to dismantle their nuclear weapons. More likely, they won't do that and simply hide their nukes while pocketing even more bribe money from their arch enemy—the U.S.
Let's hope Trump doesn't cave into their demands. Insist that inspectors can go anywhere in the country to ferret out hidden nukes. Clinton and Carter cut a terrible deal. The Norks got billions of dollars and nuke reactors in exchange for not building bombs. Instead they got their largess and immediately began building bombs. Trump will be harder to fool.
—Ben Garrison
REMINDER BEFORE YOU GO, START YOUR FREE 14 DAY TRIAL AT THE GARRISON CLICK BELOW.  JOIN BEN AT THE GARRISON ONLINE MAGA COMMUNITY FOR PATRIOTS! 


Exclusive Cartoons Never Published
Get New Cartoons before Public Release
Watch Behind The Scenes Videos
Have Direct Access To Ben 24/7
Share Your Cartoon Ideas To Be Drawn
Chat With Fellow Patriots Inside
Support MAGA, Trump, and Patriotism
Get Ready For The 2020 Election With Us