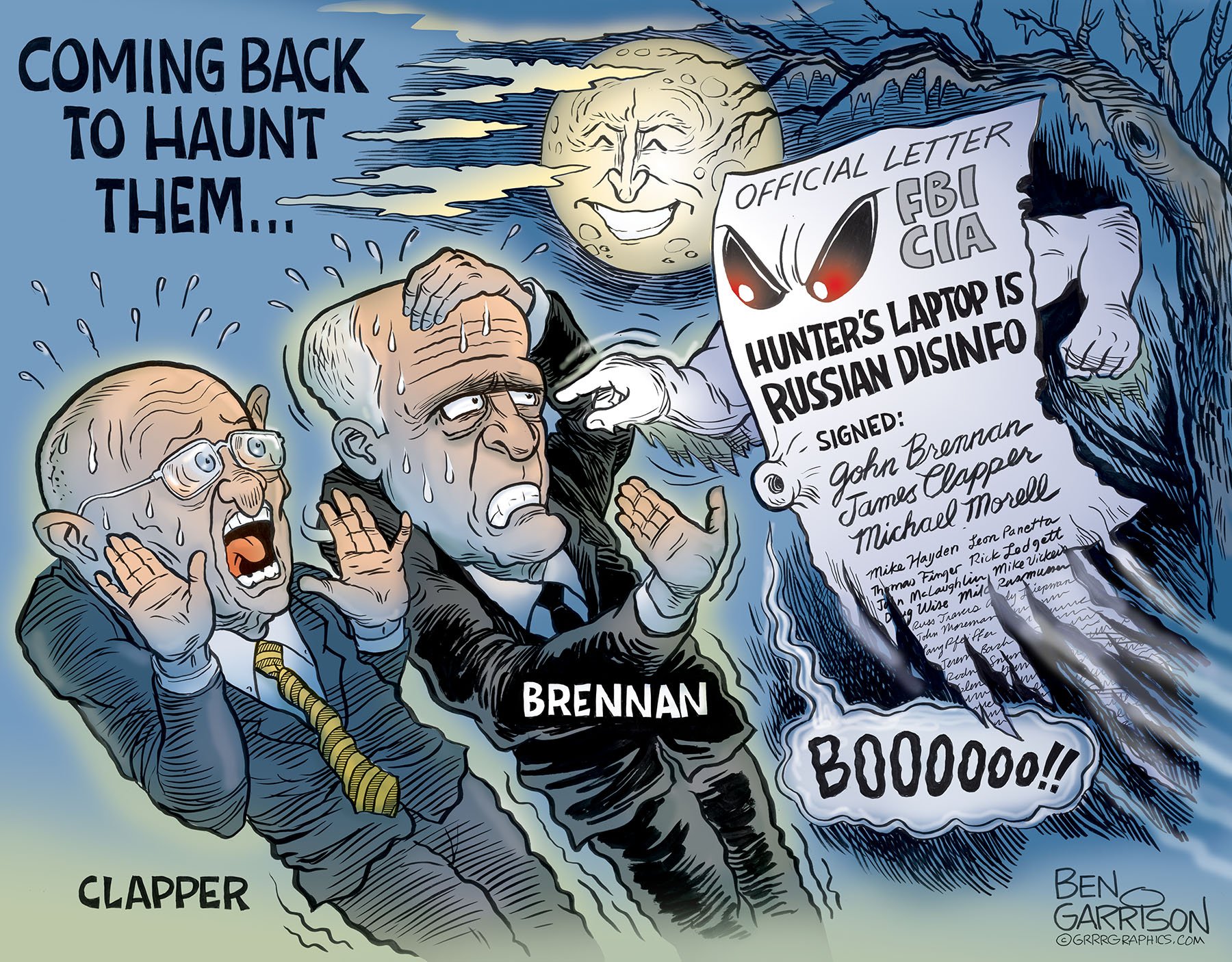 Bad Moon Rising- Coming Back To Haunt them
Cartoon published  05/06/2023
Spies who lie.
James Clapper, the former Director of National Intelligence, and John Brennan, the former CIA Director, will be called before Congress to testify about their efforts to discredit the infamous 'laptop from Hell,' which belonged to Hunter Biden. It has been concretely proven to be his content—the Russians had nothing to do with it. Therefore, House Republicans are investigating what amounts to interference with the presidential election of 2020.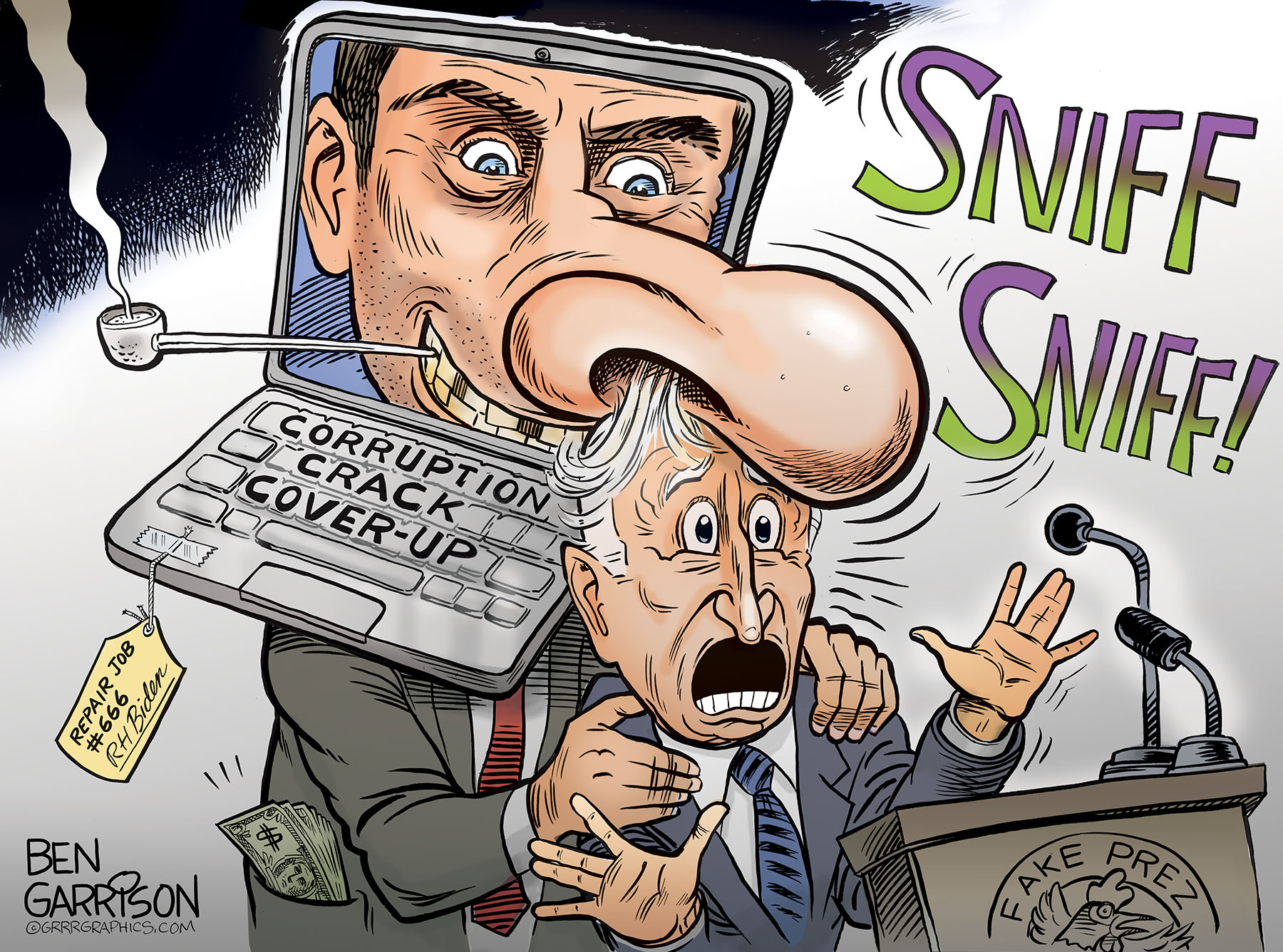 Laptop From Hell Prints Available
Clapper and Brennan endeavored to keep the laptop off the political radar in order to help Joe Biden win the election. 50 other security agency 'experts' affixed their signature to the lie of Russian interference, which led to mass censorship on sites such as Twitter and Facebook. If you dared to mention Hunter's laptop on those sites, it usually led to quick deletions and bans. Political discourse is essential to help people decide whom to vote for, and that discourse was trampled upon by the Deep State Swamp, in which Clapper and Brennan continue to dwell.
The impetus for the letter came from the former Deputy Director of the CIA, Michael Morell, who in turn was advised by none other than Antony Blinken—now Secretary of State under Biden. Did Joe and his advisors throw the switches to make it all happen?
Never Miss A New Cartoon! Sign Up Today For Our GrrrNEWS  cartoon newsletter-It's Free and Easy!
All of these people were virulently anti-Trump and apparently willing to 'do what it takes,' including concocting a blatant lie in order to help Joe into office. We know the Deep State Swamp consists of Democrat operatives who always throw the levers in the favor of their allies. Corporate media and Silicon Valley social media were all too eager to go along with the lie and ban evidence of corruption that is rampant within the Biden family.
You are invited to join me on SubscribeStar- a Pateron alternative, for exclusive cartoons and behind the scenes look at GrrrGraphics, Click to Join!
Does this mean Clapper and Brennan will face jail terms similar to what the Jan. 6 protestors are currently serving? Will they face 20-year sentences that might be imposed upon the leaders of the "Proud Boys" who did nothing but exchange text messages? No. Clapper and Brennan will lie—just like they lied to Congress earlier—and the Swamp will reward them. They will most likely claim the letter was only their suspicion of Russian interference and it was never based on fact.
Clapper and Brennan are wormy people who will continue to enjoy freedom and reward for their corruption. They will slither back to bottom of their swamp. There is no equal application of justice in America.
With Criminals in charge there will be no justice.
— Ben Garrison
Follow Ben Garrison cartoons on Twitter at @grrrgraphics2
Follow @grrrgraphics on Twitter GAB, TRUTH SOCIAL, PARLER, INSTAGRAM, TELEGRAM ,
or join us at The Garrison!
Ben Garrison's art is published all over the world, making this original a valuable collector's item which will only appreciate over time – predictably to the tunes of thousands of dollars.
Invest in your future – and the future of freedom – and make the one and only Ben Garrison original artwork yours.