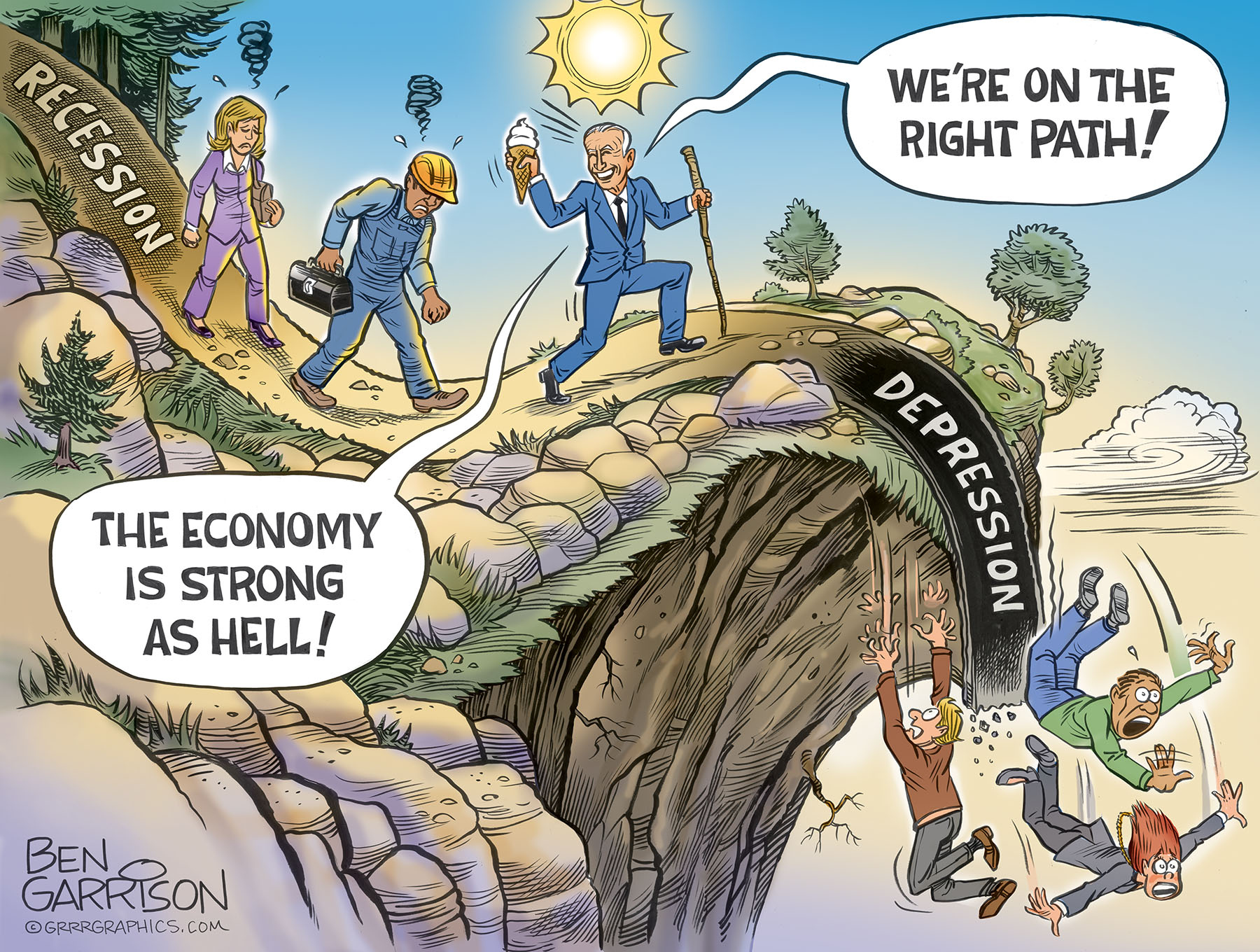 Biden's Path Of Economic Destruction
Cartoon published 10/18/2022
Joe Biden was snarfing still yet another ice cream cone recently while he told reporters, "The economy is strong as hell!"

Back in July, when the numbers indicated a recession, Joe confidently announced, "We're on the right path."
Of course he's going to say such things in order to gaslight voters into voting for Democrats when the midterm elections roll around. Joe has always pretended to care about the middle class and poor in order to garner their votes, but in reality his allegiance is to the globalist banks that he serves. When he's not serving his masters, he's aggrandizing his own power and bank accounts through corruption. Biden does not care about average citizens who must suffer from the inflation he has caused. It is said that the average American must come up with an extra $16,000 per year just to pay for higher food and gas prices.
Supply chain issues, thanks to the incredibly incompetent Pete Buttigieg, has only made matters worse. Biden and his Democrats claim help is on the way with the passage of their "Inflation Reduction Act," but all that will do is make inflation worse. The Jackass Party, with the approval of neocons in the Republican party, has sent $67 billion freshly-printed debt dollars to keep a perpetual war going on in Ukraine while they refuse to spend money to protect our own borders. Endless billions more are being flushed into their green energy scam. It's all inflationary!Remember Obama and Joe's Solyndra scandal?
Fight Thought Control through supporting Grrrgraphics high impact cartoons- We draw for you! Click to support us at SubscribeStar a monthly donation at whatever amount is comfortable
They tossed $530 million in federal loans into the failing, corrupt (but green!) company before it went bankrupt. We can expect a similar corrupt occurrence (with plenty more kickbacks), only on a much grander scale. So far, the Democrats under Biden have created $4 trillion in wasteful spending and a lot of it went toward their green energy 'build back better' fantasy. Such foolish spending resulted in massive inflation and a recession. The Democrats' solution? They changed the definition of a recession as easily as they change pronouns.
Joe will no doubt smile and say how great things are when we suffer an outright depression.
Throw the bums out in November.
Cartoon available as a signed print– order yours today!
— Ben Garrison
Follow grrrgraphics on Twitter   GAB, TRUTH SOCIAL, INSTAGRAM, TELEGRAM
or join us at The Garrison!
Buy your one-of-a-kind, original Ben Garrison
Invest in your future – and the future of freedom – and make the one and only Ben Garrison "Biden's Path Of Destruction" original artwork yours.
Your purchase supports our nation and her inalienable rights by keeping GrrrGraphics up and drawing. We fight for all that makes America great, including you!
Order today!