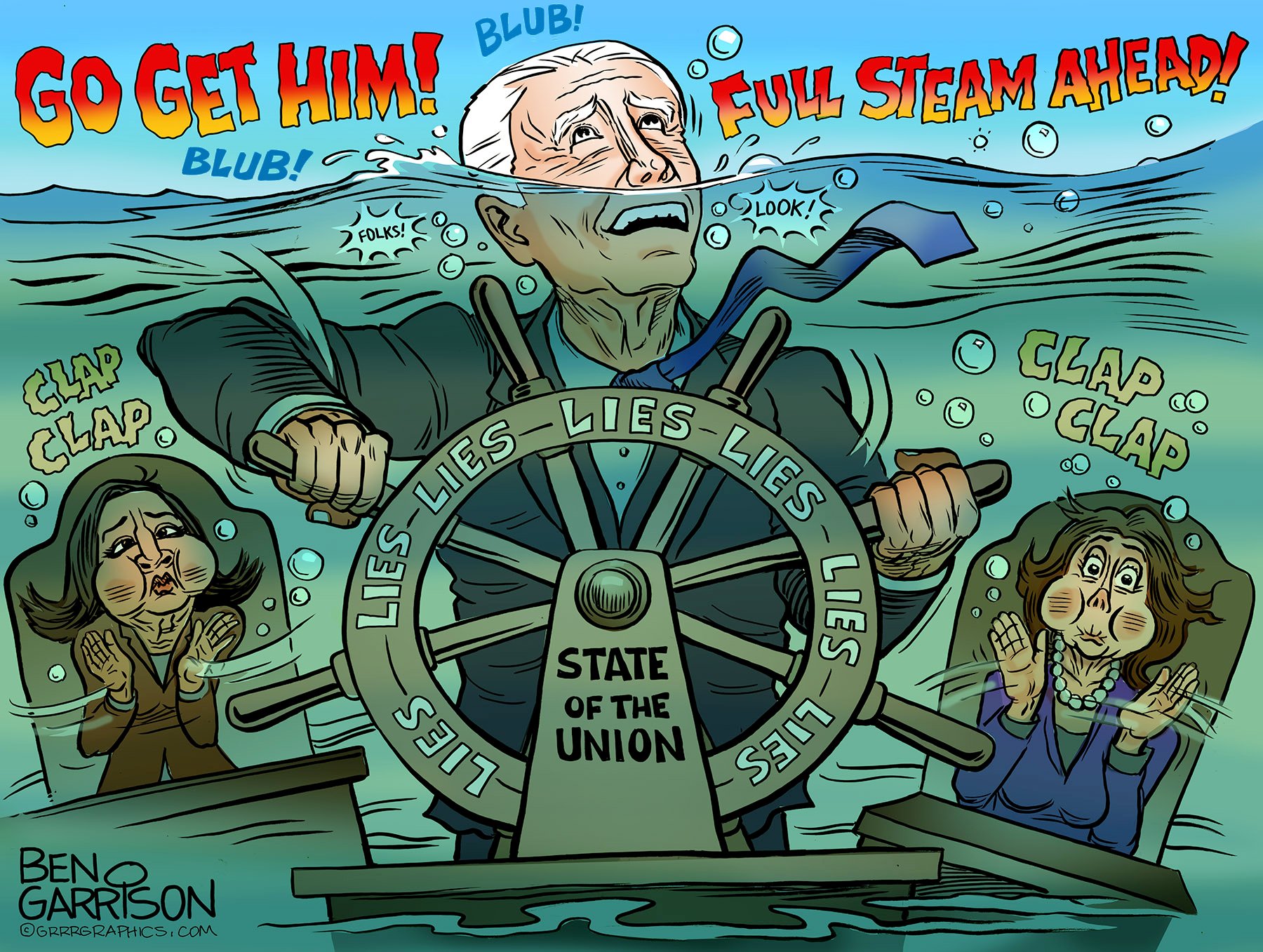 The Sad Sorry State Of The Union
Biden has been a slimy, lying, career politician since the the early 1970s. He says whatever he thinks it will take to win elections and approval. During last night's State Of The Union speech, he promised everything would be fixed with a wave of his magic government wand. Inflation? Price controls! Child care costs? Throw government money at it! More money for the police, but more money to make sure they also behave. Any problem can be solved by spending more and expanding government. He's been at this a long time. One must question why he hasn't fixed these things earlier. After all, he's been a mover and shaker in the Senate and as Vice President. What he really did was make everything worse and he's making things worse now. 
Obama spent billions of dollars to overthrow Ukraine's pro-Russian president and make the country pro-western. The money laundering vultures descended on that country to get their kickbacks. Biden's son Hunter was paid millions of dollars. The children of Pelosi, Romney, Biden, and John Kerry and many others also mopped up. Of course, this is denied up and down by the compromised fact checkers. Regardless, Biden could have easily agreed that Ukraine would not become part of NATO. Putin's concerns were genuine. He didn't want biological weapons labs and nuclear weapons so close to Russia. He wanted a buffer zone. Joe dug in his stupid, stubborn heels. Biden is responsible for the War in Ukraine. 
Sign up for GRRRNEWS Never Miss A Cartoon and Our Special Members Only Sales!
Instead of masks, nearly everyone attending Joe's speech sported Ukrainian ribbons. We're now supposed to be angry not at those who refuse dangerous and experimental vaccines, but rather at Americans who want us to mind our own business. We're told to take sides—the globalists' side. It's funny how war easily replaced a so-called pandemic. If you question the war, we're met with the same anger when we questioned the vaccines. After the speech I watched Fox News and the war mongers were out in force. They constantly questioned Putin's mental well-being when they should be questioning Joe's.
BIDEN SORRY SOTU  NFT JUST MINTED CLICK TO VIEW ON OPENSEA!
Mr. Hairdo, Sean Hannity, gets paid $25 million per year from Fox to push the conservative side of the globalist agenda. He constantly praises his regular guest, Mark Levin, as "The Great One." That has always been off-putting to me. Well, Levin is great at war-mongering. With his high-pitched nasal drill of a voice he angrily condemned those Americans who don't cheerlead for war against Russia. He also wants to attack Iran. Sure, Levin loves Israel, but America has been pumping billions of dollars into that country for years. Can't they take care of themselves?
And why stop at war with Iran? North Korea has treated their population with brutality for nearly 70 years. Why not rescue those poor people? War with North Korea! And what about China? They lock up millions in concentration camps because of their religious views or ethnicity. They conduct slave labor, boil dogs alive in oil, and rip out internal organs for profit. War with China! But no, Levin is selective in his choice of wars. Still, you can bet your bottom dollar he won't be fighting in any of them. Young Americans will spill their blood and make him happy. Mr. Levin, you are not great. You agree with Soros, Schwab, and the globalist Davos crowd when it comes to Ukraine. You no longer have me fooled. I regret buying one of your books. If the nuclear bombs drop, I'm sure you and your angry bald head will be kept safe in some luxurious bunker.
Back to Joe's speech: Joe refused to admit any responsibility for everything that has gone wrong, even though everything he has touched has been a disaster. His speech was chock-full of lies and empty promises.
He ended his speech with "Go get him!" Go get who, Joe?
I'll tell you who we need to get: Donald Trump back in office. He's the rightful president, not you.
— Ben Garrison
Follow @grrrgraphics on GAB, TRUTH SOCIAL  PARLER, INSTAGRAM, MINDS TELEGRAM 
BIDEN SORRY SOTU  NFT JUST MINTED CLICK TO VIEW ON OPENSEA!