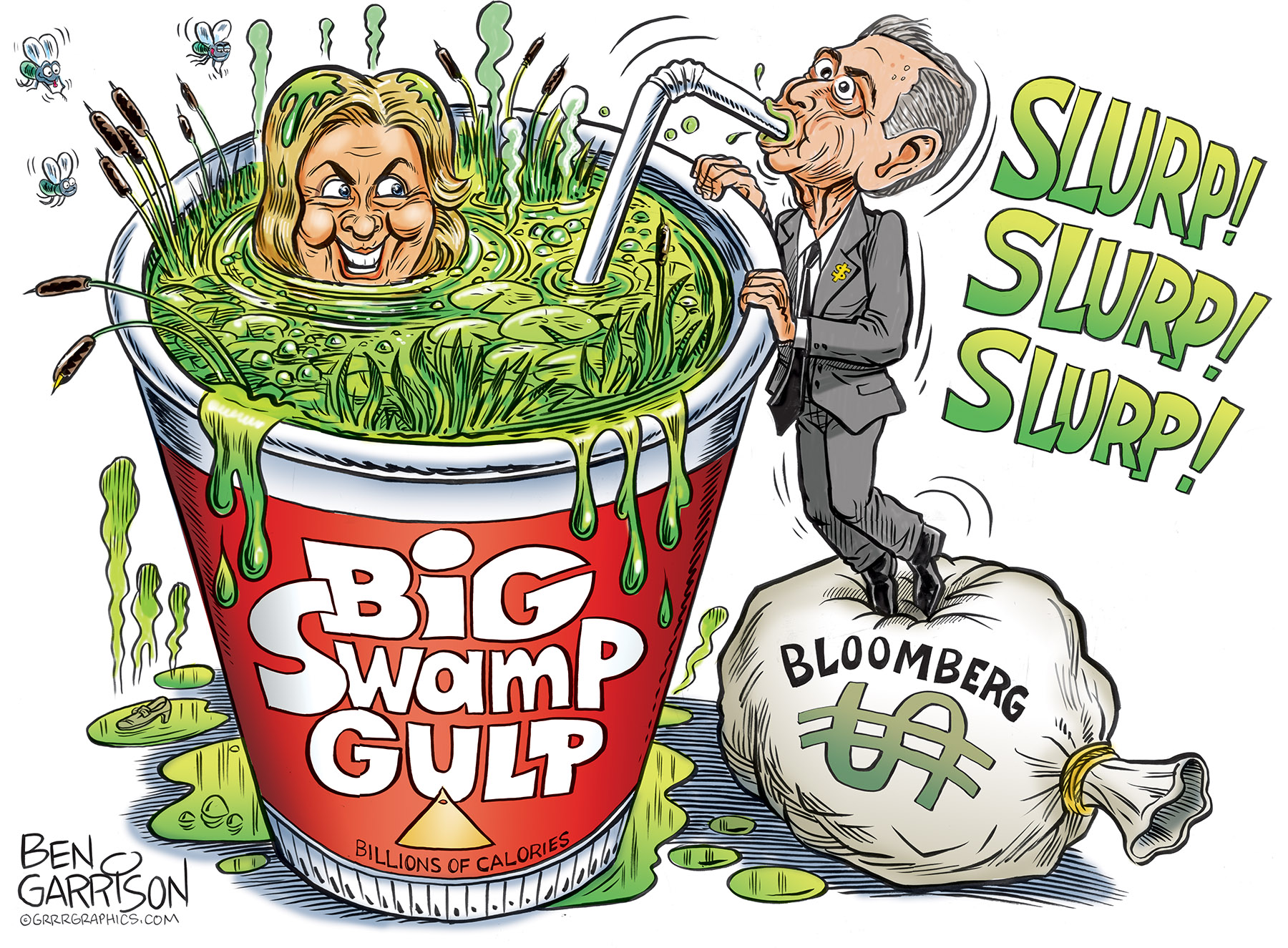 Belly Up To The Swamp 
Multi-billionaire and former New York City Mayor Mike Bloomberg once tried to ban "Big Gulp" sodas in his city. He also wanted saltshakers removed from restaurant tables and stricter rules about smoking and so forth. Most of his bans were unconstitutional, but that didn't seem to matter much to a statist control freak such as Bloomberg.
Now he wants to buy the presidency and control our nation. Unfortunately for him, he can't buy charisma.
Bloomberg, like Biden and Bernie, is in his late 70s. Mike is even more mean spirited than either Biden or Bernie. He has insulted minorities, women, and most recently farmers. Sure he's short in stature, but his vision for America is not only shortsighted, it's downright repulsive. He's a 'government force' kind of guy. He wants you to turn in your guns and take your mandatory vaccines. He wants open borders. He wants the de-industrialization that his climate change laws will bring. He is in league with globalists and big corporations as well as the entrenched Deep State Swamp. Why else would he suggest Hillary for his running mate?
The only thing Bloomberg has going for him is cornucopia of cash. Even with his profligate spending, I doubt he can influence a great many American voters to swallow the swill he's offering them because his toxic swamp policies are simply too hard to swallow.
—Ben Garrison
We need your support in getting Donald Trump reelected! Your purchase goes toward our country, the MAGA MOVEMENT, and President Trump!
OMG BOOK BUNDLE (3 Books)

$79.00

"OMG BUNDLE": THE ORANGE MAN GOOD TRIPLE BOOK BUNDLE! A Deplorable Gift for MAGA Patriots!! Perfect for your close patriot, family or friend.

Our three most popular cartoon books in one bundle: "The 2016 Election Collection" cartoon book, the "Lock Them Up" cartoon book, and the "Orange Man Good"  cartoon book!

Added FREE gift: Cartoon Sticker

Own hundreds of your favorite cartoons…. and SIGNED by the one and only Ben Garrison himself, adding priceless value to these collectors items down the road…

Over 400 pages of cartoons! Your purchase helps us raise awareness of ELECTION FRAUD, STOLEN ELECTION, THE DEEP STATE, and lets them know that you are a TRUE PATRIOT who loves the USA!

Order yours today by clicking the "Add To Cart" button below. (Multiple orders of this bundle = greater support for us and AMERICA!)

2 in stock (can be backordered)

Description

SIGNED Election Collection Book: 

Book includes all  cartoons drawn during the 2016 election. The book has 114 cartoons plus six cartoons that have never been released to the public.

Product Details

Paperback​
142 pages
Full Color
Trim size 8.25″ x 6″
Language English
Publication Date March 4, 2017

SIGNED LOCK THEM UP Book

Product Details

Paperback​
140 pages
Full Color
Trim size 8.5″ x 7″
Language English
Publication Date May 16, 2018

SIGNED ORANGE MAN GOOD BOOK

Product Details

Paperback​
148 pages
Full Color
Trim size 8.5″ x 7″
Language English
Publication Date Oct 19, 2019