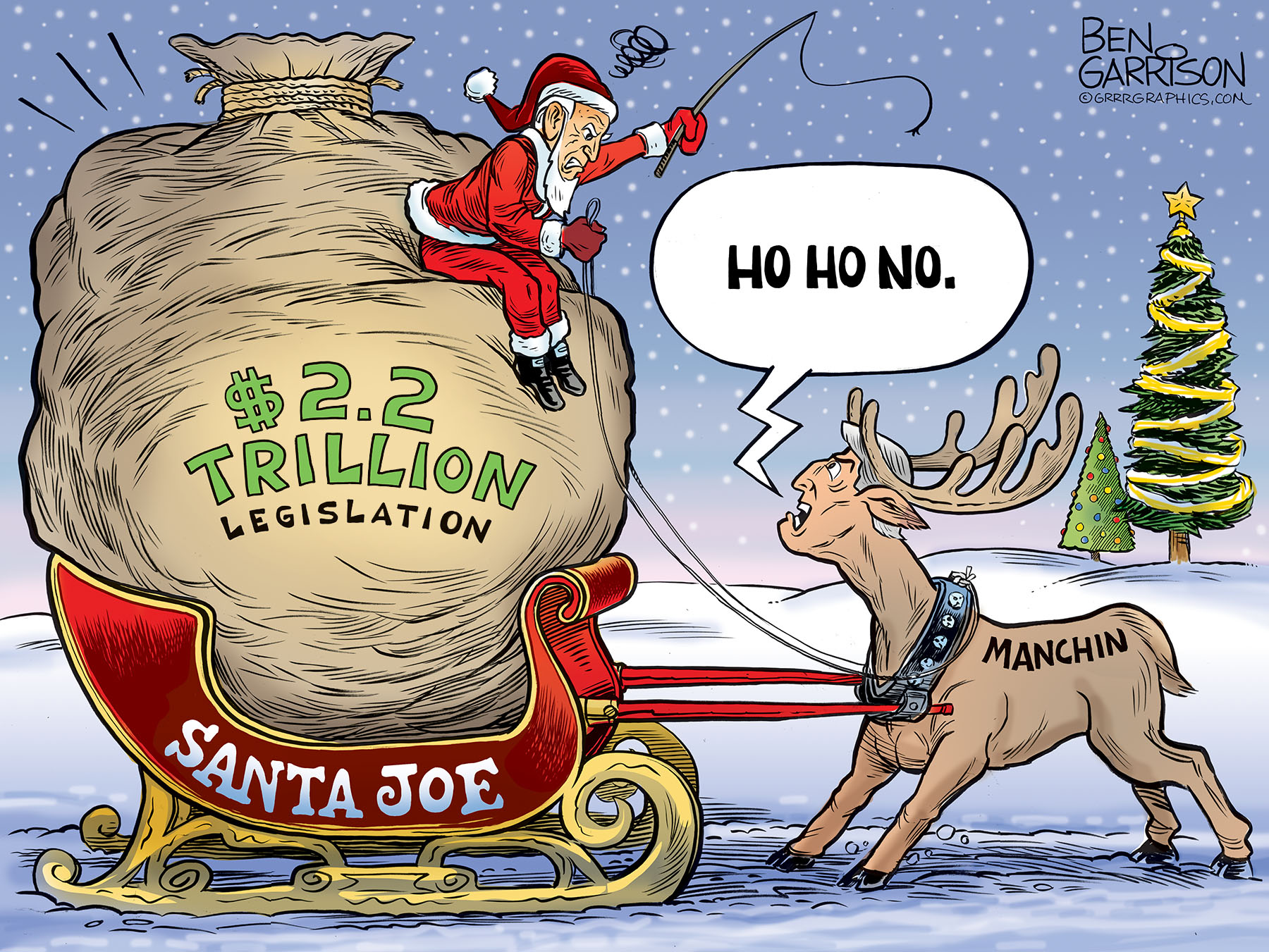 Worst Christmas Gift Ever
Democratic Senator Joe Manchin said he will not vote for Biden's 'Build Back Better' $2.2 trillion social safety net and Green New Deal bill despite his earlier meetings with Joe.
Many thought an agreement had been hammered out.

Manchin has shown more principle than McConnell, but will he continue to hold his ground? I wouldn't be surprised to see him vote 'yes' once the spending amount is cut down to something that might appear to be more reasonable and less ridiculous. (It will still be ridiculous, though.) Perhaps this is all theater.
SUPPORT CARTOONS JOIN US AT SUBSCRIBESTAR!
Remember, Manchin voted 'yes' on Trump's impeachment:

"Today I voted guilty on the articles of impeachment brought against former President Trump to hold him accountable for his seditious actions and words that threatened our democracy."
Follow Grrrgraphics on Telegram!

Manchin spouts the usual blather about 'our democracy,' when in reality we are a republic. "Our democracy" is a buzz phrase for 'our socialism.' I suspect Manchin wants socialism—he's not a 'moderate.' Let's keep that in mind amid all the praise currently being showered upon him by conservatives.
Sure, it's nice to see someone stand up against the spending machine and I'll be happy to be proven wrong.
CHECK OUT BEN GARRISON NFTS CARTOONS AND FINE ART CLICK TO VIEW

If I am wrong and Manchin can't be swayed, look for more Republican RINOs to come to Joe's aid. I'm sorry for being cynical, but the New World Order seems tough to stop at this point. They have all the money in the world and they don't hesitate to exert influence and political pressure to achieve their dark ends.

— Ben "Glass Half Empty" Garrison
 Make a donation to support Ben Garrison and Tina Toons through Pay Pal-Click to View! Thank you for the support!