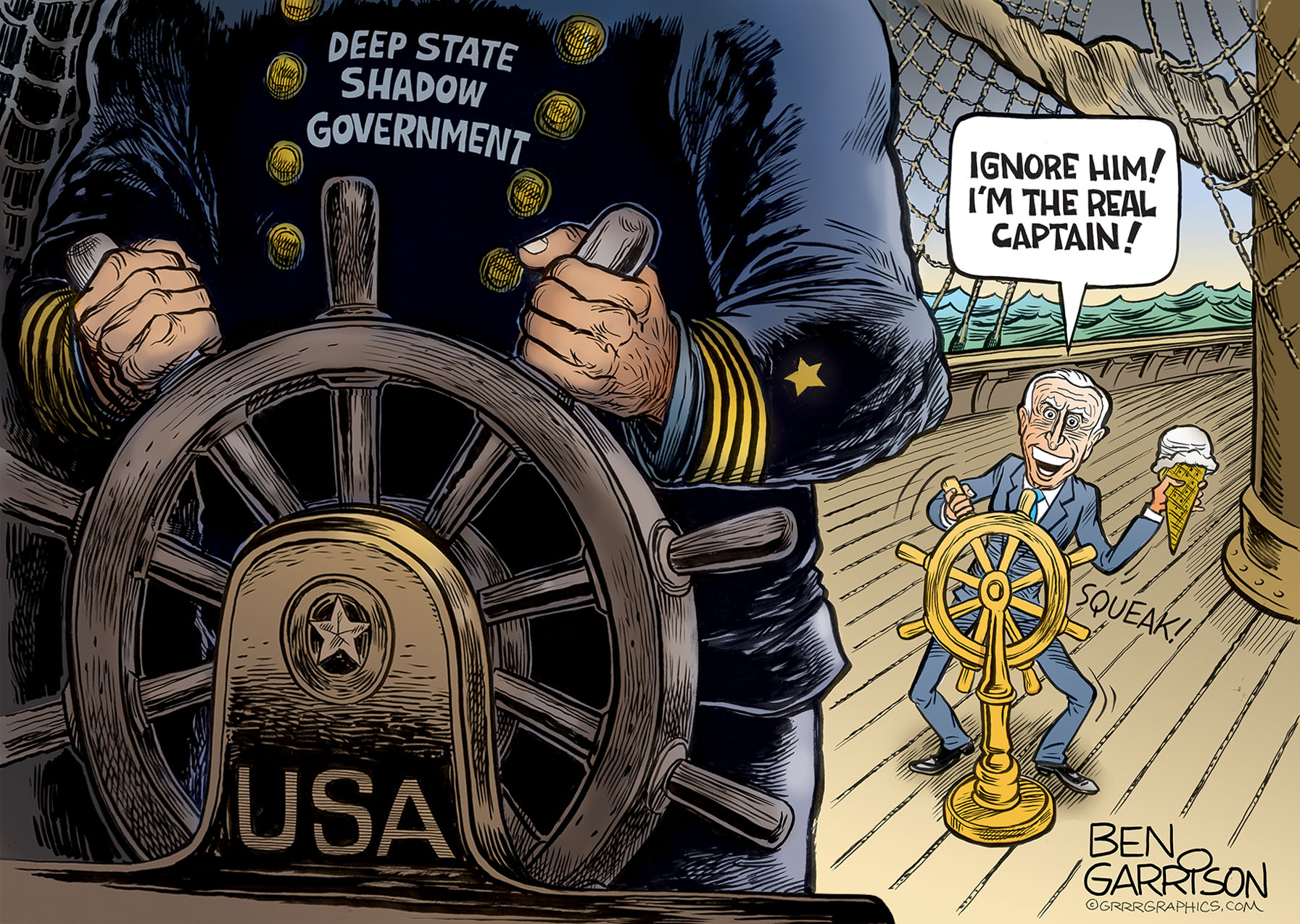 Deep State Captain Crook
We know Biden isn't really in charge. He's a hollow, mannequin-in-chief who stares at a teleprompter and mumbles lies written by others. When left on his own, he tells his own bumbling lies, then wanders off from the podium, confused and lost.
So who is really running the White House and directing its destructive policies? Many say Obama and his operatives are in charge behind the scenes. In effect, Joe's regime is Barack's third term. Still, Obama was also a puppet just like Joe is. Both Barack and Joe continue to run a game plan written by powerful people who set agendas while behind the scenes. Some are powerful billionaires such as George Soros, but he in turn is controlled by those who own most of the wealth in the world as well as our institutions, the mainstream corporate media, and politicians.
In 2008 during their presidential quests, both Barack Obama and Hillary Clinton disappeared for a day.  At first there was a little bit of panic from the media, then quickly it all calmed down. That's because they learned Barack and Hillary were attending a Bilderberg meeting in Virginia. No media covered the meeting. It was all hush-hush. There was no campaign staff in attendance. At the meeting it was determined that Obama would become the Democrat nominee, while Hillary would be delivered an important position within the administration. She was later made Secretary of State. The voters had no say. A Deep State Shadow Government had the say—and they still do.
Support MEGA MAGA cartoons with a monthly donation at Subscribestar in one easy click!
Once things are decided by the deciding oligarchy in charge, the media are handed talking points by the CIA and the elections are rigged. Joe Biden finished in last place during the initial Democrat Party primaries, then magically he was the front runner. The deciders decided to make Biden the next president. Joe coasted to the nomination and then the elections were rigged to make sure he won. (The elections were rigged against Trump, too…but they underestimated his popularity and Hillary still lost.)
Everyone saw through the lying and corrupt Biden. He was not popular. He campaigned in his basement. When he did make a few public appearances he drew a handful of people, whereas Trump drew crowds in the tens of thousands. Yet Joe (supposedly) won while collecting 81 million popular votes. More than Obama!
I predict the Democrats will cheat again, and this time they won't care how obvious it is. All they have to do is smear those who object as 'election deniers.'
Remember, Biden is not in charge and neither is Fetterman. The ship of state known as the USA was taken over by pirates a long time ago.
— Ben Garrison
Cartoon is available as a signed print, support Ben with a purchase!
Remember in November! Get Out there and vote as if your life depends on it….because it does!
Follow @grrrgraphics on GAB, TRUTH SOCIAL, PARLER, INSTAGRAM, TELEGRAM 
or join us at The Garrison!
Support MEGA MAGA cartoons with a monthly donation at Subscribestar in one easy click!
Invest in your future – and the future of freedom – and make the one and only Ben Garrison "Captain Crook"  original artwork yours. 
SUPPORT BEN'S WORK WITH A PURCHASE!