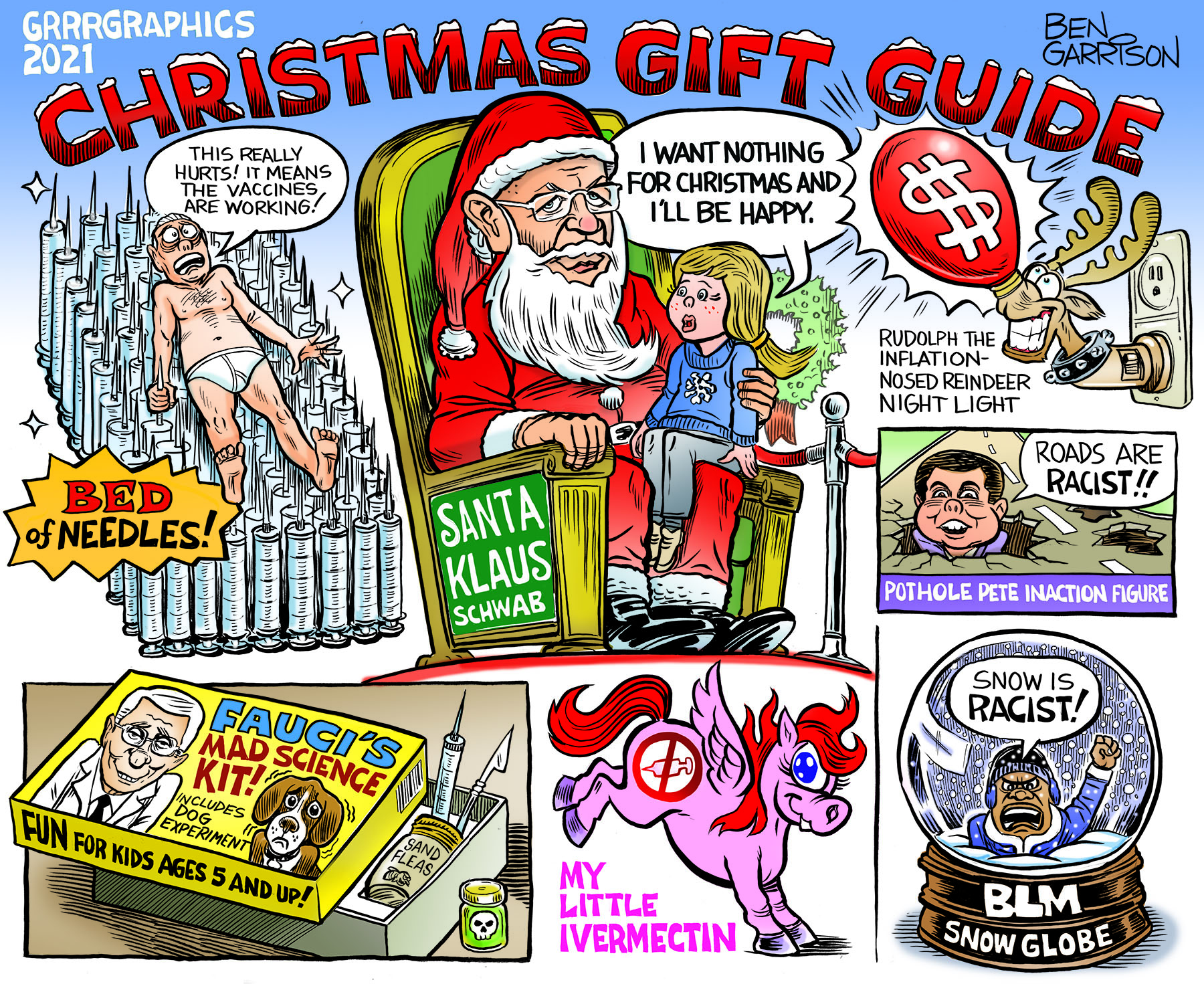 Merry Christmas 2021 From GrrrGraphics!
It's Christmas time again and we at GrrrGraphics are serving up yet another gift guide.
Follow Grrrgraphics on Telegram!
We have slim pickings this go-'round. It is a dystopian year, after all. We must do with less due to supply chain issues that neither Joe Biden nor Pete Buttigieg can solve. The head of the World Economic Forum, Klaus Schwab, says we'll all own nothing and be happy. I suspect we'll be unhappy, but we're all being punished even though we've all been mostly nice. Pete won't punish us by putting planet-threatening coal into our stockings. No, instead he'll jam in some broken asphalt.
There are some gifts we could have added such as "Rock 'em Sock 'em Robots," featuring Biden and Harris battling it out. There's a Hunter Biden paint by numbers kit, but it's too pricey for our taste. Finally, there was an interesting 'Between A Rock And A Hard Place Game." It's currently being played by the Federal Reserve, but we left that off because there are no winners in that game.
Sign up for our Cartoon Newsletter and Never miss a cartoon- click to join
So there it is. It will be a parsimonious Christmas. There are currently too many Grinches in our country wanting to take things away from us—especially our freedom.
— Ben Garrison
CHECK OUT BEN GARRISON NFTS CARTOONS AND FINE ART CLICK TO VIEW
Original Cartoon available – Christmas cartoons are rare and only one is drawn for each year!-
"2021 CHRISTMAS GIFT GUIDE"
making this not only a special cartoon, but a must-own for any patriot who is looking for a premium, highly sought-after piece of history–and perfect for collectors interested in a savvy investment.
Just one exists in the entire world–Ben Garrison Cartoons are in high demand. Click Link to Reserve your original today!