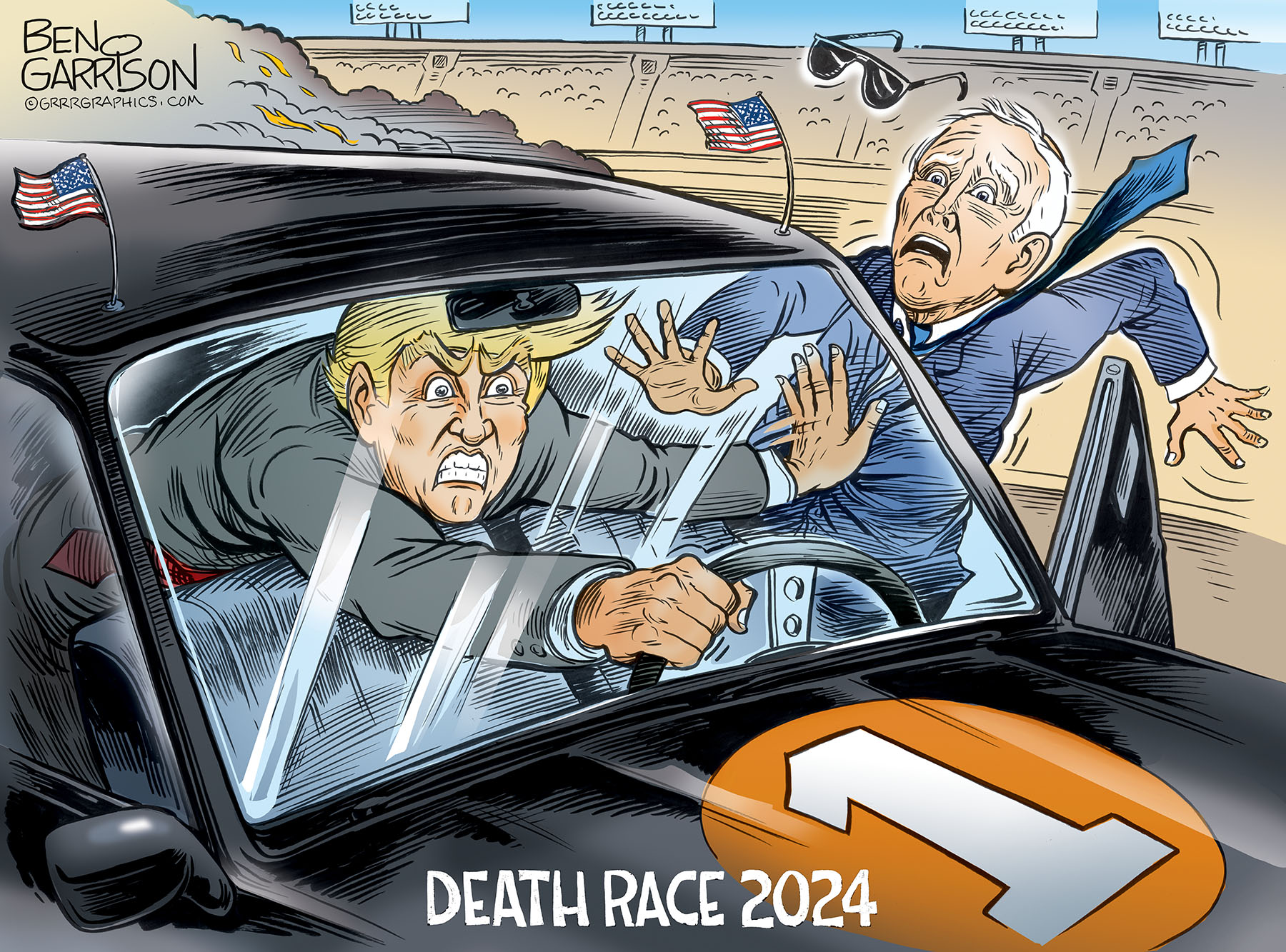 Can Trump Grab the wheel and steer America back in the right direction?
It's a race to the finish, our future depends on who has control of the steering wheel of state.
Currently a demented Deep State puppet is steering America towards the brink of a globalist abyss, where the future of eating bugs and weeds, inflation, and Chinese type social credit systems await.
You will become human cattle, living safe, controlled lives managed by the global elite in their estates. Every move you make will be watched and controlled.
Support Ben Garrison Cartoons with a One time donation! Keep Cartoons Online Click to Donate!
Sounds fun, right?
2024 is a critical election.
If the Democrats steal it for a doddering Biden once again, we'll know our Republic is finished. Joe continues to steer America in a disastrous direction.
Restoring Trump could be a matter of life and death.
The Democrats are now inventing ridiculous stories to discredit Trump, but that's what they do. Lie. It's what Biden does reflexively. Biden may appear to be at the wheel, but it's really Obama and his people that are powering his car. We will see what happens during the midterms. The Democrats may view it as a temporary setback—more time than expected in the pitstop, but we know they won't hesitate to steal the election for their puppet once again.
American's will not accept the Democrats bleak future and are prepared to fight back.
Trump will wrestle the steering wheel of state back from the left and the RINO GOP, and steer America towards the big, beautiful finish line of prosperity, freedom and liberty for all.
-GrrrTeam
Follow @grrrgraphics on GAB,TRUTHSOCIAL PARLER, INSTAGRAM, TELEGRAM 
Cartoon Available as signed Print- Order your print today
Original Cartoon Available! Rare Donald Trump Cartoon Only One exists in the world – Reserve your original today!