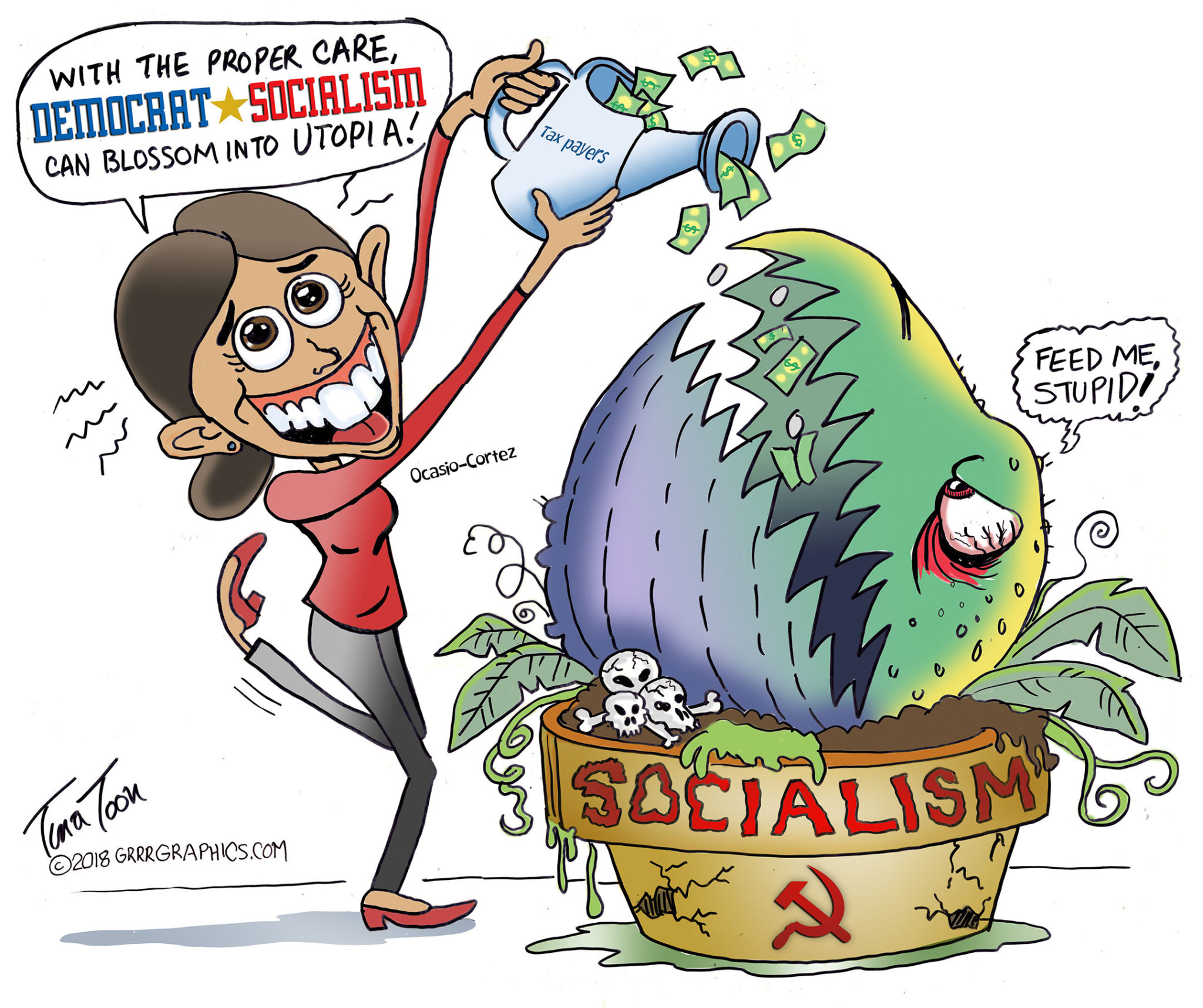 UPDATE December 25 2018:  Ocasio-Cortez compares Syrian refugees to Baby Jesus.  The best and the brightest! Oh wait… 
It's not the first time Ocasio-Cortez's comments on the Middle East have caused a stir. During her successful campaign last year to unseat longtime Democratic incumbent Joe Crowley, she called Israel an "occupation" force in the Palestinian territories — a comment she later tried to walk back.
"Middle Eastern politics is not exactly at my kitchen table every night," she said at the time.
Earlier this month, Ocasio-Cortez caused a stir when she claimed that "$21 [trillion] in Pentagon accounting errors" could fund universal medicare — a claim later debunked by the Washington Post's fact-checking department.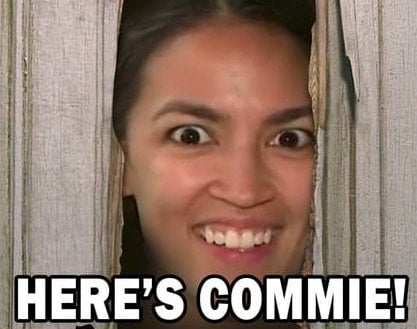 Original Post Below:
Alexandria Ocasio-Cortez, Democrat Socialist, is the gift that keeps on giving.
Every time she opens her mouth she gives us plenty of material for a new cartoon!
Like Bernie Sanders, Ocasio-Cortez sings the sweet song of "Free Everything" and the uneducated, lazy "Gimmes" prick up their ears and fall in line.
The Democrat Party of John F. Kennedy is long dead.
[paypal_donation_button]
The new face of the Democrat party is a non-white (check) woman (check) idiot (check) communist (check).
Her promises of free college, free housing, free healthcare and guaranteed government jobs for all has a problem. Who will pay for Free Everything?
She replies with the usual socialist response, "the wealthy have to pay their fair share" and the old canard, "Slash the Military budget".
Even a poll strategist conceded, "Promises of free everything," is a losing strategy for the Democrat party.
Socialism has never worked, see latest example Venezuela.
Alexandria Ocasio-Cortez also wants to:
Abolish Prisons
Abolish ICE
Abolish Borders
Abolish Profit
A stink weed by any other name is still a stink weed!
Tina
REMINDER BEFORE YOU GO, START YOUR FREE 14 DAY TRIAL AT THE GARRISON CLICK BELOW!
JOIN BEN AT THE GARRISON ONLINE MAGA COMMUNITY FOR PATRIOTS! 


See Exclusive Cartoons Never Published
Watch Behind The Scenes Videos
Have Direct Access To Ben 24/7
Share Your Cartoon Ideas To Be Drawn
Chat With Fellow Patriots Inside
Support MAGA, Trump, and Patriotism
Get Ready For The 2020 Election With Us