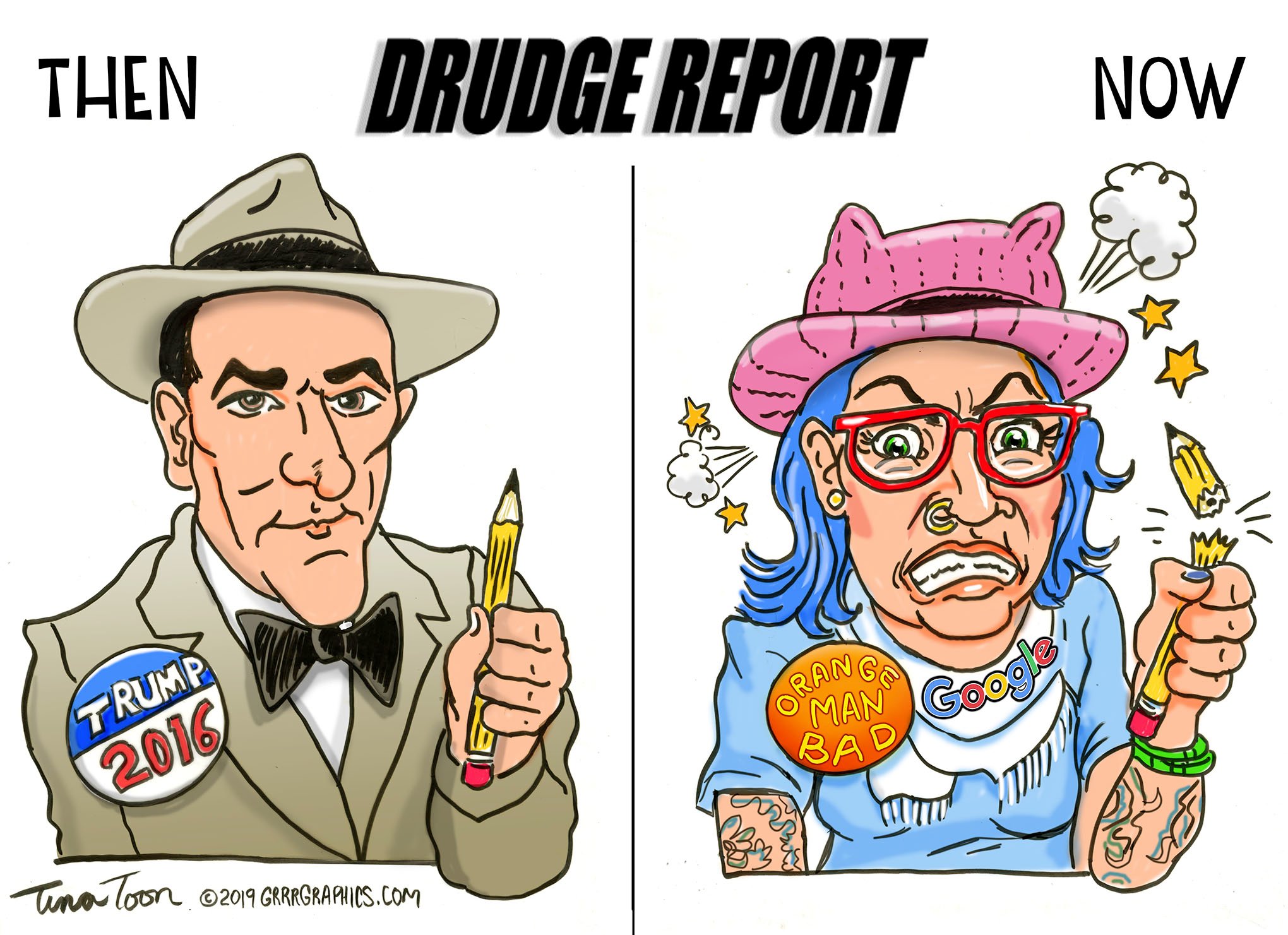 Drudge Report the sequel: THE SEARCH FOR MORE MONEY
Drudge knows which side his bread is buttered on–the search for more clicks!
We remember when the Drudge Report played up President Trump's successes; he was one of the few sites that did. Since August, the Drudge Report has been pushing one negative Trump story after another on the website.
Has Drudge turned on President Trump just like the opportunist Ann Coulter?
It's starting to look that way. The site's tone has changed and some days you can't tell the Drudge Report from CNN.
Has Matt Drudge abandoned conservatism?
Everyone is noticing, so the negative stories are not an outlier.
Christmas Gifts From Amazon
Matt Drudge has sold his conservative soul for clicks and money. In August, the Drudge Report dropped its advertising representative of close to 20 years, Intermarkets, in favor of a new and unknown company, Granite Cubed.
Author and political commentator, Jerome Corsi, has repeatedly tweeted about the shift in coverage, saying Drudge has "lost his mind," "turned left," and become a "leftist hack beating [the] impeachment drum."
The reclusive Matt Drudge is a one man box of mystery,  we may never know the whole truth.
Tina
Like our cartoons? Support Ben for 2020- Share a "Coffee" with Ben and Tina Today!

BEN GARRISON'S NEW CARTOON BOOK "ORANGE MAN GOOD"
A SIGNED "Orange Man Good" makes a great gift for any fan of President Trump. Order your copy today!
8.5″ x 7″ (21.59 x 17.78 cm) 
Full Color on White paper
150 pages of cartoons (including cartoons not published before in any of the other books.)
Available for ORDER  Now- Click to order your book today
MORE ON DRUDGE:
Kelleigh Nelson of NewsWithViewshas another explanation for why Matt Drudge went to the dark side. Below are excerpts from her November 9, 2019 post, "Drudge Sells Out Trump, Helps Democrats":
Drudge used to break stories before the mainstream media or Fox News even knew about them; they went to Drudge to find out the latest.  Josh Bernstein recently exposed what has happened to Drudge.  He says we should boycott Drudge and I agree with him.

In a surprising turn, Drudge Report removed ads between the end of May and mid-July of this year according to Danny Rogers, a cofounder of the Global Disinformation Index, a project that's analyzing domains to generate "risk ratings of the world's media websites." After noticing an absence of ads on Drudge around May 31, Rogers told BuzzFeed they didn't see any ads on Drudge until about July 12.

During that period, Drudge cast off his advertising representative of close to 20 years, Intermarkets, in favor of a new and unknown company, Granite Cubed. It has no record in the digital ad industry, was only registered as a company in March of this year, and lists no staff or owners on its websites. Yet it just landed one of the biggest websites in the US.

Corporate records show that Granite Cubed is owned by Margaret Otto. According to Pathmatics, a marketing and advertising platform owned by Margaret Otto, she and her husband, Adrian, have close ties to both Matt Drudge and his father, Bob Drudge. The Ottos have known the Drudges since 1999.  Pathmatics, a marketing intelligence platform, estimates that over the past 12 months the site generated more than $30 million in ad revenue. Another estimate from the Global Disinformation Index, to be published in a report next month, pegs revenue at $9 million per year.

The Otto's also acquired another company in 2017 founded by Bob Drudge called Refdesk.  Adrian Otto joined Google Cloud in 2017 and is their technical director. Matt Drudge is now in bed with Google and Alphabet Inc., the parent company of Google.

Alphabet Inc., Google subsidiaries, and YouTube all detest President Trump and everything on the Drudge Report has switched from supporting conservative sites and our president to leftwing media who despises President Donald Trump and his supporters.  Drudge's links now go to mainstream media like CNN and MSNBC.  Conservative media is rarely seen anymore.

Drudge gave up his relationship with his conservative advertising company of 20 years and joined with the enemies of freedom because they are family vested via Matt's father, Bob Drudge.

It all makes for a startling shift for a publisher best known for a strategy rooted in changing nothing about his site's operation. It's also causing the ad industry to look closely at the mysterious new firm and its high-profile customer.

Bigger bucks must be involved.  Shades of Anthony Scaramucci.

Story at Investmentwatchblog.com