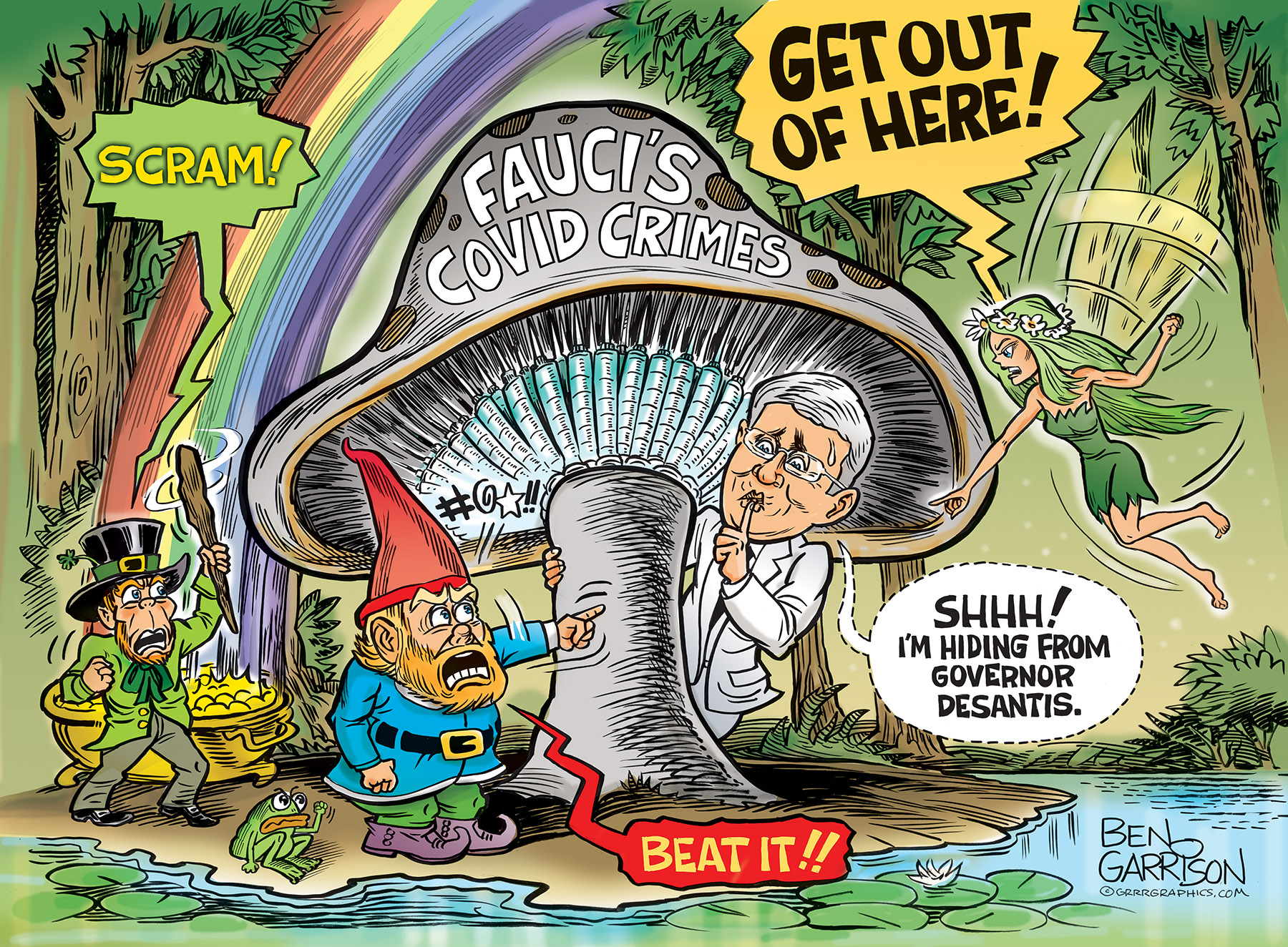 "Someone needs to grab that little elf and chuck him across the Potomac"
— Florida Governor Ron DeSantis on Anthony, 'I am science' Fauci. 
I have nothing against people possessing a shorter stature. Everyone should be happy with the body they have. Still, Anthony (never call him 'doctor') Fauci seems to attract some ribbing due to his diminutive size. The Internet says he's 5' 7" and 139 pounds. That's not all that small, but he's definitely not a big man either. I've heard he's sensitive about his size, which probably stems from his high school basketball days. Despite his size, apparently he was a good player. He played position of point guard, naturally — and since then he has long been guarding the nation's health. In that position he's committed many double dribbles and tossed up a lot of bricks.
Sign up for the Grrrgraphics newsletter and never miss a cartoon- Click to sign up today
I once saw a two panel cartoon drawn by an establishment cartoonist. Naturally he praised Fauci. In the first panel he drew him as the diminutive man he is, and in the 2nd panel he drew him as giant based on his great accomplishments as a leader at the NIH/NIAID. The cartoon was not accurate. Fauci's accomplishments have been disingenuous at best and destructive at worst. Fauci is an accomplished bureaucrat who knows how to double-speak. In other words, lie.
You are invited to join me on SubscribeStar- a Pateron alternative, for exclusive cartoons and behind the scenes look at GrrrGraphics, Click to Join!
He has had real doctors and scientists fired and persecuted when they refused to go along with narratives that served to benefit Fauci and his cronies—especially Big Pharma. Fauci helped lock us down and double mask us. He wanted mandatory jabs for those who wanted to remain employed. Those victims were all but forced to take experimental mRNA drugs. We now know for sure they are ineffective against Covid and often deathly destructive. Fauci has helped kill or injure millions. Fauci is often called mini-Mengele with good reason.
Fauci has also been compared to garden gnomes, which is an insult to garden gnomes. 
HELP US STAY ONLINE- WE ARE 100% FUNDED BY SUPPORTERS LIKE YOU- CLICK TO MAKE A DONATION AND HELP US WAKE UP PEOPLE AND SAVE AMERICA!
Now he plans to go out on tour and bask in what he thinks is his well-deserved glory. To be sure, the Deep State globalists and their media puppets will praise him, but most Americans will be booing him — and with good reason. Too much visibility may result in him getting tossed across the Potomac. He deserves to be tossed into prison. Therefore, I expect Fauci to fade away and go into hiding.
 LOCK HIM UP!
— Ben Garrison

Cartoon available as a limited edition signed print – order your print and support MAGA Cartoons! Click Now to Order
Follow @grrrgraphics on GAB,TRUTHSOCIAL PARLER, INSTAGRAM, TELEGRAM 
Buy Ben A Coffee! Send Ben a virtual 'coffee' donation and let him know you support his work! Thank you