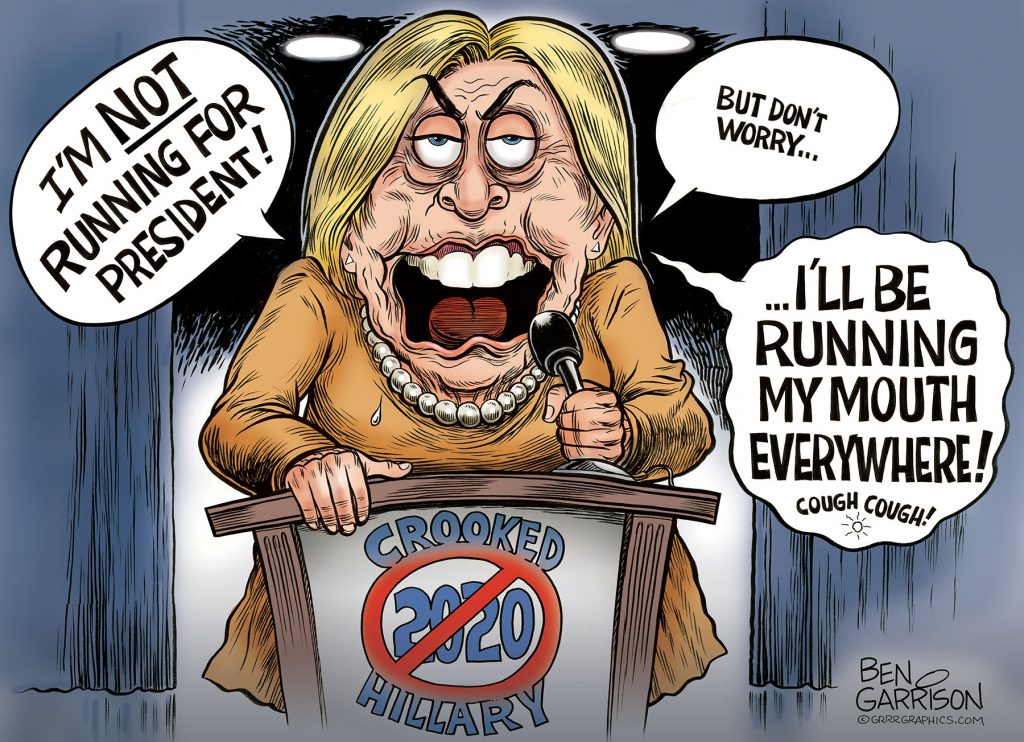 UPDATE: Flip-Flop! Today a source "close with" Hillary Clinton says she has not "closed the door" on a 2020 presidential run.
Hillary won't be running for president in 2020, but she is not going away.
She said she plans to take an active role and work with the Democrat candidates who are running. She wants to help. How nice of her!
What she really wants is to continue to exercise power and control over the Democrat Party. She wants to rig the primaries in favor of her chosen candidate. One that will do her bidding. As contemptible as they are, the Clintons still control their party and they have an enormous amount of money, thanks to their corrupt Clinton Foundation.
Hillary stole primary elections away from Bernie without any repercussions whatsoever, so naturally she'll do it again for her chosen candidate. She'll get to stay in the limelight and continue to spew lies and empty platitudes all along the way.
Join the Fight against Fake News! Support Cartoons that shred the Democrat Narrative! Click to Donate
This could also be a way for her to hobble any front runner to make it easier and sensible for her to step in at the last moment and claim she was forced to run after all, because the leading candidate, probably a socialist, would have no chance against Trump.
This would be true, but Hillary has no chance, either. She has already complained that she's never seen the country so divided. This means she might step forward and offer herself as a reasonable, 'centrist' Democrat, but in actuality Hillary has been a major part of the polarization by paying for a fake dossier to get the FBI to spy on Trump.
Hillary is part of the ongoing coup against a lawfully elected president.
—Ben Garrison
Lock her up!
Historic Ben Garrison Original Art Available- Will this be the Last Hillary Cartoon? Click to Order Your Original Art!
Join Ben and Tina for a Quick mug of Coffee- A fun way to Donate to Support MAGA Cartoons! We Draw For You! Coffee?—-Thank You!
Check out our framed prints, coffee mugs and more- Click to view!