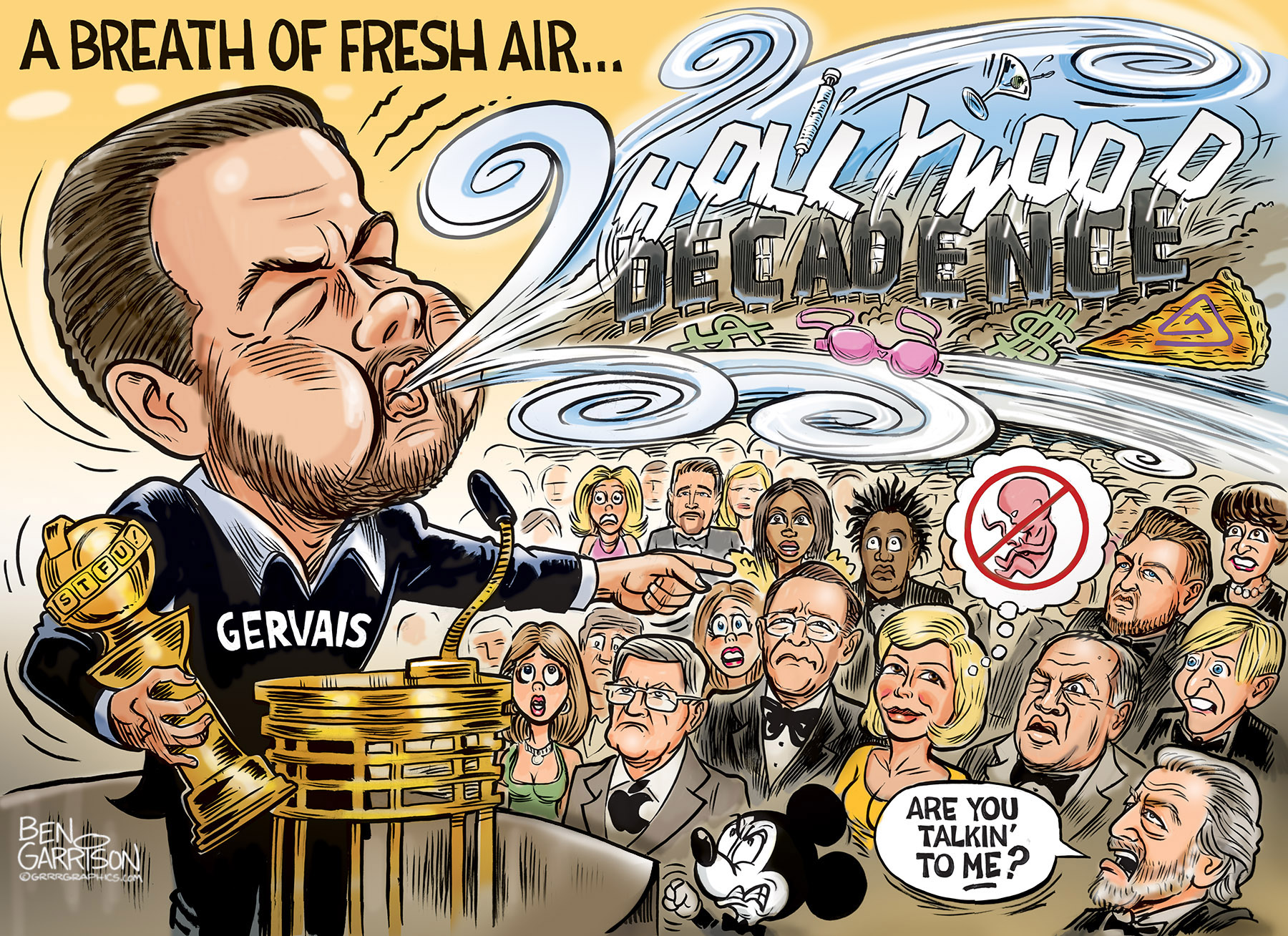 Hollywood can't take a joke
Ricky Gervais hosted the Golden Globe Awards and during his opening monologue he lambasted the degenerate culture that is Hollywood.
A lot of what he said has been obvious to the general public for years, but will the actors listen to an insider?
Probably not, but they will have to pay attention to a lack of money as ticket sales dwindle.
A great many Americans are fed up with famous actors who lecture us on social issues, climate change, and how we should lead our lives while they lead a life of decadence in Hollywood.
Fame is not necessarily synonymous with intelligence.
Anthony Hopkins knows this. He recently said actors are 'pretty stupid' and should avoid talking about politics and other issues.
Globe winner Michelle Williams did not heed Hopkin's advice and talked about her abortion and how she had no regrets about it. Is that what people want to hear from an actor giving an acceptance speech?
LIKE THIS CARTOON? ORDER YOUR SPECIAL LIMITED EDITION SIGNED PRINT OF THIS CARTOON NOW. ONLY 100 WILL EVER BE MADE.
Such a speech may attract far left ticket buyers, but what about the rest of America? It's the same with De Niro. Many liked his acting before he opened up his trap and began yelling obscenities at the president. De Niro in particular needs to listen to Hopkins.
Kudos to Ricky Gervais for speaking truth to Hollywood.
—Ben Garrison
Own A Ben Garrison Original Cartoon- An Investment in American History!