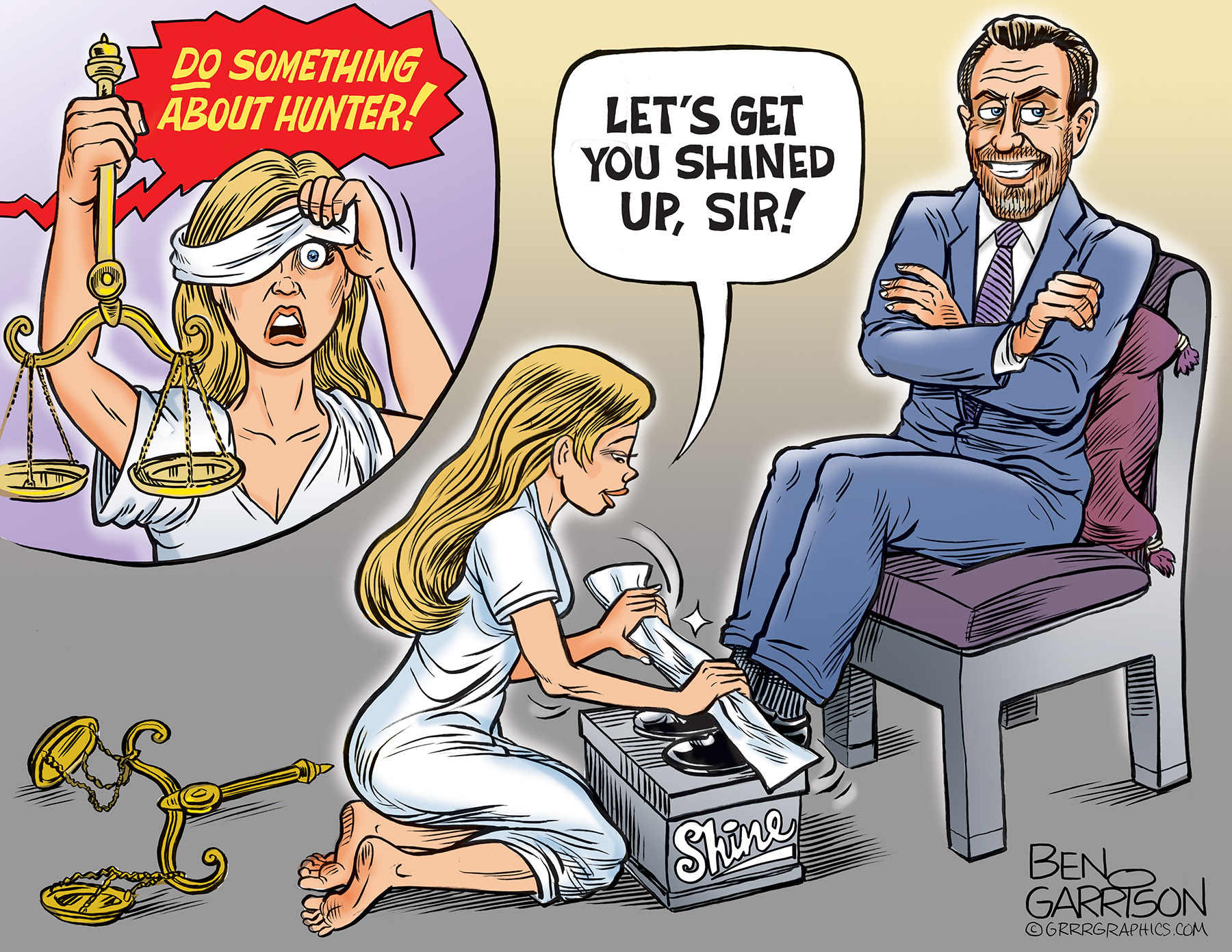 Hunter Biden Shines Up
Cartoon published 10/08/2022
Hunter Biden is under federal investigation for making false statements in order to purchase a firearm. There is also evidence that he has committed tax crimes. He was definitely taking crack cocaine when he purchased a weapon. Email and text messages exist between him and his brother's widow, Hallie Biden, (with whom Hunter was having a sexual affair). It definitively proves he was taking drugs, even though on the firearms form he claimed he was not.
My prediction is this: Hunter will not go to trial over these matters. Hunter will most likely have strings pulled for him and the charges against him will be dropped. At the worst he will be slapped with a small fine and maybe a short period of probation. He will not serve a day of jail time. Why? Because we have a two-tiered system of justice in this country and elite Democrats are above the law. The Deep State Swamp protects their own. This has been shown to be the case time and time again. For example, Hillary Clinton was able to store classified information on her illegal, private server that she used it to conduct a 'pay for play' operation that benefitted the Clinton Foundation. Nothing ever happened to her.
Fight Thought Control through supporting Grrrgraphics high impact cartoons- We draw for you! Click to support us at SubscribeStar a monthly donation at whatever amount is comfortable
The charges against Hunter are trifling compared to his real criminal operation. He and his father are traitors who have helped Communist China and raked in millions of dollars as a result. Joe Biden also made sure his son received millions of dollars in graft from Ukraine and he even threatened to withhold billions of dollars in US aid unless a prosecutor was fired. That Ukrainian prosecutor was investigating his son. The Bidens are corrupt to the marrow, but they will continue to skirt the law.
Lady Justice will let Hunter walk. She might even shine his shoes.
— Ben Garrison
Follow @grrrgraphics on GAB,TRUTHSOCIAL PARLER, INSTAGRAM, TELEGRAM 
Available for patriots only, a one of a kind art collectable, a Ben Garrison original cartoon.
Your investment goes to support our country, our patriot family, your rights and freedoms, and of course, GrrrGraphics.