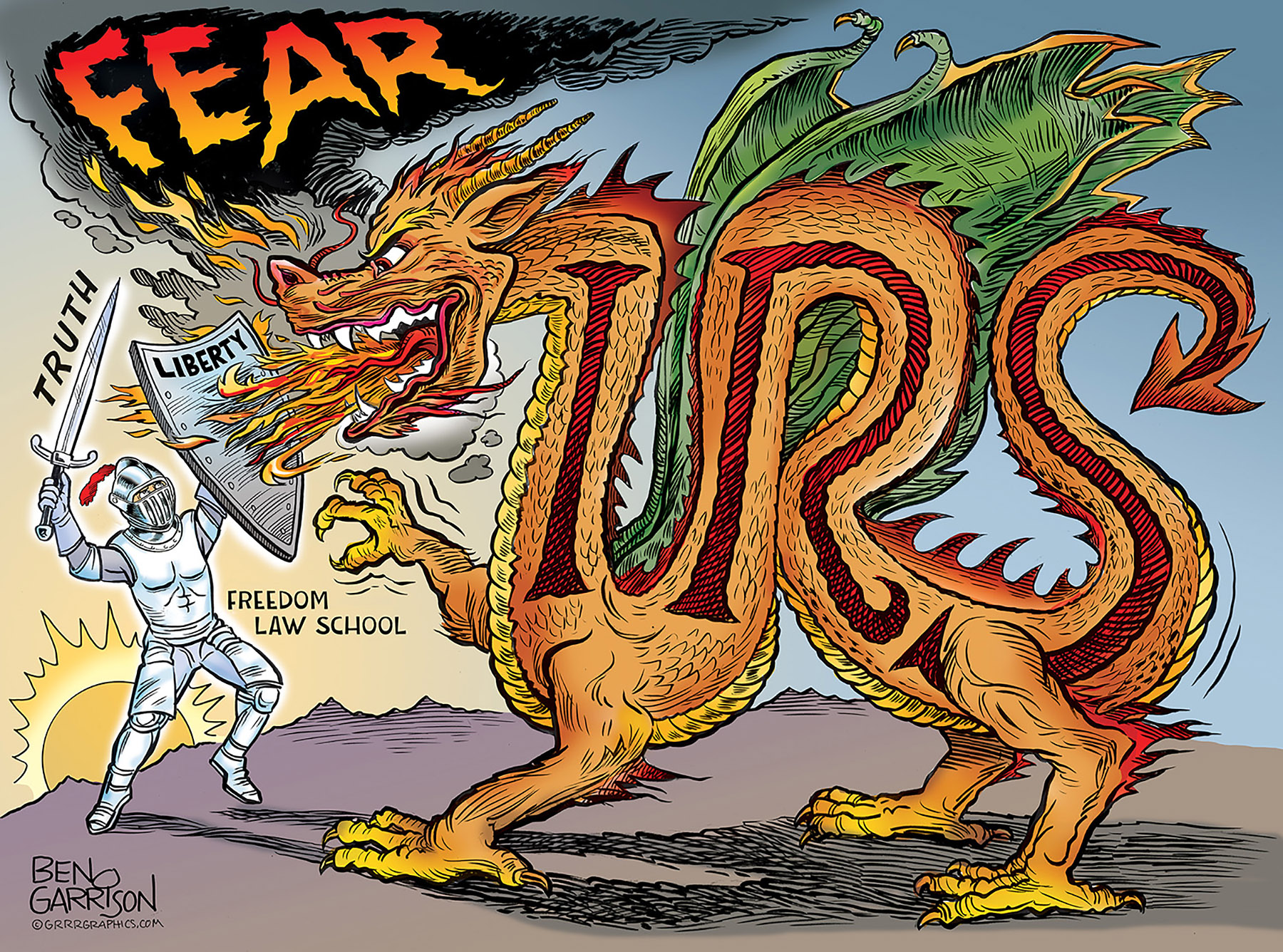 Taxation Without Representation
It's "fear season" again.
Today is the deadline to file income taxes with the IRS. It can also be known as FEAR day. That's how the IRS operates—on the basis of fear. If you don't file or pay a lot of money obtained by hard labor, then the IRS can seize your bank accounts, your stuff, and even your freedom by sending you to jail. Is this all likely to happen if you refuse to file? Probably not. The IRS is currently in disarray. They're using ancient computer technology and they have a backlog of millions of filings to sort through. Sure, they'll cash your check right away, but the more paper you throw their way the less likely they'll be able to sort through it all. The IRS dragon consists of a lot of flame and smoke, but not much bite.
Biden promised he would generate a windfall in tax revenue by going after the billionaire class. That never happened. Instead, the IRS is going after the defenseless poor and middle class. Why? Because going after billionaires is too complicated and costly. It's easier to shake down the little guy. The screwing of the average man is what big government does best. Besides, Sleepy Joe wasn't installed in order to get the top of the pyramid to 'pay their fair share.' He's there to protect them.
The progressive Income Tax that was inflicted upon us is supposedly a 'voluntary' tax where participants volunteer to tell tyrants just how much they've earned, invested, and spent. There is no such thing as financial privacy, except perhaps with crypto currency. No wonder Bitcoin has taken off. Try not volunteering to file your Income Tax and you risk armed men banging at your door, ready to take you away (well, in extreme circumstances that can happen). People don't want to lose their stuff, so they usually file even though there's no law that real citizens of states have to file and pay. The law pertains to protectorates and non-citizens, but the 16th Amendment is really a slight-of-hand mechanism that tricks people into their own enslavement.
We saw how a presidential election was stolen. It means we have taxation without representation. Our founding fathers rebelled for far less, but Americans have been conditioned to live in a state of fear. This is no longer the land of the free and home of the brave. We're shivering cowards who have had our freedoms stripped away from us. The tyrants want us to do as we told. Any sign of rebellion risks prosecution.
People think the Income Tax is a good thing since it goes toward funding infrastructure. Wrong. If it accomplished such an end, why do the Democrats need infrastructure bills costing trillions of dollars? Why do we need an Income Tax at all? The Federal Reserve could print up endless debt money as needed. They're doing that already. The Income Tax is meant to pay the debt, which is an impossibility. We The People would need to have our own money printing press to do it.
The legion of other taxes goes toward paying for roads, schools, and regulation. The gas tax, property taxes, sales taxes—the list is endless. The Income Tax is about fear and control. It's about obeying a leviathan government and its security agencies such as the CIA, FBI, and the military industrial complex—all saturated with corruption.
It takes a lot of courage to stand up to the IRS and those that have have been uniformly vilified. There is a long list of those who found the courage to stand up to the IRS. They have fought the dragon. Some have succeeded while some, such as Irwin Schiff, have ended up in prison. They've all been vilified and smeared as con artists. The Federal Reserve and the IRS are the real con artists. Never forget that—they conned us into slavery.
Maybe some day more people will find the courage to break the chains of tax bondage. End the Fed. End the IRS. End the FBI and CIA. Stop the endless wars.
— Ben Garrison
Follow @grrrgraphics on GAB,  Now live on TRUTHSOCIAL  PARLER, INSTAGRAM, MINDS TELEGRAM