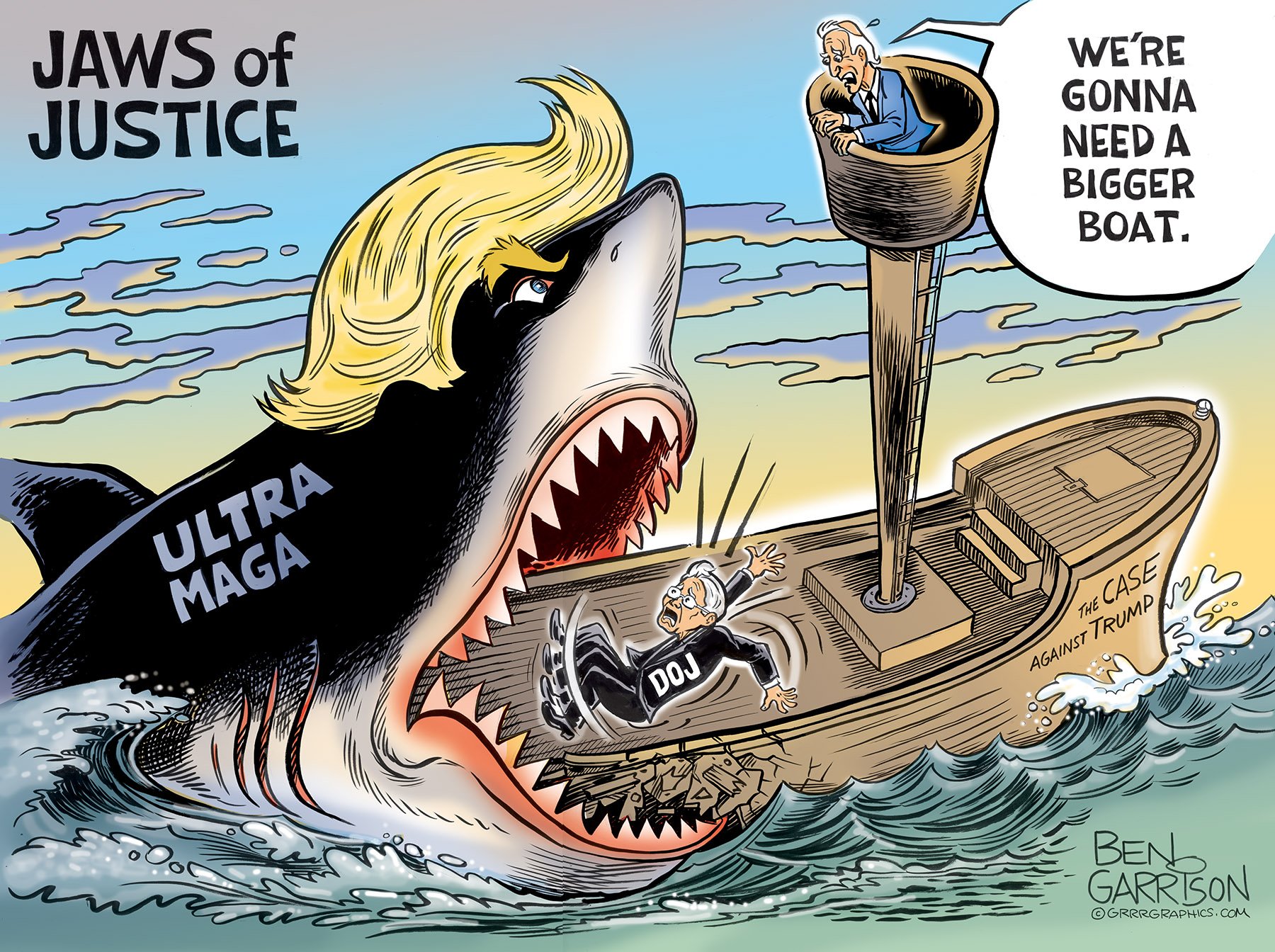 "You're gonna need a bigger boat"
"We've got Trump this time! The walls are closing in! It's a matter of time before he's indicted and prosecuted for being the crook he is. Yippee!"
This is the usual rhetoric that we've grown accustomed to hearing during previous Trump witch hunts, which were conducted by the socialist Democrats. They are again convinced that they have Trump cornered and never-Trump RINOs in the Republican party are piling on. Their end game? Stopping Trump from running again.
Sign up for the Grrrgraphics newsletter and never miss a cartoon- Click to sign up today
Bill Maher had Rob Reiner on his show recently and 'meathead' gleefully pronounced that Trump was guilty of stealing papers that belonged to the White House. Not only that, he said Trump  'led' an armed insurrection on January 6. Maher's other guest, Minnesota Senator Amy Klobuchar, repeated Reiner's words with her usual pasted-on, perpetual smile. She said Trump had led an armed insurrection.
You are invited to join me on SubscribeStar- a Pateron alternative, for exclusive cartoons and behind the scenes look at GrrrGraphics, Click to Join!
Only it's not true. It was the FBI who led people into the Capitol Dome. None of the Trump supporters were armed. It was more of a parade of 'selfie' takers than an insurrection. No matter. The left has already convicted Trump supporters just like they are now convicting Trump of a major crime. Truth be damned, the Democrat campaign of anti-Trump lawfare must continue to distract from Biden's disastrous performance (which Reiner praised as 'great.')
All of this could backfire on the corrupt Democrats big time if MAGA Republicans can win House and Senate majorities in Congress. Trump's allies can then attempt to extract justice from those who abused the justice system. That remains to be seen, but the real criminals are Biden and his cronies. They are using the FBI and the justice infrastructure to take out a political enemy. They're the ones who need to be raided and prosecuted.
Let's hope they justly face the jaws of justice.
— Ben Garrison
Ben Garrison Trump Original Art Now Available to collectors world wide- click to order your one of a kind original now!