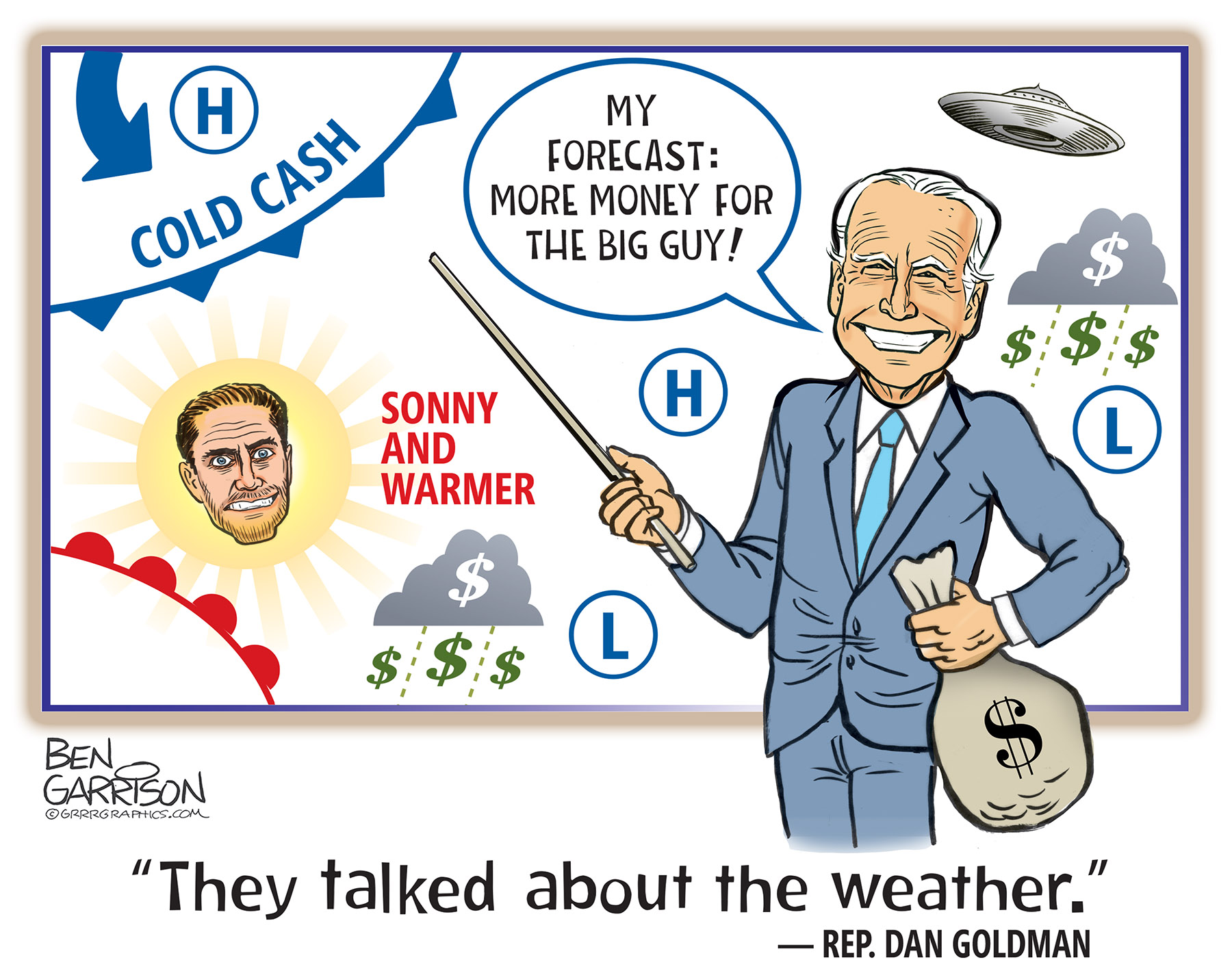 Joe Biden's Weather Forecast, "It's Raining Yen"
Cartoon published 08/01/2023
Devon Archer, Hunter Biden's former business partner, testified before the House Oversight Committee on Monday. He said Joe Biden was put on the speakerphone 20 times during Hunter's business dinners and conferences with foreign nationals. Hunter's clients were anxious to gain influence over his father. One of the calls occurred during a meeting with a Chinese private equity firm. 
Let's stay in touch! Sign Up for Our GrrrNewsletter today! 
Dan Goldman, a New York representative and Democrat, had the audacity to say the calls were probably benign. He claimed Joe was no doubt discussing family matters or the weather. (During Hunter's business meetings?) At worst, Goldman suggested Hunter was merely using his dad as a lure to create the illusion that his clients could have access to his dad—for a price.
Donate $10 and Keep Ben Drawing
Hunter was and is an incompetent drug fiend—and yet he was closing deals from which he made millions of dollars that were then laundered through a dozen or so shell companies owned by the Bidens. There's no way an incompetent such as Hunter would have been appointed to the board of the Ukrainian energy company Burisma if he was not connected to a powerful brand name—his father.
If Joe Biden had any ethics at all, he would have refused to engage with people during Hunter's conference calls. Maybe he felt he was helping his beloved son, who he claims is the smartest man he knows. More likely Joe was fully engaged in the pay-for-play schemes and even arranged for his son to meet powerful entities in various countries. Money trails have already been confirmed and most in Joe's family have benefitted. Joe also bragged about extorting Ukraine outright in order to get a prosecutor who was investigating Hunter and Burisma to back off. Joe threatened to withhold a billion dollars in US aid until the prosecutor was fired. Biden shamelessly and gleefully bragged that his extortion was a success.
The Biden family are lying grifters and corrupt to the core, but the Democrats still ignore or cover up their crimes. When the heat that was on Joe Biden became too intense they even trotted out testimony about UFOs and alien bodies. Look for such distractions to increase as the walls close in on the Bidens.
— Ben Garrison
Buy your one-of-a-kind, original Ben Garrison
Big Government Rest Home Original Art- Collectors Item